A Review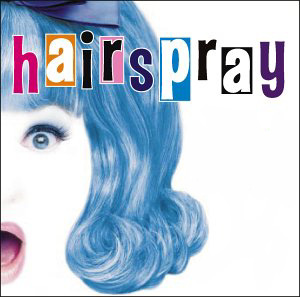 Welcome To The 60's
By R. J. Donovan
It's been a lively summer season at Reagle Music Theatre, and things are coming to an effervescent conclusion with the musical "Hairspray." Based on the John Waters cult film of the same time, the stage version has music by Marc Shaiman, lyrics by Scott Wittman and Shaiman with a book by Mark O'Donnell and Thomas Meehan.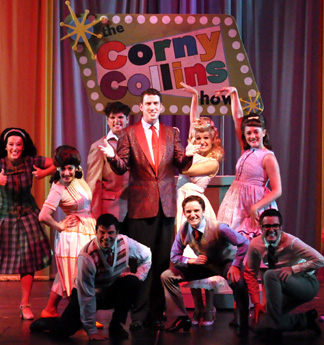 The story sends us back to 1962 Baltimore. Every day after school all the kids in town are drawn to "The Corny Collins Show," a local version of "American Bandstand". What could be more cool than to dance, LIVE, on the show with all your friends watching.
Young Tracy Turnblad, a bubbly girl with a little extra meat on her bones, wants to do just that. And when she hears they're holding auditions (because one of the fine young lovelies on the show is taking an unexpected 9-month leave of absence) she cuts school to try out.
Things don't go as planned, because she's told she's NOT like all the other girls. On the more positive side, she accidentally bumps into the show's heartthrob, Link Larsen. And true to form, her heart does indeed throb.
Seeing people for who they are vs. what they look like, she sees no reason why she can't be accepted on the show, and even wants the cast to include dancers of all races. (Up to now, the local kids of color have been relegated to dancing only on Negro Day.)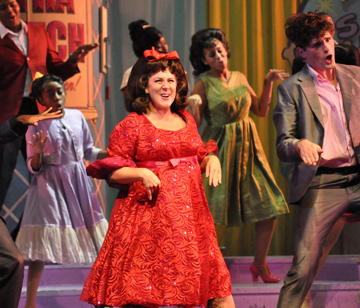 Tracy (Marissa Perry, at left) eventually gets her break, becomes a pop star and uses her new-found local celebrity to bring integration to daytime dancing. However, along the way she winds up in jail, wins Link, loses Link, tussles with a cranky blonde bimbette and still gets a super-duper happy ending.
The key to success in "Hairspray" lies in three things. The actress who plays Tracy, the actor who plays Tracy's mother (in drag) and the energy level maintained throughout the night.
At Reagle, the first two are more than satisfied by Marissa Terry as Tracy and Dan Dowling Jr. (left) as her zaftig Mom, Edna. Marissa played Tracy on Broadway and has the role down pat. Her squeaky little voice is all bouncy enthusiasm, and you never question for a moment that she is the plump little dynamo with the biggest heart in town. She leads the opening number, "Good Morning Baltimore" that introduces us to everyone in her neighborhood, and is wonderful in "I Can Hear The Bells," a love struck escape that happens completely in her head.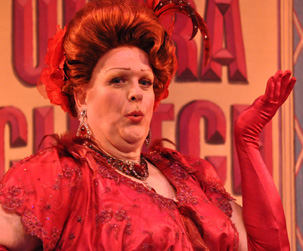 As Edna, Dan Dowling Jr. (at left) does a nice job with the withering zingers that originally were spoken by the inimitable Harvey Firestein on Broadway. When not dealing with a temporarily slippery wig, he nailed the one-liners and sang with a full voice.
In the energy level department, Marissa never disappoints. However the show is long and the pace lags a bit here and there. (Sound system problems didn't help.) However, things always seemed to get back on track. If the show had a longer run, the consistency might be evened out. (The production at Reagle has been directed and choreographed by Todd Michel Smith and Judine Somerville -- cast mates who appeared in the entire six year-2600-plus performance run of the show on Broadway.)
Nick Peciaro is Link Larsen, Mark Linehan is the ever-smiling Corny Collins and Susan Scannell is a scheming Velma Von Tussle.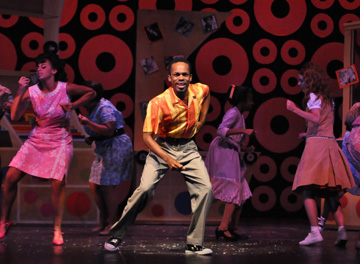 As Penny, Tracy's sweet but not so bright BFF, Marissa Czyz is a joy. She's always funny whether lamenting her mother's permission issues or making dense suggestions for protest placards. Plus she sings with power. Davron S. Monroe (at left) also draws attention as Seaweed J. Stubbs, Penny's love interest. Monroe brings a strong stage presence to the production, so here's to seeing more of him in the future at Reagle.
And speaking of strength, Angela Birchette is a dynamo as Motormouth Maybelle. I've seen "Hairspray" several times over the years, and few have delivered the solo "I Know Where I've Been" with the power and emotion demonstrated by Ms. Birchette. She's the real thing.
From start to finish, the musical numbers are a crayola box of primary colors. In addition to the numbers noted above, those that stand out include "Mama I'm A Big Girl Now," "Welcome To The 60's," "Without Love," "Big, Blonde and Beautiful," "Run And Tell That," and the ever-building finale, "You Can't Stop The Beat."
All of which brings summer at Reagle to a close with a happy blast from the past.
"Hairspray," from Reagle Music Theatre, at Robinson Theatre in Waltham through August 22. For information, call 781-891-5600.
-- OnStage Boston