Trinity Rep Opens 47th Season
With "Camelot" Re-Set In World War II
Trinity Rep in Providence kicks off its 2010-2011 Season with Alan Jay Lerner and Frederick Loewe's musical masterpiece "Camelot" from September 10 - October 10. Based on T.H. White's The Once and Future King, "Camelot" is the retelling of the epic legend of King Arthur and his quest to create a legacy through governance.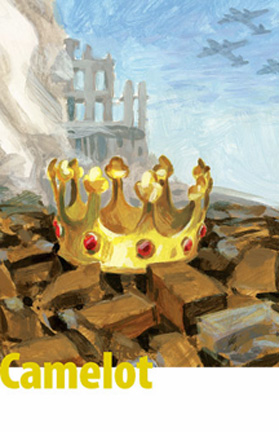 Resident acting company member Stephen Thorne plays King Arthur, the idealistic King of Camelot, who's trying to use the lessons gleaned in his tutelage under the wise wizard Merlyn (Mauro Hantman) to govern his war-torn nation in a just manner.
With the love and support of his beautiful lady Guenevere (played by Brown/Trinity Rep MFA alumna Rebecca Gibel), Arthur envisions a table made of the greatest knights from his kingdom and beyond, led by brave Lancelot (Joe Wilson Jr.).
As Lancelot finds that the steely purity of his heart begins to melt around Guenevere -- and as Arthur's steadfast resolve to rule with logic and law rather than the might of his sword is shaken --the denizens of Camelot must deal with the fact that their kingdom may be about to change. Forever.
Trinity Rep's Artistic Director Curt Columbus has re-set his rendition of the classic musical in a World War II-era London tube stop during Hitler's blitz on the city, placing the lofty ideals and intrigue of Arthurian Camelot into an interesting political context.
Setting the production on resident set designer Eugene Lee's rendering of the London underground as the bombs crash overhead is taken from historical precedent. Columbus explained that during the blitz, theaters kept producing plays in the underground stations.
He commented, "The station will become a magical place so easily. In this setting that was so dire, we heighten the reason to tell this story, to inspire the audience's confidence that they can carry something forward, there will be legacy."
"T.H. White wrote the Arthur legend with ideas about totalitarianism, communism and monarchy thrown in. Most of us remember the way in which 'Camelot' became kind of an avatar for the Kennedy Administration."

In the intervening 40 years, Columbus says the production has become associated more with the trappings of its mythical setting, and less with its lush, incredible orchestration and subject matter. True to the Trinity Rep tradition of re-invention and re-imagination, he wanted to diverge from the original setting in order to pressurize the political aspect – and the notion of making peace, of making a legacy.
"There's a reason we tell this story over and over, in every generation," he said. "It gives us all hope."
Lyricist and librettist Alan Jay Lerner and composer Frederick Loewe formed one of Broadway's most dynamic partnerships while creating some of the American musical theater's most successful shows, including "Brigadoon," "Camelot" and "My Fair Lady." "My Fair Lady" opened in 1956, won six Tony Awards and, at the time of its closing, held the record for the longest running Broadway production. Their last collaboration came with the 1974 musical film, "The Little Prince." In December 1985 they received a Kennedy Center Honor, which marked their final public appearance together and came six months before Lerner's death.
Talkbacks will be held after every performance of "Camelot." Audience members are invited to share their response to the play's production and themes for approximately twenty minutes. A full performance calendar is available at www.trinityrep.com.
For tickets and information, stop by the Trinity Rep box office at 201 Washington Street, call 401-351-4242 or visit www.trinityrep.com.