---

New Rep Begins Fall Season
With Mamet's "Boston Marriage"
New Repertory Theatre, in residence at the Arsenal Center for the Arts, will begin its 2010-2011 Season with David Mamet's biting comedy "Boston Marriage." Performances are scheduled for September 12 - October 3 in the Charles Mosesian Theater.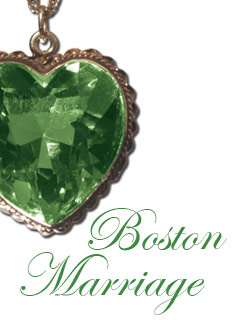 In "Boston Marriage," Anna and Claire, two "women of fashion" who have long resided together, scheme to obtain the objects of their desire. Anna maintains their upper-middle class Victorian lifestyle as the mistress of a wealthy man who provides her with a healthy income and a distinctive emerald necklace for her companionship. When Claire's attentions stray from Anna, Anna devises the perfect plan that grows in outlandishness, even as it backfires and the innocent parlor maid gets caught in the crossfire.
The New Rep cast features Jennie Israel as Claire and Debra Wise as Anna.

Kate Warner, Artistic Director for New Repertory Theatre, commented, "I am delighted to start our 27th Season with one of David Mamet's most accomplished and humorous plays, 'Boston Marriage.' This season, I selected plays that explore ideas of transformation, wherein characters have experiences that change their perspectives in a significant way. In 'Boston Marriage,' Anna and Claire's relationship transforms through a wickedly funny satire of class and customs."

Warner continued, "I am pleased to bring director David Zoffoli back to New Repertory Theatre, and I am eager to work with the cast and design team David and I have assembled."

Zoffoli, added, "The physical production--think wild Gibson girls in the Gilded Era--will be stunning, and the actors get Mamet's rhythm and wit. When Mamet wrote the play in the '90s, he effectively re-introduced the term 'Boston marriage' to contemporary America. At the turn of the 20th century, a 'Boston marriage' described a living arrangement between two women that was independent of any male support. The term probably comes from Henry James' Bostonians, in which he details an implicit marriage between two women. Mamet's hilarious take on such an arrangement is brilliant."

David Mamet's many plays include: "Race" (currently on Broadway), "November," "Speed-the-Plow," "The Cryptogram," "Oleanna," "Glengarry Glen Ross," "American Buffalo," and "Sexual Perversity in Chicago." He has also written screenplays for such films as "House of Games," the Oscar-nominated "The Verdict," "The Spanish Prisoner," "The Winslow Boy," and "Wag the Dog." His plays have won the Pulitzer Prize and the Obie Award.

For information and tickets, call 617-923-8487 or visit www.newrep.org. Free parking is available at the six-level parking garage adjacent to the Arsenal Center for the Arts.