A Review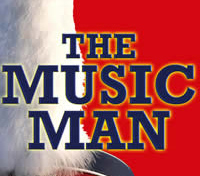 Spirited, Tuneful Evening Of Fun At Reagle
By R. J. Donovan
Meredith Wilson's "The Music Man" is the perfect show for summer. Set in a simpler more innocent time, it's got great music and a fun plot. At Reagle Music Theatre, it also offers some shining performances, starting with Boston's own Scott Wahle (below) as con man Professor Harold Hill. He's perfect for the role in that he's eminently likable. And that's what makes the plot tick.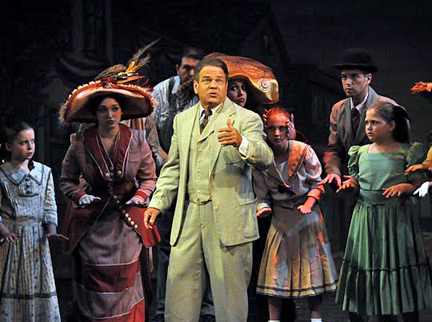 Hill is secretly out to bleed River City, Iowa, dry by offering to teach music and organize a boy's marching band. In truth, he has no musical ability and there will never be a band, but it doesn't matter much because he plans to stuff his pockets full of local cash and then beat it out of town before he's found out. To cover his lack of teaching skills, he instructs his wards in "The Think System" -- which, of course, involves no playing at all. Unfortunately for him, his scheme falls apart when he finds love, via Marian, the elusive town librarian, played by Broadway star and Reagle favorite, Sarah Pfisterer (below with Wahle).
From ballads to lively production numbers, the show is filled with time honored songs that long ago became part of the American musical theater landscape. From "Seventy-Six Trombones" to "Ya Got Trouble" to "Til There Was You," the evening is one great song after another.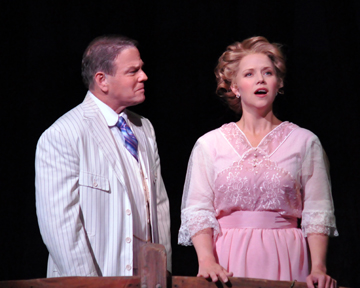 The show faithfully captures life in middle America at the turn of the century. Its authenticity may be attributed to Wilson supposedly basing most of it on his own hometown of Mason City, Iowa.
It's also interesting that Wilson created so many songs that really depend on their driving beat -- not unlike the repetitive rhythms of a marching band. In fact, the first number of the show, "Rock Island," is performed on a train without any musical accompaniment.The number's presentation is simply based on the chugging and steam blasts of the train's engine. Very clever, and a big hit with the audience. (Kudos, of course, to the actors who deliver the number with precision.)
As always at Reagle, the chorus of singers and dancers is nothing short of outstanding. These fine performers shine again and again, in particular during "Marian The Librarian" and show's rousing production number, "Shipoopi."
Scott Wahle gets the show's two best known numbers, "Ya Got Trouble" and "Seventy-Six Trombones," while Ms. Pfisterer handles the lovely ballads, "My White Night," "Goodnight, My Someone" and "Til There Was You" (which also includes Wahle).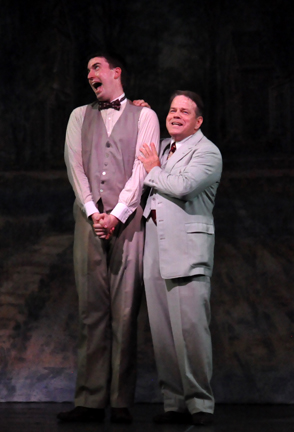 Among the supporting players, watch out for Mary Callanan as Eulalie Mackecknie Shinn, the Mayor's wife. She does more with one line and a withering look than most actors accomplish in a full night of trying. Harold "Jerry" Walker sputters comically as the aforementioned Mayor; Matthew Kossack and Rachel Bertone are young lovers (and nifty dancers) Tommy and Zaneeta, respectively; Ellen Peterson is feisty as Mrs. Paroo; and Andrew Purdy gets a big hand as the shy-but-eventually-out-of-his-shell Winslow, who's exuberant in his solo spot "Gary, Indiana." Finally, Mark Linehan is Hill's old friend and confidant Marcellus Washburn, who leads "Shipoopi" with gusto. Linehan and Wahle also work wonderfully together in their "Sadder-But-Wiser Girl" duet (above).
Director Bob Freschi, who also does a nice job playing anvil salesman Charlie Cowell, maintains sharp focus throughout, which is no small feat when you're working with a big cast and lots of set pieces. As well, Susan M. Chembookjian recreates Onna White's original choreography to great effect. Finally, the spirited orchestra, conducted by Jeffrey P. Leonard, is top rate.
In the end, the evening puts a big smile on your face. Which is what you can always expect from the folks at Reagle.
"The Music Man" from Reagle Music Theatre, at Robinson Theatre in Waltham through July 25. For information, call 781-891-5600.
-- OnStage Boston