A Review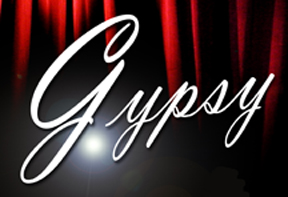 The Hunger For Attention
By R. J. Donovan
"Gypsy" is, arguably, just about the best backstage musical ever written. It's funny, it's raw, and it's complex. All about surviving in show business, never giving up and being devoted to the performance, it's an appropriate choice to re-open North Shore Music Theatre in Beverly.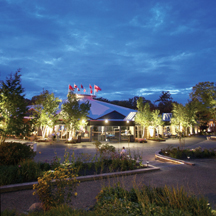 In this economy, just the fact that North Shore is back in business has to be applauded. After shutting down a year ago, the theater has emerged for its second act with a fresh look and a new owner.
Bill Hanney, with theatrical credits from national tours to ownership of Theatre By The Sea in Rhode Island, purchased the property earlier this season, gave the facility a sprucing up, and booked a series of popular musicals designed to entice audiences back into the seats.
The official Opening Night saw a full house show up, with folks happily lingering outside on the grounds before and during intermission in newly fashioned sitting areas to enjoy the evening breeze with a glass of something fizzy from the bar.
Prior to the start of the show, Hanney and Artistic Director Evans Haile took to the stage to welcome the crowd, introduce a few local officials (including Beverly's Mayor), and accept a proclamation from the State House (oddly, two proclamations were created while only one was actually read and presented). On a gracious note, they also acknowledged the theater's former Artistic Director, Jon Kimball, who was in the audience attending the show.
"Gypsy" is subtitled "A Musical Fable," and it's just that. The Jule Styne - Stephen Sondheim - Arthur Laurents musical is loosely based on the memoirs of legendary stripper Gypsy Rose Lee, following the lady from ugly duckling to international stardom.
The score is almost entirely made up of theater standards, from "Let Me Entertain You" to "Some People," "Everything's Coming Up Roses," "Together Wherever We Go" and "You'll Never Get Away From Me."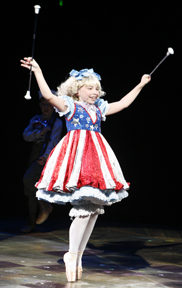 Driving the story is Madame Rose, the domineering stage mother who relentlessly pushes daughters June (later known as actress June Havoc) and Louise (eventually to become Gypsy) into show business, only to vicariously live through them. Rose here is played by Vicki Lewis, who, if not the most diverse Rose to ever hit the stage, plays the role as a gutsy dame.
Ms. Lewis is perhaps best known for her television work ("News Radio"), but she also brings some nice stage credits with her ("Chicago," "Damn Yankees"). She sings with a big, robust voice, however she assumes one tone and stance in her first scene and doesn't do all that much to vary it for the rest of the evening. No matter, the audience cheered her on.
The show begins in the days of Vaudeville, with Rose fostering the career of "Baby June," a blonde bundle of dynamite (Sarah Safer, above) who squeals with delight as she sings and high kicks. Through it all, her banana curls bounce adorably. Young Louise, on the other hand, has no discernable talent, but she's onstage backing up "The Baby" none the less. In Rose's world, everybody works.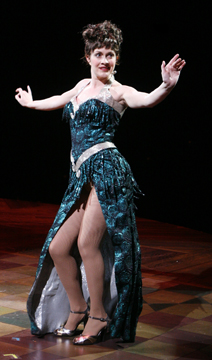 As the show unfolds, the bossy Rose keeps fighting for that big break to turn her "babies" into stars. But vaudeville is dying, the kids keep growing -- despite Rose's best efforts to keep them kids -- and success remains elusive.
Rose, who's "always in the middle of sentence," proves to be her own worst enemy. When June finally draws legitimate interest from a producer who sees potential in her acting abilities, Rose ruins the opportunity, dooming the act to oblivion.
June eventually escapes her mother's smothering clutches, and Rose is left without a star. In an act of desperation, she turns her attentions to Louise to attain that stardom. And despite her initial gawky efforts, Louise emerges to shine brighter than Rose ever imagined (Catherine Walker, at left).
With stardom finally a reality, the damage is that Rose is no longer needed. She's no longer calling the shots and pushing the dream. It's been achieved without her -- and in some ways, despite her.
The cast is routinely a chipper group, including Sarah Safer as Baby June, Amanda Lea Lavergne as the older Dainty June, and Hannah Piispanen as the youngest Louise. Pearce Wegener is Tulsa --who dances a mean "All I Need Is The Girl." And Kirby Ward is Herbie the candy salesman / manager who becomes Rose's long suffering love interest.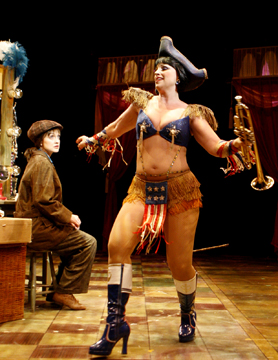 Jan Neuberger is great in the small role of Miss Cratchitt, withering secretary to producer T.T. Grantziger, only to return later as the schlumpy stripper Miss Electra. (She's so different in the two parts that audience members may not even realize the same actress played both roles). She's joined in the very funny "You've Gotta Get A Gimmick" by Laurie Gamache as Tessie Tura and Jacquelyn Piro Donovan as the trumpeting Miss Mazeppa (at left).
As Louise / Gypsy, Catherine Walker has the challenge of starting out as the painfully untalented Plain Jane who becomes the sexy queen of striptease. She does a very nice job with the transformation. Prior to that, she delivers a touching "Little Lamb," which is sometimes a throw- away number. Here, she adeptly uses the song to convey Louise's inner thoughts and insecurities.
The missed opportunities of the evening come via the direction of two moments that normally transform the show into something electrifying.
The first act ends with "Everything's Coming Up Roses." Although this song is universally thought to be a bright, cheery "you'll be swell, you'll be great" celebration of optimism, within the context of the show it represents a dark act of desperation. At this point in the story, June has left, the chorus boys have struck out on their own, and Rose is left with no act and no future. This is when she turns to Louise to fulfil the ever-elusive dream. And the juxtaposition of the song and Rose's intent is frightening.
At North Shore, it doesn't play as such. And truth be told, when Rose's intentions, as played by Vicki Lewis, were made clear, there was giggling from sections of the audience as though this were a silly sit-com set-up rather than the horrifying abomination of a head strong woman who's blind to what she's doing.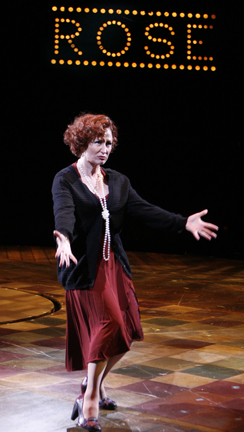 The other missed opportunity comes at the climax of the show with Ms. Lewis delivering the solo, "Rose's Turn," on a bare stage (at left).
With Gypsy now famous and June long gone, Rose has no purpose anymore. Unneeded and unwanted, she's been brushed aside for the final time and knows it. Her cruel manipulation and blind determination has driven everyone away -- from June to Herbie to Louise.
The number is raw with Rose's emotions laid bare. She growls, "Why did I do it? What did it get me?" She argues that if SHE had ever gotten a chance, she would have been bigger and better than any of 'em.
Essentially, this is Rose going through a mental breakdown. And most of the number takes place in her head. The way that most productions underscore that is with a very simple, but incredibly powerful moment at the very end of the number.
As the actress playing Rose finishes, the applause is thunderous, and rightly so. The actress accepts the applause with gracious bows. This is the first indication that there's a disconnect, because at no other point in the show do any of the actors ever break the fourth wall and acknowledge the audience. The pivotal moment comes as the audience applause dies out. And Rose continues to bow. And bow. To absolute silence.
In a flash, the audience realizes what they're seeing, and the effect is chilling. Rose isn't acknowledging their appreciation at all. She's only imagining the applause. And it's still playing in her head. She only comes back to the moment when Gypsy steps onto the stage.
For whatever reason, Director Richard Sabellico chose to skip over that very telling moment and move right from the end of the number to Gypsy's entrance. It only takes two or three seconds to make the point, but it can easily push the number from a 10 to a 12 emotionally.
But as Rose says time and time again -- that's show business.
Bottom line, North Shore Music Theatre has returned, and that's good news all by itself. The season continues with "Joseph & The Amazing Technicolor Dreamcoat," "Dirty Rotten Scoundrels" and "A Chorus Line" in addition to the theater's traditional holiday production of "A Christmas Carol."
"Gypsy" is at North Shore Music Theatre in Beverly through July 25. For information, call 978-232-7200.
-- Production Photos: Paul Lyden
-- OnStage Boston