7th Annual Revels RiverSing Welcomes Fall
Sunday, September 19
On Sunday, September 19, you are invited to celebrate the approaching Autumnal Equinox with thousands of singers and picnickers at the 7th Annual Revels RiverSing along the banks of The Charles River in Cambridge.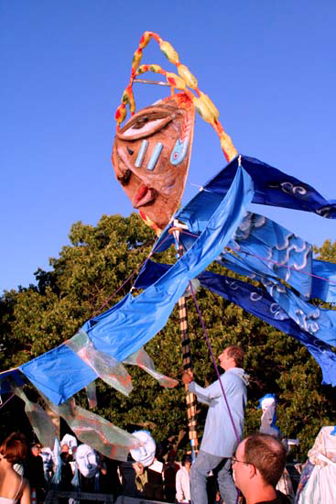 This giant community sing produced by Revels features a colorful Grand Procession, dozens of area chorus members and solo artists, a talented folk band, plus local sax legend Stan Strickland.
The event, free and open to the public, involves the entire audience, because at a Revels event, everyone is, of course, encouraged to sing along. (The communal sing will take place from 6 p.m. to dark on the Cambridge side of the Charles River near the John W. Weeks Footbridge at Memorial Drive.)

More than 100 members of selected Boston area choruses will participate in this year's celebration including Sharing a New Song, Reading Community Singers, the Greater Boston Intergenerational Chorus and Revels Repertory Company.
Interspersed with the songs will be poetry readings by Cambridge Poet Populist Jean Dany-Joachim and members of the acclaimed Actors' Shakespeare Project. Stan Strickland will perform an improvisational sunset serenade from an illuminated Sun/ Moon boat floating on the Charles.

Audiences are encouraged to arrive early, either to enjoy pre-show fun in Harvard Square or a quiet picnic on the banks of the river. Fans will gather at 5 p.m. by Winthrop Park in Harvard Square (in front of Grendel's Den) for family entertainment including a marching band, hula hooping, puppets, face painting and more. The Grand Procession to the river will happen at 5:45 p.m., led by a "honk" band.
Founded in 1971 by musician and educator John Langstaff and his daughter Carol, Revels links the music, dances and seasonal rituals from an older world to a modern world. The theater company celebrates the seasons and cycles of human life through songs, dances and stories from traditional cultures in its annual production of "The Christmas Revels" plus other community events including Revels RiverSing. George Emlen serves as Revels, Inc.'s Music Director; Patrick Swanson is National Artistic Director.

The 7th Annual Revels RiverSing is supported in part by the Massachusetts Cultural Council, a state agency, The Cambridge Arts Council, and the Harvard Square Business Association.
For more information, call 617-972-8300 or visit www.revels.org where you'll find video and photos from past celebrations.