Independent Drama Society
Presents "Proof"
August 19 - 28
The Independent Drama Society will open its 2010-2011 season -- a season of love and loathing -- with "Proof," David Auburn's compelling theatrical examination of genius, family, and frailty. Directed by Chris Anton, "Proof" plays from August 19 - 28 at The Factory Theatre, 791 Tremont Street in Boston's South End.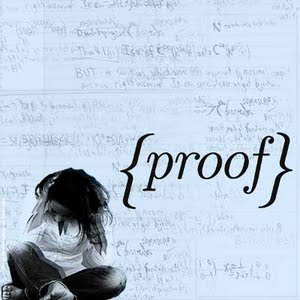 David Auburn's award-winning drama about family and frailty walks a razor-thin line between genius and insanity as it asks the question: just how far does the apple fall from the tree? In "Proof," Catherine's aging father is a brilliant but unstable mathematician. As days go by, she grows more concerned for her father's sanity, as well as her own.
The cast includes Kate Daly (as Catherine) and Mark Bourbeau (as Robert) with Chris Larson and Kara Manson.
Hailed as "a wonderfully funny, ambitiously constructed work" (Variety) and "a smart and compassionate play of ideas" (New York Daily News), "Proof" won David Auburn the 2001 Pulitzer Prize and the 2001 Tony Award for Best Play. A graduate of the University of Chicago and The Juilliard School's playwriting program, Auburn has also written the plays "Skyscraper" and "What Do You Believe About The Future?" in addition to the screenplays for the 2005 film adaptation of "Proof" and the 2006 film "The Lake House." In 2007, he made his directorial debut with "The Girl in the Park," for which he also wrote the screenplay. He has been the recipient of the Helen Merrill Playwriting Award and a Guggenheim Fellowship.
Director Chris Anton commented, "'Proof' challenges as well as entertains you. The play inspires an enthusiasm for the characters, and it builds relationships that are believable and memorable. Using the language of math to discuss the laws of nature, Auburn closely examines the blurred line between genius and madness. It's the best reason not to fear math since 'A Beautiful Mind.'"
Artistic Director Lindsay Eagle added, "There is no one I trust more to put on an amazing production than Chris Anton. His mind is constantly working, constantly churning out innovative idea after idea. As a teacher and math textbook editor with a specific and personal understanding of the themes in 'Proof,' Chris will craft a moving and incisive production that you will not want to miss."
The company's season continues with "Romeo & Juliet" in September, David Mamet's "Glengarry Glen Ross" in January and Sarah Ruhl's "Eurydice" in the spring.
For tickets and information, visit www.brownpapertickets.com.