---

Boston Broadcaster Scott Wahle
"Knows The Territory"
In "The Music Man"
At Reagle Music Theatre
The season at Reagle Music Theatre continues July 15 - 25 with Meredith Wilson's "The Music Man." IRNA winners Scott Wahle and Sarah Pfisterer (from Broadway's "Phantom of the Opera" and "Show Boat") return to River City to recreate their IRNE nominated roles as Harold Hill and Marian Paroo. Bob Freschi directs, with choreography by Susan Chebookjian. All performances will take place at Robinson Theatre in Waltham.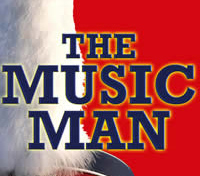 An affectionate homage to the small town America of a bygone era, "The Music Man" follows the shenanigans of a fast-talking traveling salesman and con man "Professor" Harold Hill as he bamboozles the citizens of River City, Iowa.
Hill's dire warning about the troubled youth of River City alarms the good citizenry into purchasing band instruments and uniforms from him, hoping that forming a marching band will guide their young people onto the right path. Hill, the ultimate opportunist with no musical expertise, plans to escape with the cash before the townsfolk realize they've been scammed.
The swindle seems complete until Hill finds himself unexpectedly smitten with Marian Paroo, the town's librarian, who doubted Hill's veracity from the start. Marian, and love, transform Hill into a respectable citizen by the show's finale. By that time, Hill has infused River City with a renewed sense of pride, passion and purpose. The town ultimately forgives the schemer while Hill walks the straight and narrow with Marian by his side.
Wilson's imaginative score includes: "Seventy Six Trombones," "Till There Was You," "Trouble," "Goodnight, My Someone," "Lida Rose," "Marian, the Librarian," and "My White Knight."

In addition to directing, Bob Freschi plays the role of Charlie Cowell. The production also features Boston performers Jerry Walker as Mayor Shinn, Mary Callanan as Eulalie Shinn, Mark Linehan as Marcellus Washburn, Ellen Peterson as Mrs. Paroo, Andrew Purdy as Winthrop Paroo, Anelise Allenas as Amaryllis, Matthew Kossack as Tommy Djilas, Rachel Bertone as Zaneeta Shinn plus a full cast of singers and dancers.
"The Music Man," starring Robert Preston and Barbara Cook, opened at Broadway's Majestic Theatre in 1957, The show would go on to win five Tony Awards, including Best Musical (beating "West Side Story"). A screen adaptation, starring Preston and Shirley Jones, opened in 1962, while a television version came along in 2003 starring Matthew Broderick and Kristen Chenowith. Subsequent stage revivals in New York have starred everyone from Dick Van Dyke to Craig Bierko and Eric McCormack.

As is the tradition at Reagle, the production features Broadway style sets & costuming.

Robinson Theatre is located at 617 Lexington Street in Waltham. The theater is air conditioned and wheelchair accessible. Free parking is available.
For tickets, call 781-891-5600 or visit www.reaglemusictheatre.com.