"Fully Committed"
At Christian Herter Park
July 15 - August 15
Thirty-seven characters. Seventy-three minutes. One very busy actor.

Continuing the tradition of outdoor summer theater in Brighton, Gabriel Kuttner will take on Becky Mode's one-man comedy "Fully Committed," at Christian Herter Park (outdoor home to the Publick Theatre) along the banks of The Charles River. Directed by Steven Barkhimer, the production runs July 15 - August 29.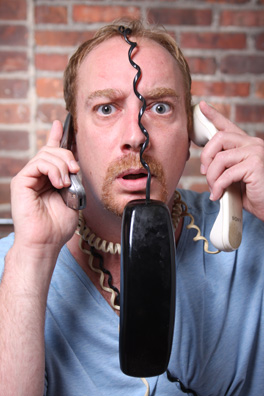 Kuttner (at left) will play all of the nearly forty characters in this rapid-fire comedy, at the center of which is Sam Peliczowski, an out-of-work actor who pays the bills with a nightmare job -- taking reservations for a hot Manhattan restaurant. Sam juggles the phones in a rat-infested basement, suffering the pleas, threats and desperate demands of status-obsessed New Yorkers vying for a table at the "in" spot of the moment. He is forced to contend with snobby VIP's, celebrities and their entitled assistants, a gangster, socialites, and strung-out publicity agents, as well as the restaurant's terrorizing chef -- whose specialty is "global fusion."
"Fully Committed" premiered off-Broadway to critical acclaim in 1999 and has enjoyed success on tour and at regional theaters across the country ever since. Becky Mode and Mark Setlock, who played Sam in the original production, developed the play after working together at a posh Manhattan restaurant, with their experiences providing inspiration for the biting comedy.
The New York Times called the original production "…immensely entertaining, a richly comic affirmation of everything I've ever or suspected, about the bad behavior that good food can inspire."

Gabriel Kuttner, recipient of a 2010 IRNE Award for his performance in "Speed the Plow" at New Rep, collaborates again with Steven Barkhimer, who directed the Orfeo Group's Elliot Norton Award-winning production of "The Complete Works of William Shakespeare (Abridged)" last summer in the same theater.
The outdoor theater at Christian Herter Park (1175A Soldiers Field Road directly across from WBZ-TV) offers free parking and a true summer theater experience. Patrons are encouraged to picnic and bring something to throw on the grill before the show (grills are provided). Refreshments, including beer and wine, will be available for purchase.
For tickets, visit www.fullycommitedboston.com.