New Exhibition Room Presents:
"Candyland," A Recession Comedy
New Exhibition Room opens its second season with the world premiere of "Candyland" by NXR's Dawn M. Simmons. Artistic Director A. Nora Long directs the production, which will play at Boston Playwrights' Theatre from July 29 - August 14.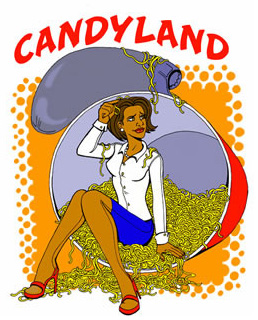 "Candyland" is the comedic journey of a woman searching for work and identity in an economic holocaust. In a fictionalized "now," Boston runs rife with dragons, zombies and karaoke. Entertainment is unearthed everywhere as long as you don't get hit in an imaginary gunfight and end up in a time-out!

The cast features Boston actors Obehi Janice, Christine Power, Kathryn Lynch, Holly Erin McCarthy, Bryan Daley, and Adam Kassim.
Simmons commented, "I wanted to create a campy-fantasy world where I could dramatize the frustration and aggression that comes from being out of work, losing your home, your identity. We're trying to tap into that sense of being a child again, when very little is in your control. In 'Candyland,' free will is subject to government oversight or happenstance. You rarely get what you want, when you want it."
Boston Playwrights' Theatre is located at 949 Commonwealth Avenue. For tickets and information, call 866-811-4111 or visit www.newexhibitionroom.org.
(NXR will continue it's free/low-cost policy with a Pay-What-You-Can Rush Tickets 30 minutes prior to each performance, subject to availability.)