Stoneham Theatre Presents
Becky Barta In
"Always . . . Patsy Cline"
The summer season at Stoneham Theatre continues with Ted Swindley's "Always ... Patsy Cline," starring Becky Barta. Performances run July 8 - 25. Joy Hawkins will direct the production.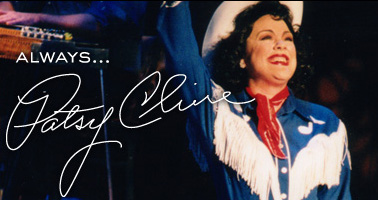 "Always ... Patsy Cline" is based on a true story of the legendary country singer's friendship with a fan from Houston, Louise Seger, who befriended Patsy in a Texas honky-tonk in 1961 and continued a correspondence with her until Patsy's tragic death at the age of 30.
The shows title was inspired by Patsy's letters to Louise, which were consistently signed "Love Always Patsy Cline." This down home, song-filled musical Valentine includes many of Patsy's top hits including "Crazy," "I Fall To Pieces," "Sweet Dreams," and "Walking After Midnight."
Becky Barta is known for her long run with the national touring company of "Les Miserables." Since 1995, the Kansas City native has devoted a significant portion of her theatrical career to portraying Patsy, who died tragically in 1963 in a plane crash following a concert in Barta's home town.
In an interview in Pitch Music, Barta spoke of her fascination with Patsy: "You wouldn't be able to portray the character without inherently loving her music. Patsy's appeal was that she was such a storyteller in the phrasing and timbre of her voice."
Barta has won praise and several awards for performing the role of Patsy, both on national tours and off-Broadway. Barta previously performed "Always ... Patsy Cline" to sell-out audiences in Stoneham back in July of 2004. The theater has been trying to have her back ever since
Director Joy Hawkins, currently the Artistic Director of Key West's Red Barn Theatre, will portray Patsy's pen pal Louise, who she also portrayed at Stoneham Theatre in 2004.
Stoneham Theater is located at 395 Main Street in Stoneham. For tickets and information, call 781-279-2200 or visit www.stonehamtheatre.org.