---

ArtsEmerson: The World on Stage
Unveils Inaugural Season Of Programming

F. Murray Abraham in "The Merchant of Venice"
World Premiere of "The Laramie Project: Ten Years Later"
Boston Return Of Elevator Repair Service
World Premiere About Rose Kennedy
To Highlight Season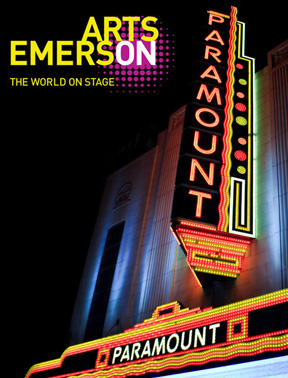 The inaugural season of international theater programming by ArtsEmerson: The World on Stage was announced this week at a press conference held onstage at the beautifully refurbished Paramount Theatre in Boston's historic Theatre District.
ArtsEmerson is the organization established by Emerson College to program the Paramount Theatre, Cutler Majestic Theatre and other venues at Emerson's Paramount Center. The announcement was made by Robert J. Orchard, appointed Executive Director of the Arts in October 2009, along with the President of Emerson College, Jacqueline W. Liebergott. The season includes more than 100 performances of 17 different productions, including world premieres, Boston debuts and works to be developed in the new facilities created by Emerson College.

The four distinct performance venues include: the beautifully re-imagined 590-seat Paramount Theatre, a cornerstone in the revitalization of downtown Boston; the versatile, intimate Black Box Theatre, which can seat up to 150 people; the state-of the art 170-seat Bright Family Screening Room (all located within the new Paramount Center); and the historic 1,186-seat Cutler Majestic Theatre in the heart of the Theatre District, fully restored by Emerson in 2003.

The Paramount Center also includes a new, full scene shop, rehearsal studios and soundstage. These support spaces will allow for the development of new work, and the establishment of multi-year relationships with some of the world's most celebrated makers of Theatre.
Orchard commented that he's grouped his artists into three programming streams: legends, pioneers and family. Legends are established, highly regarded companies and artists whose work is celebrated around the world, such as The Abbey Theatre, The New York Theatre Workshop, Peter Brook, Tectonic Theater Project and F. Murray Abraham, among others. Pioneers include a new generation of artists whose ideas are redefining theatre, such as Elevator Repair Service, 7 Fingers, Rude Mechs and Basil Twist. Finally, the group will also host a wide variety of performances for people of all ages. Some of these works will be developed at the Paramount Center for Boston audiences and then travel the world.

Due to the diversity of performance locations and the various seating arrangements, ArtsEmerson is not offering subscriptions, per se. However, replacing that will be annual Memberships to ArtsEmerson, offered at $60. Members will receive one free ticket, substantial discounts, standby seating upgrades, plus access to tickets before they go on sale to the general public. Members will also receive special access to residencies and workshops, designed to offer audiences insights into works in development, and the opportunity to provide feedback.
Tickets for Booking Period One (all performances through the end of 2010) are available to members now, and will go on sale to the general public July 26.
Tickets for Booking Period Two (performances January—May 2011) will be available to members beginning October 1, and will go on sale to the general public November 1.
In addition, ArtsEmerson offers specially-selected member packages, including All for Fall (six projects starting at $199), Family Pack, Pioneer Pack and Legends Pack. For details about membership and tickets, visit www.artsemerson.org or call 617-824-8000. Packages are designed to give audiences flexibility in designing their own season.
Ruth Davidson, Director of External Affairs commented, "Our goal is to create an ArtsEmerson community of patrons, who engage with the work, the artists and even each other over time. This is a new approach for Boston, and we're excited about the possibilities. Rob's multi-year commitment to many artists will allow for long-term relationships between creators and audience."

Booking Period One
September - December 2010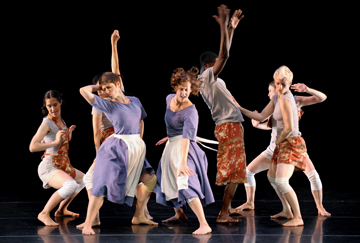 September 23 - 30, 2010
"Fraulein Maria" (Boston Premiere)
Presented by Doug Elkins and Friends
Paramount Theatre
"Fraulein Maria" is Rodgers and Hammerstein's "The Sound of Music" as deconstructed by the brilliant mind and playful spirit of acclaimed choreographer Doug Elkins. A gender-bending, tour-de-force comedy, "Fraulein Maria" began as a love letter to Elkins' children, on a tiny stage at Joe's Pub at New York's Public Theater and has turned into a bona fide family tradition. Set to the original Julie Andrews soundtrack, Elkins's affectionate humor shines through his idiomatic tips of the hat to such dance legends as Martha Graham, George Balanchine, Jose Limon, Paul Taylor and Merce Cunningham. The von Trapp children are hoodied hip-hop dancers; cross-dressing nuns cavort across the stage. He seamlessly merges modern and popular dance forms, reinventing this beloved 1965 standard into an edgy yet fun cabaret romp. Recommended for everyone, including children 5 and older.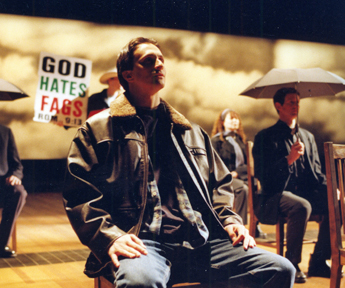 September 24 - October 2, 2010
"The Laramie Residency"
Tectonic Theater Project
Cutler Majestic Theatre
"The Laramie Project"
By Moisés Kaufman and the members of Tectonic Theater Project

"The Laramie Project: Ten Years Later" (World Premiere)
Written by Moisés Kaufman, Leigh Fondakowski, Greg Pierotti, Andy Paris and Stephen Belber
The creators of one of the most important plays in recent times make their Boston debut. In October 1998 Matthew Shepard was kidnapped, beaten and left to die, tied to a fence on the outskirts of Laramie, Wyoming. Five weeks later, members of the Tectonic Theater Project went to Laramie, and over the course of a year, conducted more than 200 interviews with townspeople. From these interviews they wrote "The Laramie Project," one of the most-performed plays in America today. Recommended for age 14 and up.

ArtsEmerson will also present the world premiere of "The Laramie Project: Ten Years Later." Members of Tectonic Theater Project returned to Laramie to find out what happened in the 10 years since Matthew Shepard died. They asked the questions: Has Matthew's murder had a lasting impact on that community? How has the town changed as a result of this event? What does life in Laramie tell us about life in America 10 years later? From the interviews, they wrote an Epilogue for the original play, and in the fall of 2009, on the 11th anniversary of Matthew's death, companies all over the world performed staged readings. This will be the first full stage production, presented in repertory with the original. Recommended for age 14 and up.

October 13 - 17, 2010
"The Method Gun" (Boston Premiere)
Written by Kirk Lynn
Directed by Shawn Sides
Created and performed by Rude Mechs
Black Box at Paramount Center
"The Method Gun" hilariously explores the life and techniques of Stella Burden, an apocryphal actor-training guru of the 60s and 70s, whose sudden emigration to South America still haunts her most fervent followers. Burden's training technique, "The Approach" (often referred to as "the most dangerous acting technique in the world"), fused Western acting methods with risk-based rituals in order to give even the smallest role a touch of sex, death and violence. Amid swinging pendulums and talking tigers, "The Method Gun" uses found text from "actual" journals and performance reports from the final months of rehearsals for Burden's nine-years-in-the-making production of "A Streetcar Named Desire" using only the minor characters. It's about the ecstasy and excesses of performing, the dangers of public intimacy and the incompatibility of truth on stage and sanity in real life. Recommended for age 17 and up. (Contains nudity.)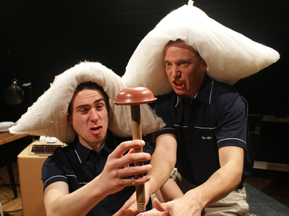 October 20 - 24, 2010
"One Small Step" (U.S. Premiere)
Oxford Playhouse
Written by David Hastings
Directed by Toby Hulse
Black Box at Paramount Center
"One Small Step," launched at the 2008 Edinburgh Fringe on the 40th anniversary of the moon landing, garnered rave reviews and thrilled audiences. Two extraordinary young actors, using little more than cardboard boxes, buckets and a thermos, recount the history of moon travel, taking the audience on an action-packed trip involving 41 characters, in an inventive exploration of the space race. From the first dog to be rocketed into space, to the moon landing and beyond, "One Small Step" is full of epic achievements and humor. Recommended for everyone, including children 6 and older.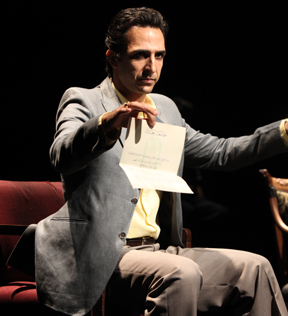 October 27 - 31, 2010
"Aftermath" (Boston Premiere)
Written by Jessica Blank and Erik Jensen
Directed by Jessica Blank
Presented by New York Theatre Workshop
Paramount Theatre
March 20, 2003, the day that President Bush announced the invasion of Iraq, changed the lives of ordinary Iraqis forever. In June 2008, Jessica Blank and Erik Jensen, award-winning creators of "The Exonerated," traveled to Jordan to find out what happened to Iraqi civilians who escaped in the wake of the War. They interviewed some 35 people -- a cross-section of lives interrupted -- who fled the chaos and violence that befell Iraq for the relative safety of Jordan. Following their visit, these encounters were crafted into a vivid, illuminating and unforgettable play that gives voice to the upheaval of everyday life in a country struggling to find its way back home. "Aftermath" reveals a truth, charged with emotion, outrage, and in the end, lessons in courage and humanity. Recommended for age 14 and up.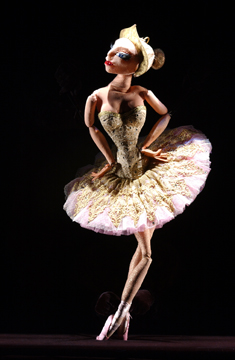 November 11 - 21, 2010
"Petrushka" (Boston Premiere)
Created and directed by Basil Twist
Music by Igor Stravinsky
Twin pianos by Julia and Irina Elkina
Paramount Theatre
Known the world over for his astonishingly innovative puppet shows, master puppeteer and Guggenheim Fellow Basil Twist spins new magic around the legendary Ballets Russes production. Set to Stravinsky's classic score, it's the story of a tragic love triangle between three magical creatures; the clown Petrushka, the alluring Ballerina and the dashing Moor, whose stories emerge amidst the swirl of the Russian carnival. The program opens with an abstract fantasia of puppetry set to Stravinsky's "Sonata for Two Pianos," performed by Russian identical twin pianists, Julia and Irina Elkina. Nine hidden puppeteers combine Czech and Japanese traditions in a tour de force of music, movement, design and storytelling. Recommended for everyone, including children 7 and older. Co-presented with The Celebrity Series.

Booking Period Two
January - May 2011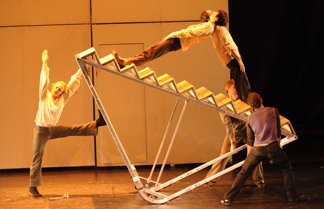 January 18 - 23, 2010
"PSY"
Les 7 doigts de la Main (Boston Debut)
Directed by Shana Carroll
Assistant Director: Isabelle Chassé
Cutler Majestic Theatre
French-Canadian contemporary circus company Les 7 doigts de la Main (The 7 Fingers) blends acrobatics, theatre and dance in "PSY," a two-hour extravaganza. Sitting in the quiet of a psychiatrist's office, the voices in a man's head instruct him to climb on a trapeze and hang by his toes. An obsessive - compulsive patient crosses a busy intersection, his attempts to avoid contact leading him to perform acrobatics across a sea of pedestrians. A woman, confronting agoraphobia, is led to swing through the air. Trapeze, juggling, aerial ropes, Chinese poles, and German wheels fill the stage, as The 7 Fingers brings out humor, beauty, and the commonality of everyday human limitations, while celebrating the power of the individual, and finding moments of strength, courage and joy while flying through the air. Recommended for everyone, including children 7 and older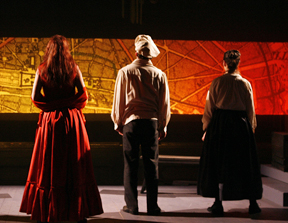 January 19 - 23, 2011
"Paris Commune" (Boston Premiere)
The Civilians
Created by Steven Cosson and Michael Friedman
Directed by Steven Cosson
Paramount Theatre
In 1871, working class Parisians overthrew the French government, declared Paris autonomous and launched an attempt to reinvent society. Inspired by an actual concert that took place in the overthrown imperial palace at the height of the uprising, this memorable musical employs a bold theatrical form to tell the story of the first socialist revolution in Europe. The acclaimed New York theatre ensemble uses found texts, original songs from the time period, and the cabaret form to tell the story of this extraordinary event that re-imagined an entire culture. Recommended for age 14 and up.

IRISH FESTIVAL -- January 19 - February 13
Supported in part by Culture Ireland

January 19 - 30, 2011
"The Color of Rose" (World Premiere)
Written by Katherine Bates
Black Box at Paramount Center
In this world premiere by Katherine Bates, the aged Rose Kennedy prepares herself for a pressing interview by revisiting her past through the eyes of her youth and middle-age. Her candid reflections paint a unique and fascinating picture of a legendary family through the lens of its least-known yet most important anchor, Rose. Recommended for age 12 and up.
Produced in collaboration with the Performing Arts Department at Emerson College.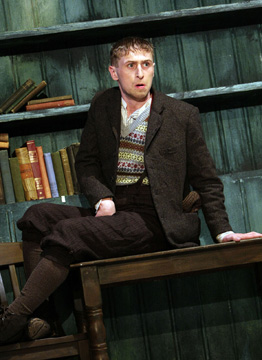 February 2 - 6, 2011
"The Cripple of Inishmaan"
Druid Theatre (Boston Debut)
Written by Martin McDonagh
Directed by Garry Hynes
Paramount Theatre
"The Cripple of Inishmaan" is a quintessentially Irish comic masterpiece with eccentric island characters trading stories to within an inch of their lives while a young man tries to make sense of who he is. This production revives the unique partnership of the Druid ensemble with writer Martin McDonagh and director Garry Hynes. It's 1934 and the sleepy island of Inishmaan is abuzz with the news that Hollywood filmmaker Robert Flaherty has arrived on the neighboring island of Inishmore to film his movie "The Man of Aran." For orphaned Billy Claven, who has been relentlessly scorned by Inishmaan's inhabitants, the film represents an escape from the poverty of his existence. He vies for a part in the film, and to everyone's surprise, it is the cripple who gets his chance. Recommended for age 12 and older.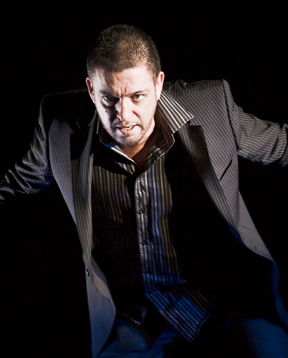 February 8 - 13, 2011
"Terminus"
Abbey Theatre
Ireland's National Theatre
Written and directed by Mark O'Rowe
Paramount Theatre
Ireland's famed Abbey Theatre presents its most acclaimed recent production - Mark O'Rowe's "Terminus." A vivid and exhilarating play, "Terminus" is a tale of three people ripped from their daily lives and thrown into a fantastical world of serial killers, avenging angels and love-sick demons. As their stories progress, the narratives begin to intersect and crisscross, and their emotions, yearnings, and desires simmer and occasionally explode. Recommended for age 16 and over.


March 9 - 20, 2011
"The Sun Also Rises" (Boston Premiere)
Elevator Repair Service
Based on the novel by Ernest Hemingway
Adapted and directed by John Collins
Paramount Theatre
Elevator Repair Service thrilled Boston audiences with "Gatz" this past season at the A.R.T. They'll return to Boston with a very different production – a single-sitting adaptation of "The Sun Also Rises," which will have its world premiere at the main Edinburgh Festival this summer. The first world war is over, but some battles still rage on. Elevator Repair Service brings Hemingway's novel to life on a stage littered with liquor bottles and cafe chairs as the story winds its way through France and Spain, landing in the streets of Pamplona where bullfighting and the fiesta are in full swing. Recommended for age 14 and older.
"The Sun Also Rises" is a co-production of ERS and New York Theatre Workshop. Commissioned by the Ringling International Arts Festival, John and Mable Ringling Museum of Art, in association with the Baryshnikov Arts Center; the Philadelphia Live Arts Festival with funding from The Pew Center for Arts & Heritage through the Philadelphia Theatre Initiative; and ArtsEmerson: The World on Stage.
A CELEBRATION OF DIRECTOR PETER BROOK
March 22 - April 3
Peter Brook is a giant of contemporary theatre - a creative genius who, through his groundbreaking productions, has reinvented the way actors and directors think about their craft. His influential book, The Empty Space, explores the nature of theatre, as well as Brook's theories on the purpose and potential of the theatrical form. Famous for his innovative approach, Brook worked on many productions in Britain, Europe, and the United State, in the 1950's. In 1962, he joined the newly established Royal Shakespeare Company for which he directed, among other productions, "King Lear" (1962) and Peter Weiss's "Marat/Sade" (1964). Hailed as one of the greatest Shakespeare productions of the 20th century, Brook's 1971 "A Midsummer Night's Dream" toured the United States, and was his last production seen in Boston (at the Shubert Theatre). Most of his work in recent decades is done with the Paris-based Centre for Theatre Research, which he founded. Among his films are "The Beggar's Opera" (1952), "Lord of the Flies" (1962), and "King Lear" (1969).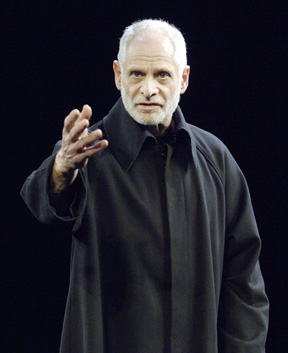 March 22 - April 3, 2011
"The Grand Inquisitor" (Boston Premiere)
From The Brothers Karamazov by Dostoyevsky
With Bruce Myers
Directed by Peter Brook
Adapted by Marie-Hélène Estienne
Black Box at Paramount Center
Peter Brook directs Marie-Hélène Estienne's adaptation of The Grand Inquisitor scene from Dostoyevsky's The Brothers Karamazov, a chilling parable about the perversion of religious faith. The action takes place in Seville during the Inquisition. In his infinite mercy, Christ returns to the world of man in the human form he wore during his 33 years on earth. He enters the burning streets of the city, where the previous day the Grand Inquisitor had sent a hundred heretics into the flames. The Cardinal Grand Inquisitor sees Him and his face darkens. He orders the guards to seize Christ and shut Him in a narrow vaulted cell. In the darkness, suddenly, the iron door opens and the Grand Inquisitor quietly enters. For a long moment, he stays in the doorway, studying the Holy face. Then he draws nearer, saying: "Is it You? You?" Theatricalizing one of the most profoundly moral works in all of literature, Brook has created a one-man show of urgency and intensity. His minimalist staging of the Inquisitor's monologue is no less than a naked inquisition of our age, our complicity and our answers to his questions. Recommended for age 12 and older.

March 29 - April 2, 2011
"Fragments" (Boston Premiere)
Based on texts by Samuel Beckett
Directed by Peter Brook
Co-directed by Marie-Hélène Estienne
Paramount Theatre
With his characteristic theatrical alchemy, Peter Brook stages a quintet of works by preeminent playwright Samuel Beckett—"Rough for Theatre I," "Rockaby," "Act Without Words II," "Neither," and "Come and Go." Brook's long awaited vision of Beckett's "Fragments" illuminates the comedy and courage in Beckett's characters who dare to face the void. Says Brook, "Today, with the passage of time, we see how false were the labels first stuck on Beckett – despairing, negative, pessimistic. Indeed, he peers into the filthy abyss of human existence. His humor saves him and us from falling in. He rejects theories and dogmas, that offer pious consolations, yet his life was a constant, aching search for meaning." With renowned international artists Hayley Carmichael, Antonio Gil Martinez, and Bruce Myers, Brook plumbs the depths of Beckett's sparse, dynamic texts, revealing humor and humanity. Recommended for age 12 and older.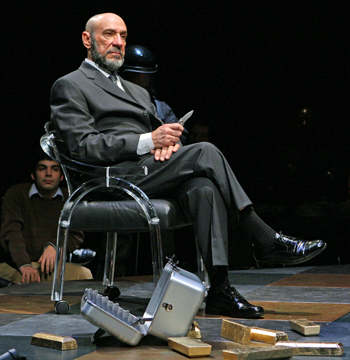 March 29 - April 10, 2011
"The Merchant of Venice"
By William Shakespeare
Theatre for a New Audience
Starring F. Murray Abraham
Directed by Darko Tresnjak
Cutler Majestic Theatre
Oscar winner F. Murray Abraham stars as Shylock in this production from Theatre for a New Audience, fresh from hugely successful runs at the Royal Shakespeare Company in England and New York. A mysteriously melancholy rich man; a dashing young lover in desperate need of cash; a moneylender with good reason to seek revenge; and a witty young woman with a knack for disguise are the elements of Shakespeare's sparkling and troubling tragicomedy, in a new modern-day adaptation where cell phones and wallets replace messengers and moneybags. Recommended for age 12 and older.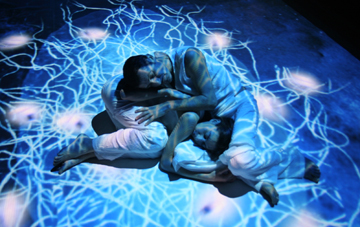 May 10 - 15, 2001
"Farfalle"
Compagnia TPO of Italy (Boston Debut)
Black Box at Paramount Center
The wondrous, other-worldly "sensory gardens" of "Farfalle" (Butterflies) take audiences on a magnificent journey through a literal and symbolic story of a butterfly's life cycle. It brings together theatre and contemporary art and technology; at the centerpiece of "Farfalle" is the CCC (or "Children Cheering Carpet"), a special sensor-covered mat which interacts with dancers and the audience in real, enchanted time. Recommended for age 5 and older. Co-presented with The Celebrity Series.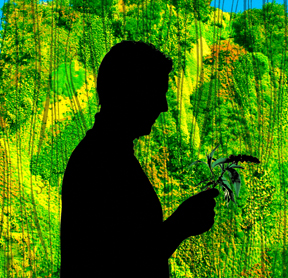 Beginning in May
"Susurrus"
Written and directed by David Leddy
Boston Public Garden
"Susurrus" is part radio play, part sonic art, and part stroll in the park -- a poignant story of misplaced passion that sensuously refracts the themes of William Shakespeare's "A Midsummer Night's Dream" and includes music from Benjamin Britten's opera of the same name. Edgy young Scottish playwright David Leddy's site-responsive work melds dramatically spiraling theatrical writing and performance art in an unconventional location: the audience listens to Susurrus through the headset of an MP3 player while following a charted path through Boston's exquisite Public Garden. Recommended for age 16 and older. (Exact details and dates available soon.)
In addition to theatre, ArtsEmerson will present music, movement and multimedia works in the performance venues; classic and contemporary film in the Bright Family Screening Room; and workshops and discussions throughout the Paramount Center. Music, film and additional programming will be announced at a later date.
Photo Credits:
"Fraulein Maria" - Sara D. Davis
"Laramie Project" - Ken Friedman
"One Small Step" - Charlie Field
"Aftermath" - Joan Marcus
"Petrushka" - Richard Termine
" PSY" - David Poulin
"Paris Commune" - Carol Rosegg
"Terminus" - Ros Kavanagh
"The Cripple of Inishmaan" - Keith Pattison
"The Merchant of Venice" - Goodstein
"The Grand Inquisitor" - Geraint Lewis
"Susurrus" - David Leddy