---

"Sophie Tucker" Musical Revue
Is Summer Show At New Rep
New Repertory Theatre, in residence at the Arsenal Center for the Arts, will present "Sophie Tucker: The Last of the Red Hot Mamas" as its summer show. Starring Mary Callanan (below), the one-woman musical revue by Jack Fournier and Kathy Halenda will play June 24 - July 11. Todd C. Gordon serves as Musical Director.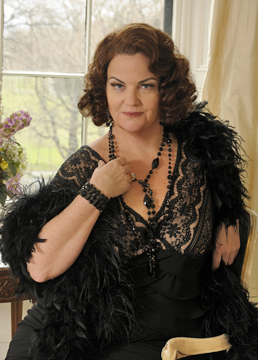 Known for her for her bawdy sense of humor and outspoken views on men and relationships, Sophie Tucker influenced multiple generations of comediennes and singers alike. During her career, which spanned more than seven decades, this gutsy vaudeville entertainer found popularity and fame with self-parody and suggestive songs like "I'm the Last of the Red Hot Mamas," "The Lady is a Tramp," and "You've Gotta See Your Mama," as well as her signature number "Some of These Days."

Kate Warner, the show director, commented, "Our summer show is a tour-de-force celebrating Sophie Tucker's sassy style and bold personality. Cabaret-style musical numbers and comedic sketches capture the feel of the vaudeville heyday for an experience that is witty, bawdy, and just plain fun."

She added, "We are excited to welcome Mary Callanan to New Rep's family with this production. Mary's powerful voice and presence perfectly capture Sophie Tucker's personality, and audiences can look forward to rousing performances of vaudeville tunes like 'The Lady is a Tramp' and 'Some of These Days.'"

For information and tickets, call 617-923-8487 or visit www.newrep.org. Free parking is available adjacent to the theater complex.