A Review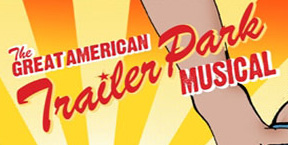 The Red Neck Side Of The Tracks
By R. J. Donovan
SpeakEasy Stage is wrapping up its 2010 season with sassy laugh riot called "The Great American Trailer Park Musical." Referencing every politically incorrect, trailer trash, red neck cliche you can imagine, this is the theatrical equivalent of a giant cheese doodle. Happily, the first rate company delivers a polished, joyfully irreverent production that, to their credit, seems to unfold effortlessly in front of you.
Director Paul Daigneault had his work cut out for him in keeping this funny vs. cruel, and he succeeds at every tacky turn in the road.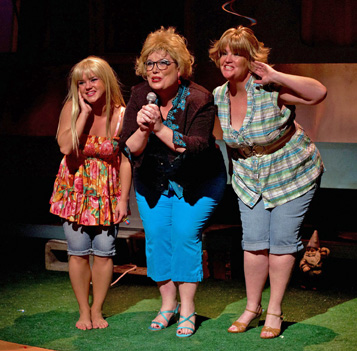 The setting is Armadillo Acres, a trailer park in Starke, Florida. The motley crew of inhabitants include: Linoleum (so named because her mother gave birth on the kitchen floor) who's got a husband on death row; Jeannie, a hopeless agoraphobic who hasn't left her trailer since her baby was kidnapped (or is that trailer-napped?) some two decades before; Jeannie's toll collector husband Norbert, who's sympathetic to his wife's condition but ultimately runs into the arms of infidelity; Pippi, the home wrecking new neighbor who works as a stripper at the Litter Box Show Palace; Duke, her stalking cowboy boyfriend; and Pickles, the cranially challenged blonde who's so named because she suffers hysterical pregnancies.
With a book by Betsy Kelso and music and lyrics from David Nehls, the show skewers everything from shotgun weddings to the Tidy Bowl Man. With pink flamingos in the mist, the ladies long to stretch out in the sun, working on their tans with reflector boards and a liberal dose of Mazola Oil. The storyline and individual scenes fly by, which is good, because the act of thinking would only hurt the experience. It's best to get smacked between the eyes by the humor and move on.
The cast is a mix of Boston favorites, one former local guy who, happily, has returned to town for this show, plus three new faces who hold their own against their more experienced cast mates. Collectively, this one show let's you hear some of the best voices in town.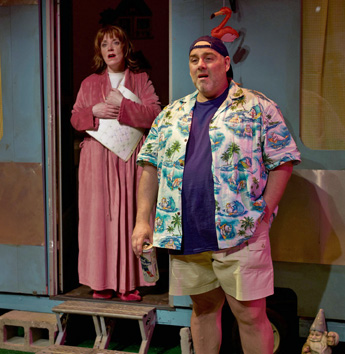 Leigh Barrett is the agoraphobic Jeannie, trapped in her trailer, but working hard to make it out the front steps in time to celebrate her 20th anniversary at the Ice Capades. Draped in her "Frankie Says Relax" T-shirt, Leigh is funny throughout, but especially touching in the duet "Owner of My Heart" (left, with David Benoit).
Benoit, a graduate of the New England Conservatory and with a successful career in New York and on tour, is Norbert. Loveable but unfaithful, he builds a touching portrait of a guy who's tried hard to deal with his lot in life, but who still roams from home though never meaning to hurt anyone in the process. (Boston audiences last saw Benoit on tour in "Avenue Q.")
The Greek chorus, Andrews Sisters-style, includes Kerry Dowling as Betty, Mary Callanan as Lin and Santina Umbach (one of the three new faces in the cast) as Pickles. Dowling and Callanan are never anything less than hysterical, whether commanding the stage in their solo spots, singing with plungers or tossing off asides with razor sharp skill (kudos to Callanan for her "we're going to the library" comment). As the dumb blonde of the trio, Umbach is a talent to watch. A student at Boston Conservatory, she sings great, has a killer way with a funny line and creates characters in a flash.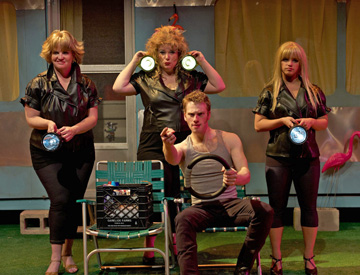 As Duke, the lunatic male version of Pickles -- dumb as dirt, but as serious in his convictions as all get out -- Grant MacDermott has a comical command of his character whether he's flying along the highway or snorting the fumes from a holster full of magic markers. He's a recent grad of Emerson. Caitlin Crosbie Doonan (a grad of the Conservatory's Master's program) is Pippi, the pole dancer with a pierced and bejeweled navel.
High points include a funny flashback sequence, a Jerry Springer-like TV show, the clever use of headlights in Duke's car musical car chase (above), Norbert and Pippi's conversation about collecting dollar bills, Kerry Dowling's human siren in the disco number, and the rousing "Make Like A Nail And Press On" anthem.
Designer Jenna McFarland Lord has made wonderfully economical use of the playing area, giving us three mobile homes -- one for Jeannie, one for Pippi and a third that houses the orchestra. Adorned with palm trees, Christmas lights, and cartoonish mailboxes, the set is a postcard come to life. In following Jeannie's housebound story, Lord solves the hibernation problem by having the entire front wall of the trailer fly up to reveal its interior.
"The Great American Trailer Park Musical" is a fine way for SpeakEasy to close out its eclectic season on a goofy and thoroughly entertaining note. For those who appreciate silly, done to the hilt and served up by pros who really know what they're doing, this is one not to be missed.
"The Great American Trailer Park Musical," from SpeakEasy Stage, is at the Calderwood Pavilion at the Boston Center For The Arts, 527 Tremont Street, through May 30. 617-933-8600.
-- OnStage Boston
-- Production Photos: Mark L. Saperstein