A Review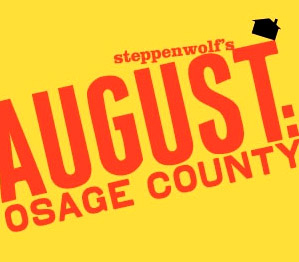 Brutal Brilliance
By R. J. Donovan
In 2008, "August: Osage County" walked away with multiple Tony Awards, a New York Drama Critic's Award, Outer Critics Circle Award, the Drama Desk Award, Drama League Award, plus the Pulitzer Prize for Drama.
By the final curtain at The Colonial Theatre, it was easy to see why.
With a dense, tragi-comedic plot, "August: Osage County" is one of the most brutal evenings I've experienced in the theater in a long time. It's like a raw nerve exposed. However, it also turns out to have moments of tremendous humor.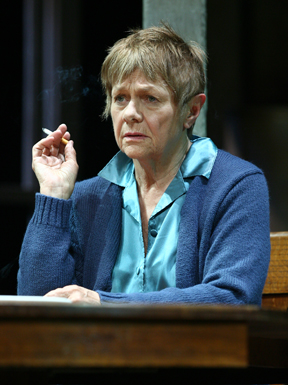 The Weston Family is in crisis -- which seems to be the way this fitfully dysfunctional group has existed since day one. It turns out the patriarch of the brood has disappeared, and so the siblings and in-laws flock to the family home on the plains of Oklahoma to deal with it.
The missing father (Jon DeVries) is an alcoholic, a professor who years before had a career as a poet. His wife is a raging drug addict dying from cancer. Among the family's motley menu of afflictions: adultery, incest, pedophilia, drug abuse, and suicide.
The family fights and sulks. Old wounds are reopened; new ones are created. With the characters talking (and sometimes screaming) over one another, emotions ignite like an electrical cord sparking out of control.
Doesn't sound all that funny, does it? Yet the humor comes from the situation and author Tracy Letts handles it all with shocking believeabilty.
The wonderful Estelle Parsons (above) is chilling as Violet, the Mom of the group. She weaves a spell of such corrosive pain that it's almost difficult to watch. Roving from clear-headed brutality to drug-induced stupor, she plays to the truth. A malicious woman with a stiletto tongue, Violet knows the buttons to push, and push them she does, savagely destroying her own children with twisted comments that one can hardly fathom coming from a mother.
In a case of the past mirroring the present and telling of the future, Violet shares a story of a cruel Christmas prank, played on her by her own mother, who dissolved in laughter and delight for days over the child's hurt and disappointment. In the end, the apple doesn't fall far from the tree.
The plot is spread out over three acts, but the evening holds your attention with such a level of can't-look-away fascination that the time passes before you know it.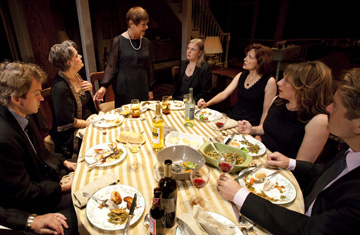 Act One finds the family gathering to fret over the disappearance. Act Two follows (spoiler alert), the father's funeral. Act Three, puts the story over the top by exposing secrets that succinctly destroy almost everyone involved.
This is a show filled with colorful roles, played out in vivid performances. And the cast is superb. The three Weston daughters have varied in assuming family responsibility. And none has been very diligent in staying in touch. It doesn't take long to understand why.
The mousy Ivy (Angelica Torn), gave up a life of her own to stay close by and care for her parents. Always either ignored or left behind, she is single -- a fact her mother never lets her forget. Daughter Barbara (Shannon Cochran) left town when her husband was offered a great job in Colorado. The trio is rounded out by the self-absorbed Karen (Amy Warren), single, but planning a wedding in Florida.
As chaos reigns, Barbara becomes the force to be reckoned with as she tries to take control of the unraveling family. It's said that in one way or another we all become our parents. The irony here is that Barbara doesn't see she's turning into a carbon copy of an original she can't tolerate.
By evening's end, responsibilities have shifted. Ivy, having found her strength, is storming off; Barbara, resolved to take on the responsibility of her mother, has split from her husband; and the flighty Karen is still planning a wedding despite the dark clouds of infidelity that will trigger a doom she chooses to ignore.
Libby George is Violet's abrasive sister Mattie Fae, a big woman with an even bigger mouth who commands her own family like a steamroller with lipstick. Paul Vincent O'Connor is Charlie her husband, solid but hen-pecked, until he proves who's really in charge.
One of the funniest scenes finds the family sitting around the table for a funeral dinner. Charlie gives a well meaning but rambling blessing that's peppered with wonderful stage business from those around the table. Kudos to director Anna D. Shapiro for keeping it all so precise and comical.
Laurence Lau is Steven, Karen's slimy fiancee, three times divorced. And Stephen Riley Key is Mattie's son, Little Charles. He's a sad case of someone who just doesn't fit in, yet he's supported with tender loyalty by his Dad.
The only flaw, and it's minor, is that the actress playing Barbara's 14-year-old daughter just doesn't look 14. Such that when she is inappropriately touched by Karen's lascivious fiancee, the scene isn't as vile as it ought to be.
Designer Todd Rosenthal has created a gigantic, highly detailed, three-story dollhouse of a set. In a way, the people are but mere toys in the story. Shadows fill the rooms in the first two acts as the windows are taped over to mask the difference between day and night. However, in act three, the shades are ripped open, allowing light, and ultimately, revelation, into the house for the first time in decades. But even at that, the light that's shed destroys more than it heals.
Parts of the story are shocking. But the evening transports, and that's what great theater is all about. Still, this is a dark and haunting world of such raw authenticity that you're glad to walk up the aisle at the final curtain.
"Osage County" dazzled Broadway, and it's pretty much done the same on the road. Boston marks the end of a long national tour. It's sad that it finally drew to a close, but audiences at The Colonial were the better for experiencing a gripping piece of theater presented by a company of exceptional actors.
"August: Osage County" is at the Colonial Theatre through May 9. For information, call 800-982-2787.
-- Production Photos: Joan Marcus (top), Robert Saferstein (bottom)
-- OnStage Boston