---

A Review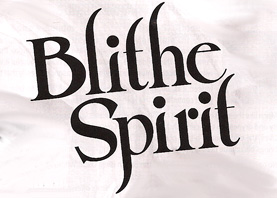 Relative Receptivity
By R. J. Donovan
In his day, Noel Coward was the epitome of style and wit and sophistication. The flamboyant writer, actor, composer, singer and director wrote hundreds of songs and more than 50 plays, including "Present Laughter" -- which the Huntington staged in 2007 before sending the production on to Broadway -- and the airy farce, "Blithe Spirit" -- which the Lyric is presenting as the cap of its 2010 season.
One of Coward's more enduring pieces, "Blithe Spirit" first burst to life in London in 1941. With the conflicts of a World War swirling over their heads, audiences were looking for a diversion -- something light and airy. With "Blithe Spirit," Coward gave it to them.
The comedy subsequently jumped the pond to Broadway and was followed both by a film version starring Rex Harrison, and a later musical adaptation, called "High Spirits," headlining Bea Lillie and Tammy Grimes. (Unfortunately, it opened the same season as "Hello, Dolly!" and "Funny Girl" and kind of got lost in the shuffle). A revival of the Coward original, starring Angela Lansbury, Christine Ebersole and Rupert Everett cropped up just this past season on Broadway.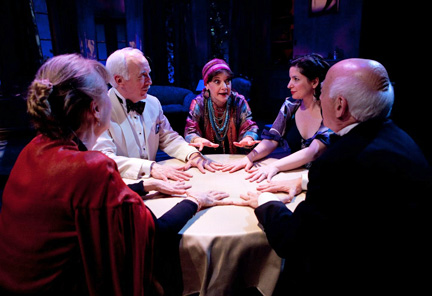 The comedy is set in the stylish country home of preening novelist Charles Condomine, who invites a local medium to stage a seance for him. She arrives in a swirl of spiritual vibrations to the delight of Condomine, his second wife and their guests. The colorful medium manages to dredge up the spirit of Condomine's first wife, Elvira. However only Condomine can see her, much to the consternation of his present wife, Ruth. Once summoned, Elvira finds herself stuck on this side of the heavenly divide. Lonely for her loving former mate, she schemes to kill Charles so he can join her for all eternity. However, it is Ruth who accidentally falls victim to Elvira's plan, and she is killed, only to join Elvira in haunting the house. Again, only Charles can see them. At his wit's end, he calls upon Madame Arcati to return and send the ghosts packing, which she does -- sort of.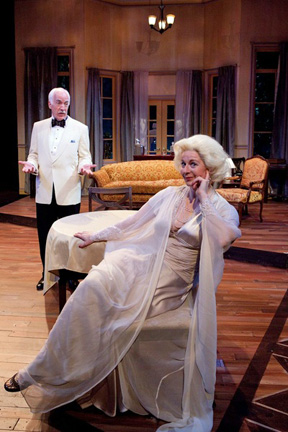 Coward's characters are typically cool, crisp and crackling, fond of such descriptive words as "beastly," delivered with superior victimization. As well, Coward's work requires a pace that's bright and clipped. The cast at Lyric is certainly up to it as they are among the best in town: Richard Snee as Charles, Paula Plum as Elvira, and Kathy St. George as the eccentric Madame Arcati. (Side note: St. George receives a rousing round of applause every time she finishes a scene and makes her exit.)
So why does the evening come off as entertaining vs. brilliant? In part, it may be a case of visuals fighting content. The setting itself -- living room, sofa, side chair, dining table -- doesn't look like anyone of much importance inhabits it. Even the addition of an oriental rug or two would have lent a hint of opulence and old world charm.

At the risk of belaboring the point, it's sometimes these details that make or break believability. One example -- when a set of salt and pepper shakers was produced for a plot point in the third act, it was distracting to see props that looked like they came from a corner deli vs. an elegant country home populated by servants.
The characters may be intentionally shallow as they sip their martinis and discuss things of perilous importance, but as is often the case with the shallow, they think quite highly of themselves. And that illusion can be impacted when it isn't supported by the ambiance.
But in the end, the hocus pocus works to the extent that it does because of the considerable talents of the pros on stage, under the direction of Spiro Veloudos. In addition to Snee, Plum and St. George, the company includes: Anne Gottlieb as Ruth, the second wife; Anna Waldron as Edith, the ever-running maid; and Sarah deLima and Arthur Waldstein as Dr. and Mrs. Bradman, respectively.
Noel Coward's "Blithe Spirit " is at Lyric Stage Company of Boston, 140 Clarendon Street, through June 5. For information, call 617-585-5678.
-- OnStage Boston
-- Production Photos: Mark S. Howard