Cirque Du Soleil Returns To Boston
With "OVO"
Performances Begin July 22
Following its successful run with "Kooza" in 2008, Cirque du Soleil returns to Boston this summer with its latest touring production, "OVO."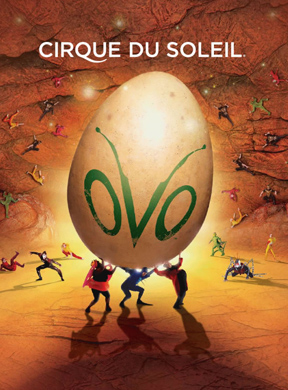 Cirque du Soleil has been a regular visitor to town since 1993. This time, the trademark blue-and-yellow Grand Chapiteau will be erected at the Fan Pier & Pier 4, on Boston's New Waterfront. Performances begin July 22 for a limited run through August 15. The cast includes more than 54 artists from 16 countries.
Recently acclaimed by New York critics, "OVO" means "egg" in Portuguese. This timeless symbol of the life represents the underlying thread of the show.
Directed by Deborah Colker, the first female director at Cirque du Soleil,"OVO" is described as "a headlong rush into a colorful ecosystem teeming with life, where insects work, eat, crawl, flutter, play, fight and look for love in a non-stop riot of energy and movement. The insects' home is a world of biodiversity and beauty filled with noisy action and moments of quiet emotion." (Graphically, "OVO" hides an insect in its name: The two O letters represent the eyes while the letter V forms the nose.)
When a mysterious egg appears in their midst, the insects are intensely curious about this iconic object representing the enigma and cycles of their lives. It's love at first sight when a gawky insect arrives in the community and a fabulous ladybug catches his eye.
With its international headquarters in Montreal, Cirque du Soleil has brought its world class entertainment to 100 million spectators in 300 cities on five continents. In 2010 alone, Cirque du Soleil will present 21 shows simultaneously throughout the world. The company has received such prestigious awards as the Emmy, Drama Desk, Bambi, ACE, Gémeaux, Félix, and Rose d'Or de Montreux.
Beginning in 1984 as a group of 20 street performers, Cirque du Soleil today has 5,000 employees, including more than 1,200 artists from almost 50 different countries.
For information and tickets, call 1-800-450-1480 or visit www.cirquedusoleil.com/ovo.