---

2010-2011 Season At New Rep
Showcases Love, Loss and Growth
New Repertory Theatre will present seven plays for its 2010-2011 Season addressing themes of transformation through comedy, love, loss, music and personal growth. The titles include "Boston Marriage," "Cherry Docs," "Frankie and Johnny in the Clair de Lune," "afterlife: a ghost story," "DollHouse," "The Last Five Years," and "Passing Strange."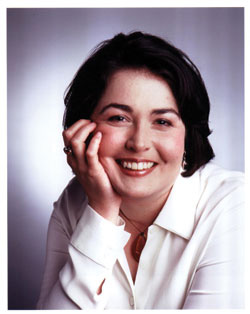 Kate Warner (at left), New Rep's Artistic Director commented, "As we emerge from trying times, the ideas behind transformation feel particularly relevant. As we move ahead, we will not be looking to restore or return to previous ways, but rather to evolve in reflective, positive ways. Through theatre, we have the power to transform our lives and community."
She added, "In planning my second season at New Rep, I was drawn to strong writers who explored ideas of transformation and scripts wherein the characters have an experience that changes them in some significant way,"
In calendar order, the season will include:
"Boston Marriage"
By David Mamet
September 12 - October 3, 2010
In this biting comedy, Anna and Claire, two "women of fashion" who have long resided together, scheme to obtain the objects of their desire. Anna maintains their upper-middle class Victorian lifestyle as the mistress of a wealthy man who provides her with a healthy income and a distinctive emerald necklace for her companionship. When Claire's attentions stray from Anna, Anna devises the "perfect plan" that grows in outlandishness, even as it backfires and the innocent parlor maid gets caught in the crossfire.

"Cherry Docs"
A New England Premiere
By David Gow
October 17 - November 7, 2010
When a Jewish lawyer is assigned to defend a young skinhead accused of killing an immigrant man with his cherry red Doc Martens, he is forced to confront his own ability to forgive. In this New England Premiere, David Gow dares audiences to examine their capacity for compassion and asks, is there atonement for all crimes?
"Frankie and Johnny in the Clair de Lune"
By Terrence McNally
November 28 - December 19, 2010
In the City that Never Sleeps, is it possible to find real love after one night together? Frankie and Johnny, a guarded waitress and a passionate short-order cook, discover that the world is smaller than they expected, that there's no such thing as a mere coincidence, and that love can be as simple as deciding to embrace it.

"afterlife: a ghost story"
A World Premiere
By Steve Yockey
January 16 - February 6, 2011
An approaching storm forces a young married couple to come home to their empty beach house and batten down the hatches. When a giant wave crashes over them, they tumble into an alternate reality where both must confront the ghosts that haunt them and decide what their afterlife will be.

"DollHouse"
By Theresa Rebeck
February 27 - March 20, 2011
Set in suburban Connecticut, this contemporary adaptation of Ibsen's classic follows the iconic Nora as she struggles to preserve her seemingly perfect life. Nora's "happy home" is compromised when a man from her past unexpectedly resurfaces and threatens to reveal her secret. Ultimately, Nora must decide between her idyllic world and a life she can truly claim as her own.

"The Last Five Years
By Jason Robert Brown
March 27 - April 17, 2011
In this award-winning musical, audiences are taken on an intimate journey witnessing both the birth and unraveling of a young couple's five year relationship. Brown's alluring music interweaves the past and present state of a romantic and tumultuous love affair.
"Passing Strange"
Book and Lyrics by Stew
Music by Stew and Heidi Rodewald
May 1 - May 22, 2011
This 2008 Tony Award-winning modern musical takes audiences on a unique and passionate pilgrimage led by a Narrator who shares his life through song. The soulful journey follows a young man from a comfortable, suburban neighborhood in Los Angeles, to the coffeehouses of an Amsterdam paradise, and finally to the riotous art houses of West Berlin, as he searches for his artistic and personal voice.
For information and tickets, call 617-923-8487 or visit www.newrep.org.