A Review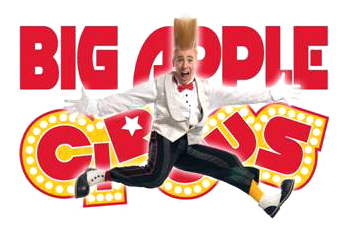 Bello Is Back!
By R. J. Donovan
The Big Apple Circus never fails to entertain. And admirably, it's never content to sit on its laurels and crest by on past success. Part of its charm is the way it continues to reinvent itself with new acts and ideas while maintaining its high level of quality and charm.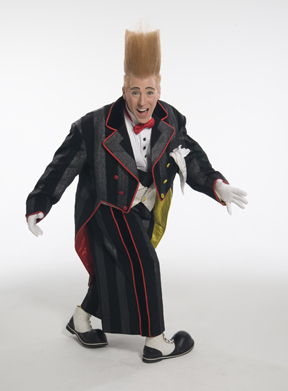 For this year's edition, now playing on City Hall Plaza through May 16, The Big Apple welcomes back Bello Nock (left), one of the world's most celebrated and identifiable clowns. Not that the straight-up-in-the-air-bright-orange-hair guy could ever be mistaken for anyone else.
Understand that he has not replaced Grandma, the icon of Big Apple clown-dom. Not at all. The red-dressed, gray haired, bead-swinging old gal is still a favorite part of the show. However, Bello is clearly the star of this year's edition, and rightly so. It's important to note that he not only clowns around (big-time), but performs amazing feats again and again, sometimes on his own, and other times joining the featured entertainers who populate this year's production.
Unlike editions in the past, there is no specific theme this time around. It's just great fun, served up front and center. Longtime ringmaster Paul Binder (and Big Apple founder) has retired from the ring, so this year we have Kevin Venardos as the affable host who keeps things rolling. (And remember, at the Big Apple, no seat is more than 50 feet from the ring.)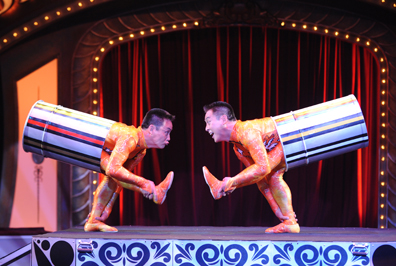 As always, the acts are first rate. You've got the balancing artistry of the Long Twins (at left) from China, who contort themselves into barrels in ways that are sometimes painful even to look at. There's the high-flying Regina Dobrovitskaya, who soars over the crowd spinning and twirling in long silk ribbons. The Curatolas Brothers from Italy present amazing hand-to-hand acrobatics. Christine Zerbini and Sultan Kumisbayev (below) bring their equestrian friends into the ring amidst a haze of blue tinted fog. And Picasso juggles ping pong balls, first with a paddle and then with his mouth, before he moves on to flinging dinner plates up to the rafters of the tent. These boomerangs obediently return to him, even as he races out and about into the crowd. The evening ends with an adrenaline rush thanks to the spectacular trapeze work of the Aniskin Troupe. I defy anyone not to give an audible gasp when one of the guys does a head-first death drop into the net.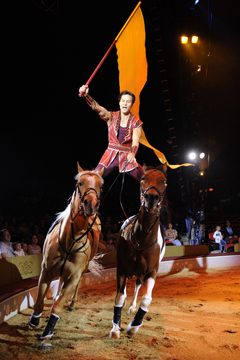 But back to Bello, who's really a comic daredevil. He not only kicks things off with a comical turn around a bungee cord, but returns to work with Grandma, play William Tell with an audience member, bounce on the trampoline, and in the spectacular first act closer, takes to the whirling, rotating Wheel of Wonder with David Martins. Throughout, he never wastes a breath not misses a beat. Bello toured for many years with the more sprawling Ringling Brothers, and his return to the one-ring intimacy of the Big Apple is great. He's up close to the crowd, and they to him.
All of which makes for a great night of fun, under the artistic direction of Guillaume Dufresnoy and creative direction of Michael Christensen. And let's not forget the superb Big Apple Circus Band under the direction of Rob Slowik.
Finally, it's important to note that the Big Apple is more than just a traveling circus. As a not-for-profit organization, they do wonderful things in the community, working with hospitals, handicapped kids and inner city youth at risk. Locally, they partner each year with the Boston Children's Museum. Their diverse community outreach programs include Clown Care, Vaudeville Caravan, Circus After School, Circus For All! and Circus of the Senses.
So what's not to love? Great entertainers, two hours of family fun ( . . .and by that I mean fun that will be enjoyed by all ages, not entertainment that's been watered down to the point where the adults are bored out of their skulls), plus they give back to the community in truly admirable ways.
So runaway and join the circus . . . for a couple of hours, anyway.
The Big Apple Circus is at City Hall Plaza in Boston's Government Center through May 16. For information, call 888-541-3750.
-- Bello Photo: Jean-Marie Guyaux/Big Apple Circus
-- Production Photos: Bertrand Guay/Big Apple Circus
-- OnStage Boston