Apollinaire Theatre Presents
East Coast Premiere of "Mammals"
Apollinaire Theatre Company will present the East Coast premiere of Amelia Bullmore's "Mammals" from April 16-May 16. Performances will take place at Chelsea Theatre Works, located at 189 Winnisimmet Street in Chelsea.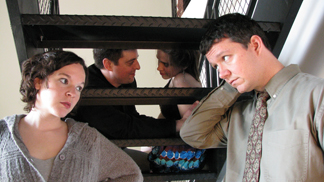 "Mammals" is described as a bitterly comic examination of the perils of love and commitment, speaking volumes to anyone who is in, has ever been in, or will ever be in a family. One review dubbed it "the funniest, angriest, most original play to hit town in a long time."
As the story opens, Jane and Kev don't have secrets. They just don't have room for them. Their children take up all the space. But when Kev comes home from a business trip with something to confess, he starts a chain reaction which has shattering consequences.
In contrast, weekend guests, wisecracking Phil and glamorous Lorna, are blissfully free of family chaos. However, not being tied down isn't necessarily all fun and games either. As old friends get together, bottles are opened, laughter is shared, and the truth about 'Home Sweet Home' is comically and tragically revealed.
"Mammals" enjoyed an extended sell-out run at the Bush Theatre in London as well as a successful national tour. It was also co-winner of the Susan Smith Blackburn Prize and shortlisted for the What's On Best New Comedy Award.
Amelia Bullmore also authored a version of Ibsen's "Ghosts" in 2007 which had a sell-out run at The Gate Theatre in London and is currently working on commissions for BBC TV and BBC Radio 4. As an actress, she is a familiar face on British TV and most recently appeared at London's Old Vic Theatre in Alan Ayckbourn's "The Norman Conquests."
For tickets and information, call 617-887-2336.
-- Photo: Danielle Fauteux Jacques