"Hot Mikado"
Completes Spring Season at New Rep
Gilbert and Sullivan Adaptation Offers
Love & Life In Full Swing
New Repertory Theatre, in residence at the Arsenal Center for the Arts in Watertown, will complete its spring season with "Hot Mikado" from May 1 - 22. This contemporary adaptation of the Gilbert and Sullivan classic offers tunes and styles ranging from jazz and swing to gospel and blues.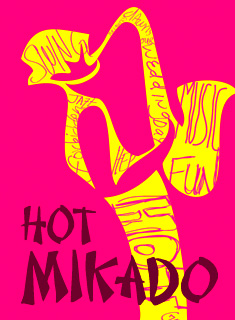 With a book and lyrics adapted by David H. Bell plus musical adaptation and arrangements by Rob Bowman, the production will be directed by New Rep's Artistic Director Kate Warner.
In the mythical village of Titi-Pu, where flirting is illegal, a young rocker on the run from his over-eager fiancee is searching for the woman who stole his heart. Unfortunately, she has already been promised to her much older guardian. A series of seemingly fool-proof plans are hatched, only to be foiled by the merciless Mikado.
Warner commented, "There is no better way to end my Inaugural Season than with 'Hot Mikado.' This clever adaptation of Gilbert and Sullivan's classic musical is filled with snazzy songs and swing dancing that is sure to engage and inspire our audience."

The cast of "Hot Mikado" will feature Edward M. Barker as Pooh-Bah, Cheo Bourne as Nanki-Poo, and Aimee Doherty as Pitti-Sing. Making their New Rep debuts are McCaela Donovan, Kennedy Reilly-Pugh and Lisa Yuen.
A free, six-level parking garage is located adjacent to the theater. For tickets and information, stop by the box office at 321 Arsenal Street in Watertown, call 617-923-8487 or visit www.newrep.org.