---

New England Premiere Of "Glory Days"
From F.U.D.G.E. Theatre
F.U.D.G.E. Theatre Company will give Broadway's "Glory Days" a second chance when it presents the musical's New England Premiere at The Arsenal Center for the Arts Black Box Theatre in Watertown. Set to play April 30 - May 8, "Glory Days" is touted as a "vibrant and energetic musical written by talented young men, directed by a talented young man, about talented young men on the threshold of their future."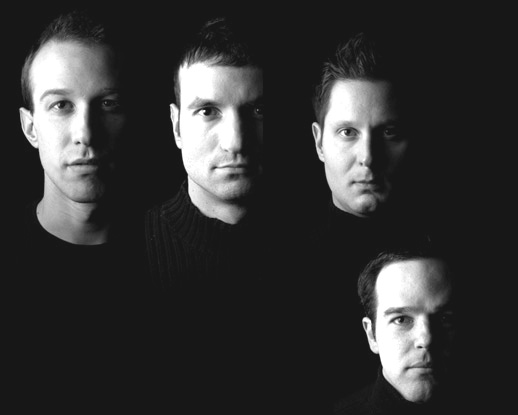 Director Joe DeMita (the company's Founder, President and Artistic Director) has re-imagined, re-worked, re-interpreted, re-staged and re-choreographed this energetic work about four best friends who reunite a year after high school graduation, only to find how much they've grown apart. As they attempt to understand each other's differences, they soon realize that nothing can compare to the glory days when life was simpler.
The company will feature (above,left to right) Trevor Efinger ("Naked Boys Singing," "Gypsy" starring Patti Lapone and the national tour of "Mame"), Samuel Moscoso ("I Love You Because," "bare," "The Wedding Singer," "West Side Story"), Todd Sandstrom ("Half-Married," "bare," "Blood Brothers," "Once On This Island," "Once Upon A Mattress") and Ronny Pompeo ("Nevermore," "Over the River and Through the Woods," "Falsettos," "West Side Story," "I Love You, You're Perfect, Now Change!," "The Transfiguration of Benno Blimpie," "La Cage aux Folles").
Written by James Gardiner (book) and Nick Blaemire (music & lyrics) "Glory Days" opened on Broadway in May of 2008 at the Circle in the Square Theatre -- where it closed following its Opening Night performance.
Interestingly, when the musical had opened four months earlier at Washington DC's Signature Theatre it received critical acclaim. In fact, The Washington Post's Peter Marks extolled, "This fresh and vivacious musical gets down to the real and moving business of the evening: nailing the intense sensation of inadequacy that young men can experience on the precipice of manhood. The buoyant product of the talented young team of Blaemire and Gardiner, 'Glory Days' swiftly, tunefully and authentically latches onto the rhythms of late adolescence and plays them back to us as the music of wrenching transitions. What separates this musical from others is the emotional terrain it explores. In the final sequence of songs the degree to which the four friends are provoked to bare their souls, to assert their needs to have their own voices heard, binds us to them irresistibly. 'Glory Days' is a beaming source of musical energy."
Arsenal Center for the Arts, is located at 321 Arsenal Street in Watertown. Free parking is available adjacent to the theater complex. For tickets and information, call 781-245-0500 or visit www.fudgetheatre.com.