Whistler in the Dark Presents
Slapstick Tragedy "Family Stories"
Whistler in the Dark Theatre will conclude its fifth season with "Family Stories," Biljana Srbljanovic's haunting but darkly comical portrait of the cruelties and atrocities of a country at war with itself. Performances are set for May 14 – May 30 at The Factory Theatre, 791 Tremont Street in Boston.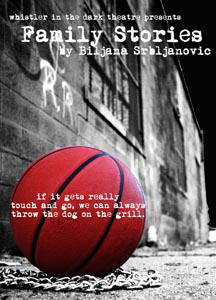 First performed in Belgrade in 1997, "Family Stories" uses the games of four children to explore issues of censorship, war, oppression and rebellion. The company features Melissa Barker, Danny Bryck, Nate Gundy, and Jen O'Connor.
In "Family Stories," four children are playing house in the wreckage of a bombed-out playground; reflected in the funhouse mirror of their game is a devastating allegory of a post-war society. A marriage of slapstick and tragedy, the play examines the fear that results from living in a society without free media or civil liberties.
Artistic Director Meg Taintor commented, "'Family Stories' is called a 'slapstick tragedy' and the term fits it perfectly. Srbljanovic is writing about a time and place that is undeniably tragic, but she is filtering it through the eyes of children: these children accept the world as it is and so it is only we, the grown-ups in the audience, who see the grander scope of tragedy. As for the 'slapstick' part… well, I've never seen quite so much violence packed into such a tight space and been able to laugh at it before!"
She added, "We'll be playing in the round, and turning the whole theatre into the playground for these children – our audience will be intimately connected to that world."
For tickets and information, call 1-800-838-3006.