---

Rockers to Rumblers,
Nannies to Witches,
Love Children To Boy Singers
All Are A Part Of 2010-2011 Series
From Broadway Across America - Boston
Drew Murphy, President of Broadway Across America – Boston, recently announced that the BAA-B 2010-2011 Season will include six major productions at Boston's Colonial Theatre and the Boston Opera House.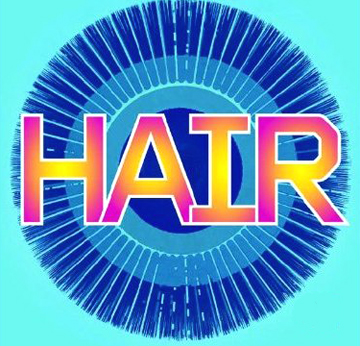 The schedule features touring companies of some of Broadway's top shows, including: "Rock of Ages," transporting audiences back to the 80's and featuring Boston Conservatory graduate and "American Idol" star Constantine Maroulis; the 2009 Tony Award-winning Best Musical Revival "Hair," directed by the A.R.T's critically acclaimed Diane Paulus; the new touring production of "West Side Story," as revisited by Arthur Laurents; the Tony Award-winning "Mary Poppins," based on the original stories by P.L. Travers and the popular Walt Disney film; the return of the Tony Award-winning Best Musical, "Jersey Boys," showcasing the music of and story behind Frankie Valli & The Four Seasons; and "Wicked," flying back to Boston for a record third time, telling the story of what really happened before Dorothy dropped into the merry old land of Oz.
Season tickets are on sale now. Individual ticket sales will begin at a date to be announced. For the eighth consecutive year, the season will be sponsored and presented by Lexus.
The line-up was unveiled at an invitational gathering of 600 at The Colonial Theatre. Following a wine and cheese reception in the theater's lobby, guests took their seats in the theater for the program which included video showcases of the selected shows as well as live performances by Matthew Hydzik and Haley Carlucci from "West Side Story," Catherine Walker and Mark Ledbetter from "Mary Poppins" (accompanied by Brian Taylor), and James Carpinello, Ericka Hunter and Joel Hoekstra (guitarist from "Night Ranger" from "Rock of Ages."
Guests also heard a presentation from longtime Boston arts commentator and critic Joyce Kulhawik about the Marilyn Rodman Theatre for Kids, which brings at-risk children to live theater and sporting events at no cost. This past season, the Rodman program brought 1800 children to see "In The Heights" at The Opera House. Since its inception in 2003, the group has distributed more than 33,000 tickets to kids throughout the state.
Of the new season, Murphy commented, "The upcoming Season brings us back to a time and place that helped shape identities, generations and events that speak to the collective spirit and consciousness. This Season will be about reminiscing, recreating and redefining your generation."
Series sponsors include: JetBlue Airways, Fleming's Prime Steakhouse and Wine Bar, Columbus Hospitality Group (owners of Mistral, Teatro, Sorellina, Mooo, L'Andana in Burlington and the hotels XV Beacon, The Inn @ St. Botolph, and First Choice Bed and Breakfast) and WCVB TV / thebostonchannel.com.
In calendar order, the season includes the following: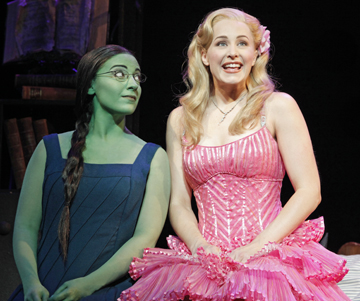 "Wicked"
September 1 - October 17, 2010
Boston Opera House
Entertainment Weekly calls "Wicked" "the best musical of the decade." When it last played Boston, it broke box office records and sold out in record time. Winner of 35 major awards, including a Grammy and three Tony Awards, "Wicked" was just named "the defining musical of the decade" by The New York Times. Long before that pigtailed girl from Kansas plunked herself down in Munchkinland, two very different young ladies met in the land of Oz. One, with emerald green skin, is smart, fiery and misunderstood. The other is beautiful, ambitious, very popular -- and blonde. How these two become the Wicked Witch of the West and Glinda the Good makes for what USA Today calls "the most complete and completely satisfying new musical in a long time."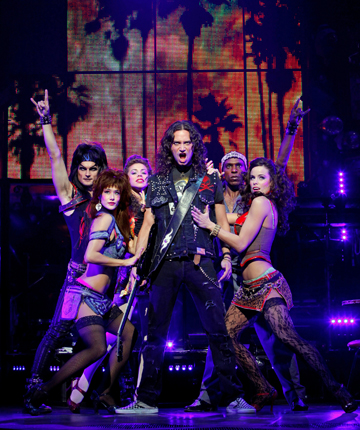 "Rock of Ages"
October 6 - 17, 2010
Colonial Theatre
In 1987 on the Sunset Strip, a small town girl meets a big city rocker. In LA's most famous rock club, they fall in love to the greatest songs of the 80s. This is five-time 2009 Tony Award nominee "Rock of Ages," an arena-rock love story told through the mind-blowing hits of Journey, Night Ranger, Styx, REO Speedwagon, Pat Benetar, Twisted Sister, Poison, Asia, Whitesnake and more. The good time musical about dreaming big, playing loud and partying on will star Boston Conservatory graduate Constantine Maroulis (center above), from the Broadway cast.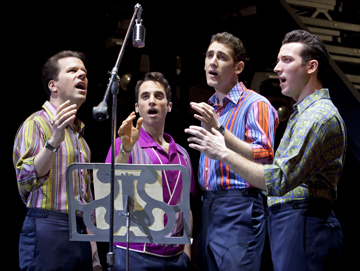 "Jersey Boys"
December 16, 2010 - January 30, 2011
Colonial Theatre
"Too Good To Be True," raved the New York Post for "Jersey Boys," the 2006 Tony Award-winning Best Musical about Rock and Roll Hall of Famers, The Four Seasons: Frankie Valli, Bob Gaudio, Tommy DeVito and Nick Massi. This is the story of how four blue-collar kids from New Jersey became one of the greatest successes in pop music history. They wrote their own songs, invented their own sounds and sold 175 million records worldwide -- all before they were 30. Winner of the 2006 Grammy Award for Best Musical Show Album and most recently, the 2009 Olivier Award for Best New Musical, "Jersey Boys" features the hit songs "Sherry," "Big Girls Don't Cry," "Rag Doll," "Oh What a Night" and "Can't Take My Eyes Off You," among others.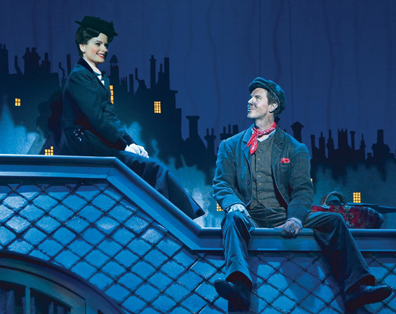 "Mary Poppins"
Feb.17- March 20, 2011
Boston Opera House
The world's most famous nanny blows into the Boston Opera House in February. Combining the best of the original stories by P. L. Travers and the beloved Walt Disney film, the Tony Award-winning "Mary Poppins" is produced by Disney and Cameron Mackintosh. Featuring such time-honored songs as "Chim Chim Cher-ee," "A Spoonful of Sugar," "Let's Go Fly a Kite" and, of course, "Supercalifragilisticexpialidocious," "Mary Poppins" was hailed by The New York Daily News as "a roof-raising, toe-tapping, high-flying extravaganza!"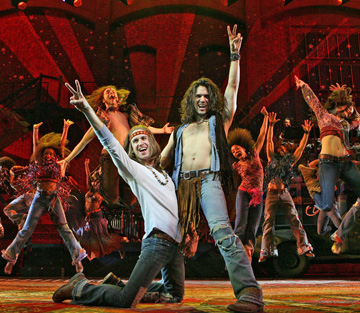 "Hair"
March 22 - April 10, 2011
Colonial Theatre
The Public Theater's new Tony Award-winning production of "Hair," directed by Diane Paulus, is easily one of the most electric celebrations on Broadway! This exuberant musical about a group of young Americans searching for peace and love in a turbulent time has struck a resonant chord with audiences young and old. "Hair" features an extraordinary cast and dozens of unforgettable songs, including "Aquarius," "Let the Sun Shine In," "Good Morning, Starshine" and "Easy To Be Hard." Its relevance is undeniable; its energy is unbridled; and its truth is unwavering. This is "Hair." (Note: While many find this show suitable for young adults -- 13 and older -- parental discretion is advised. There is a dimly lit 20-second scene with nudity that is non-sexual in nature.)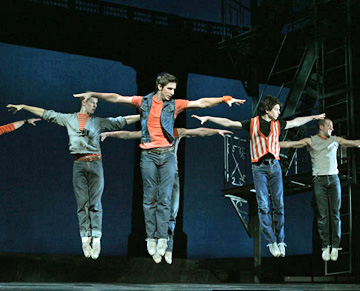 "West Side Story"
June 14- July 9, 2011
Colonial Theatre
More than fifty years ago, one show changed how we thought about musical theater. Now it's back on Broadway, thrilling audiences all over again. From the first note to the final breath, "West Side Story" soars as one of the greatest love stories of all time. Directed by its two-time Tony Award-winning librettist Arthur Laurents, "West Side Story" remains as powerful, poignant and timely as ever. The Leonard Bernstein - Stephen Sondheim score is considered to be one of Broadway's finest and features such classics of the American musical theater as "Something's Coming," "Tonight," "America," "I Feel Pretty" and "Somewhere." The new Broadway cast album recently won the 2010 Grammy Award for Best Musical Show Album.
To order Season Tickets, visit broadwayacrossamerica.com/boston or call 866-523-7469. For information on Group Sales, call 866-633-0194 or email BostonGroups@broadwayacrossamerica.com.
--All production photos: Joan Marcus