Mel Brooks' "Young Frankenstein"
Puttin' On The Ritz At Boston's Opera House
Roger Bart Stars, From Original Broadway Star
Mel Brooks' "Young Frankenstein," the musical comedy sensation from the creative team that brought us the 12-time Tony Award winning smash, "The Producers," will come to Boston for a limited two-week engagement at the Boston Opera House, April 20 – May 2.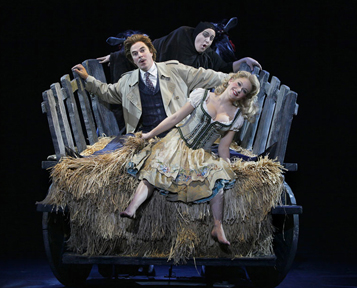 "Young Frankenstein" was named Best Broadway Musical in 2008 by the Outer Critics Circle Award and won 5 Broadway.com Audience Awards, including Favorite New Broadway Musical.
Tony Award winner Roger Bart will reprise his role as Dr. Frederick Frankenstein with Rye Mullis joining the national tour in the role of The Monster. Joining Bart and Mullis will be Cory English (Igor) Tony Award nominee Brad Oscar (Inspector Kemp/Blind Hermit) Beth Curry (Elizabeth), Joanna Glushak (Frau Blucher) and Anne Horak (Inga).
"Young Frankenstein," which opened on Broadway in November of 2007, features a book by three-time Tony winner Mel Brooks and three-time Tony Award winner Thomas Meehan with music and lyrics by Brooks. "Young Frankenstein" is directed and choreographed by five-time Tony Award winner Susan Stroman.
Clive Barnes of the New York Post called "Young Frankenstein," "the Broadway musical at its dizziest, glitziest and funniest" while Pat Collins of MY 9 News declared "Young Frankenstein" "a monster hit."
Based on the Oscar-nominated hit 1974 film, "Young Frankenstein" is the wickedly inspired re-imagining of the Mary Shelley classic. When Frederick Frankenstein, an esteemed New York brain surgeon and professor, inherits a castle and laboratory in Transylvania from his grandfather, deranged genius Victor Von Frankenstein, he faces a dilemma. Does he continue to run from his family's tortured past or does he stay in Transylvania to carry on his grandfather's mad experiments reanimating the dead and, in the process, fall in love with his sexy lab assistant Inga? Unfolding in the forbidding Castle Frankenstein and the foggy moors of Transylvania Heights, the show's raucous score includes "The Transylvania Mania," "Together Again" and an unforgettable treatment of Irving Berlin's "Puttin' On the Ritz."
Released in 1974 to unanimous critical acclaim, the film received two Academy Award nominations, including one for Mel Brooks and Gene Wilder's script, and was nominated for a Writer's Guild of America Award for Best Adapted Screenplay. "Young Frankenstein" was also the recipient of the two highest honors accorded films of science fiction: winning The Hugo Award for Best Dramatic Presentation and The Nebula Award, given by The Science Fiction & Fantasy Writers of America, for Best Dramatic Writing. Since its release, the film has become part of the national consciousness. In 2000, it was selected as #13 on AFI's 100 Funniest American Movies of All Time and in 2003, "Young Frankenstein" was chosen for preservation in the Library of Congress National Film Registry.
For tickets, stop by the Colonial Theatre box office at 106 Boylston Street, call 800-982-2787 or visit www.BroadwayAcrossAmerica.com/Boston.
-- OnStage Boston
-- Production Photo: Paul Kolnick