A Review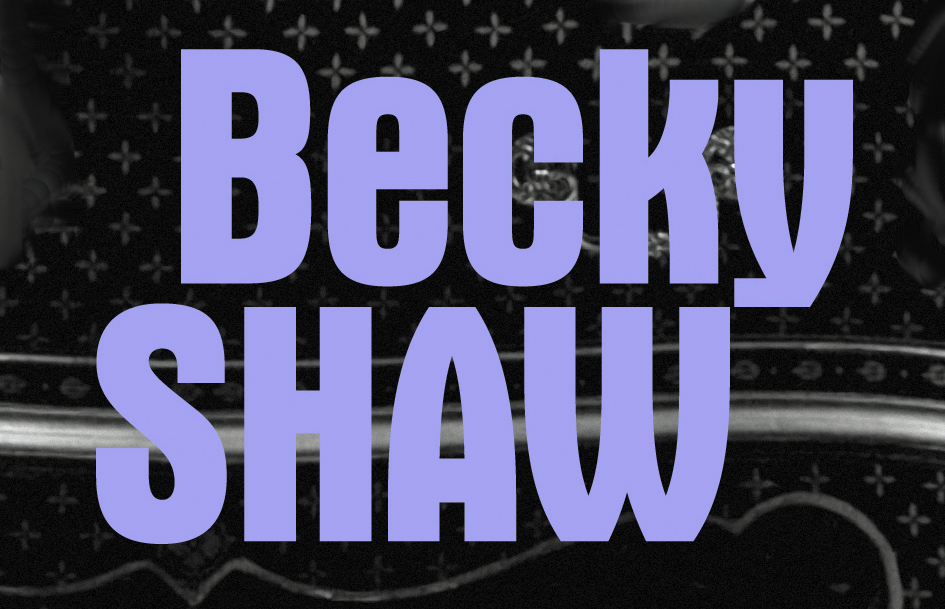 Knowing Where You Stand
By R. J. Donovan
Gina Gionfriddo's "Becky Shaw" is essentially about a blind date gone wrong. Really, really wrong. It's also about class snobbery, intellectual banter, truth-telling and sexual manipulation -- all in a world where things are not always as they appear. And oh yeah, it's a comedy. With zingers that cut straight to the bone.
The Huntington's Artistic Director, Peter DuBois, directs here as he did both when the play premiered at the Humana Festival of New American Plays and when it was later presented Off-Broadway by Second Stage.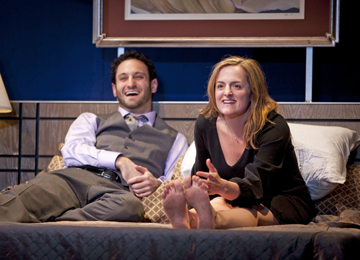 The first scene sets up three of the five characters. We're in a not-quite-classy hotel room as a tense family meeting is attempted. Suzanna's father has died and the family business is a wreck. Max, not actually related to the family but symbolically adopted by them as a young boy, is trying to make sense of the financial picture. He is a financial planner, after all.
Suzanna's dismissive mother, Susan, turns a blind eye to everything and anything she finds distasteful, including the discussion of money, her husband's possible infidelity and the questionable practices of the (much younger) lover she's taken in widowhood. After Mom's haughty departure, Max and Susan fall into a sexual tryst that calls their 25 year somewhat-brother-and-sister-condfidant relationship into question.
Having set the premise of a family in denial in the first scene, Gionfriddo takes a wide left turn in the next when we jump forward in time and find Suzanna with a husband -- Andy, a writer wannabe. Mom is nowhere to be seen, but Max is still around. In fact, Suzanna and Andy have set Max up on a blind date with a young woman from Andy's office -- Becky Shaw.
At first glance, no two people could be less alike than Max and Becky. He's powerful, bullying and expensively attired. She's meek and airy and dressed like a birthday cake.
Their date is a disaster (it includes a hold up at gunpoint). Despite the total lack of interest on Max's part, the evening ends in bed and is followed by Becky's needy and persistent speed dialing of Max. But again, Max has absolutely no interest. They are not equals, he bellows, and he will not return her calls.
Clinging to Andy when Max won't respond, Becky soon starts to threaten Suzanna's marriage. While Max is dead-on direct and everybody knows where he stands, Becky is more insidious about it. She's equally manipulative, with an inner conviction that equals or surpasses what Max brings to the rodeo, but she wields her power with a deadly, passive aggressive side step.
The play is laugh out loud funny again and again, but you soon get the impression that the plot is the least important element of the evening. It's really just a framework for smart ass remarks and acerbic opinions. And the storyline about the Mother's failing health and her duplicitous lover don't contribute all that much.
The other hiccup of the night is the momentary confusion when time jumps ahead in that second scene. Andy appears, and for a split second, you think he's Max. Max, after all, was the last male you saw just moments ago, and the two men are somewhat similar (if they're not standing side by side). It might have been clearer if the actor cast as Andy were physically more different.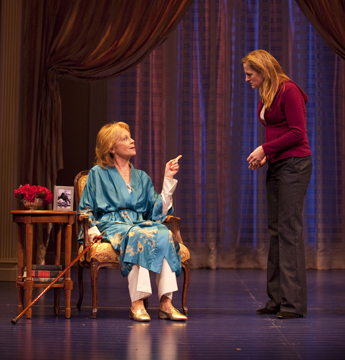 That said, it's the performances that command your attention. Seth Fisher is so strong as Max that your eyes drift to him whenever he's on stage -- whether he's speaking or not. Despite his abrasive opinions of life, money and the state of mankind. you just can't help loving him. As Suzanna, Keira Naughton frets and examines and presses onward, trying to wrangle things that are often out of her control. Wendy Hoopes sets up Becky Shaw to be a down-on-her-luck ditz, which only heightens the surprise when she turns the tables and quietly captures her prey. As Andy, Eli James is all warm and fuzzy, often exercising what Suzanna calls "his feminist side." And in the small role of Mom -- she appears only in the first and last scene -- Maureen Anderman is delightful as the queen of the slashing remark and withering stare.
In the end, love's a bitch. But it's really, really funny.
"Becky Shaw" is at the Huntington Theatre through April 4. For information, call 617-266-0800.
-- OnStage Boston
-- Production Photos: T. Charles Erickson