A Review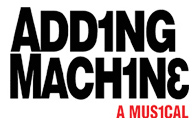 Calculating Machinations
By R. J. Donovan
SpeakEasy Stage is taking on quite a challenge with its current production, "Adding Machine: The Musical." Based on the classic Elmer Rice socio-political play, this is a dark chamber musical that calls to mind such descriptives as abstract, expressionistic and stark. Be forewarned, it's not for an audience anxious for a tuneful romp. Daring to be different, the jarring, eclectic score is not one you'll be humming on your way to the parking garage.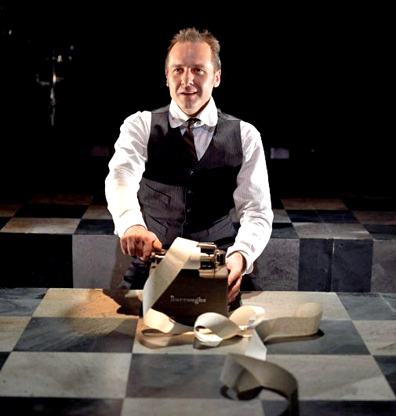 With music by Joshua Schmidt and libretto by Jason Loewith and Schmidt, the gritty, sung-through musical adaptation remains true to the original. The lead character, Mr. Zero (Brendan McNab, at left), holds a monotonous job in a counting house -- a job at which he has slaved for the past 25 years, never missing a day.
When the boss calls him aside on what amounts to the actual anniversary date, he believes he is to be promoted. In fact, he's being let go, to be replaced by the new invention -- the adding machine.
His loyalty, his duty, his attendance, his devotion -- all of it is discarded with an unemotional acknowledgement from his employer. And so Mr. Zero kills him, stabbing him to death with the very spike he uses to hold his receipts. He is arrested, tried and executed. And we follow him to heaven, which also disappoints him.
The play takes place in 1920. But in today's ever-changing economy, the concept of employees being a disposable commodity remains vital and relevant.
The brilliance of the production is grounded in Brendan McNab, who is Mr. Zero. His tone, his speech, his body language, all come together to create a bleak, empty soul. Mr. Zero is no saint; nor he is a hero. He's as uninteresting as his job. And as he moves from hell on earth to hell in the afterlife, he continues to long for "a square deal," which he never gets.
Whether at the office, in the confines of his bedroom, in court or on death row, he shuffles through life, rarely acknowledging what's right in front of him -- from his insufferable wife to his doting office assistant. His only spontaneous act is murder.
As Mrs. Zero, Amelia Broome again shows what a gifted artist she is. From the protective mother in "Light In The Piazza" to the foul mouthed guest in "Jerry Springer" to, now, the emasculating shrew in "Adding Machine," she delights with her diversity. Broome begins the show on an unsettling note with a nightmare of an aria blasting her husband for his every fault, ending with her frustration at ever marrying him.
As Daisy, Zero's office mate, Erin Hayes is devoted to her colleague. She even commits suicide to be with him after he's executed. But even in heaven he ignores her love, causing her to lament, ""I might as well be alive."
The staging by Director Paul Melone and his team (Scenic Designer Susan Zeeman Rogers and Lighting Designer Jeff Adelberg) is ingenious and precise. From the employees at the counting house working in a trench to the billowing fabrics of the Elysian Fields to the stunning imagery of Zero on the witness stand, on death row, and the final processing of souls as they return to earth in a burst of blinding light, the show is absolutely fascinating to watch. This is a shadowy side show of dreary black and white tones, dotted only occasionally by the deadly slash of red.
Elmer Rice's Zero is but one more emotionless robot; a piece of human machinery as cold and uninvolved as, well, a mechanical adding machine. If you're open to it, the unusual journey you can take with this show will remain etched in your memory.
"Adding Machine: The Musical," from SpeakEasy Stage, is at the Calderwood Pavilion at the Boston Center For The Arts, 527 Tremont Street, through April 10. 617-933-8600.
-- OnStage Boston
-- Production Photos: Mark L. Saperstein