---

"A Closer Walk With Patsy Cline"
From Fiddlehead Theatre
At John Hancock Hall
April 7 - 17
A country music legend whose life was cut tragically short comes to life in the hit musical, "A Closer Walk With Patsy Cline," playing at John Hancock Hall for two weeks only, April 7 - 17.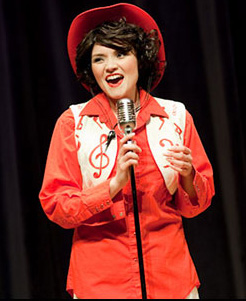 Starring award-winning Bridget Beirne (left) as Patsy, the production features more than 20 of the singer's hits performed live, including "Walkin' After Midnight," "Sweet Dreams" and "Crazy."
Created in 1991 by Dean Reagan, the production is directed by Tom Frey, who also plays Little Big Man. Approved by the Patsy Cline Estate, this production is presented in Boston by Fiddlehead Theatre.

"A Closer Walk With Patsy Cline" is a tribute to Miss Cline's spirit as well as a celebration of the music of her life. The story follows Cline's climb to stardom from her hometown in Virginia to the Grand Ole Opry, Las Vegas, Carnegie Hall and more.

Bridget Beirne received the Elliot Norton Award for Outstanding Musical Performance for her work in the SpeakEasy Stage Company production of "Violet," and IRNE Award nominations for her work in "Parade" (SpeakEasy Stage)"Funny Girl "and "My Fair Lady" (Fiddlehead Theatre). She has performed in numerous Off Broadway productions, including at the York Theatre, NY Fringe Festival, and Symphony Space; and at numerous regional theaters, including Goodspeed's Norma Terris Theatre, the Cape Playhouse, Fiddlehead Theatre, Worcester Foothills and American Stage Festival.

Tom Frey was seen in the national tour of "2 Pianos/ 4 Hands." He continues to direct that show throughout the United States, including productions at the Cape Playhouse, the Colony Theatre and the Little Theatre on the Square.

Dean Regan first presented "A Closer Walk with Patsy Cline" in Vancouver, B.C. and the show instantly became a sold-out hit. A nine-month run at Boston's Charles Playhouse provided the first U.S. exposure for the show. It subsequently mounted two national tours, enjoyed an award-winning 30+ week run at the 4000 seat Grand Palace Theatre in Branson, Missouri, and has been produced by more than 100 theatre companies throughout North America. Dean has since developed a series of hit new musicals including "Red Rock Diner," "Forever Swing," "Black and Gold Revue," and "Hotel Porter" (a Cole Porter Revue).

John Hancock Hall at the Back Bay Events Center is located at 180 Berkeley Street in Boston. For tickets and information, call TicketFusion at 877-548-3237, or visit www.backbayeventscenter.com.