Bello Is Back!
In All New Big Apple Circus
April 3 - May 16
Celebrating its 25th Anniversary, The Big Apple Circus is coming back to Boston from April 3 - May 16, this time with Bello Nock, named "America's Best Clown" by Time magazine. Presented in Association with Boston Children's Museum and featuring some of the world's most exciting circus artists, Big Apple will once again set up its big top in Government Center in City Hall Plaza.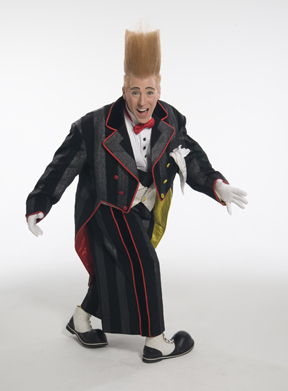 In "Bello is Back!," the playfully elegant Bello, with his gravity-defying hair, trademark tuxedo, white gloves and spats, returns to the one - ring intimacy of the Big Apple Circus after an absence of nine seasons.
Included on the "Welcome Back Bello" committee are Big Apple's own lovable star clown Grandma, the spirited Big Apple Circus Band, and new ringmaster Kevin Venardos, joined by spectacular acrobats, wizards of the trampoline and flying trapeze, fiery steeds, cavorting canines, playful contortionists, and one sensational Spanish juggler!
No seat under the Big Top more than 50 feet from the ring. And whatever the season, the Big Apple Big Top is heated in cold weather and air conditioned in warm weather for comfort.
Under the artistic direction of Guillaume Dufresnoy and creative direction of Michael Christensen the 2010 show is set to include:
• From Italy, the Curatola Brothers -- the delightful hand–to–hand acrobatic duo in an exciting act full of fun and fancy!
• From Italy, Luciano Anastasini and his Pound Puppies return for a jumping melange of human and canine acrobatics!
• From Russia, the Aniskin Troupe amaze with their bravura, athletic trampoline act -- then soar with their spectacular flying trapeze act!
• From Russia, lovely and graceful Regina Dobrovitskaya performs a shimmering spectacle on aerial silk ribbons!
• From America and Kazakhstan, equestrians Christine Zerbini and Sultan Kumisbayev present an electrifying riding act -- standing atop galloping chargers, Roman - style!
• From Spain, Picaso Jr. returns with his sizzling style and extraordinary juggling act -- puffing into the air up to five ping-pong balls simultaneously, and catching them. With his mouth!
• From China, the Long Twins astonish with their comedy contortion act.
• From America, versatile and charming ringmaster Kevin Venardos presides over the "Welcome Back Bello" committee!
• From America, Barry Lubin, a.k.a. Grandma, contributes love and laughter for another spectacular season!
• Plus the incredible talents of Tetyana Levkova (Russia), Annaliese Nock (America), and Big Apple Circus company members Andrey Mantchev (Bulgaria) and Valdis Yanovskis (Russia).
Big Apple's innovative team of brilliant creators includes: Michael Valenti, the award–winning Broadway composer who's created an original burst of musical excitement for music director Rob Slowik, who conducts and performs with the always-brilliant Big Apple Circus Band. Choreographer Vicki Davis adds her exceptional dance steps. Austin K. Sanderson, renowned costume designer of Shakespearean plays, bridal collections and Circus of the Seas, returns for a third season with another vibrant and eye - catching wardrobe. Tony–winning scenic designer Todd Rosenthal has created a wonderful new set. Sound designer Nick Borisjuk adds rich reverberations. And lighting designer Shannon January adds the Big Apple's trademark shimmer and sparkle. And, as always, creative consultant Barry Lubin contributes his one-of-a-kind comic expertise.
For 32 years, the Big Apple Circus, New York's original one-ring circus, has been delighting audiences of all ages by presenting the finest in live family entertainment featuring world-class circus artistry. The Big Apple Circus is a not-for-profit performing arts and outreach institution committed to invigorating the communities they serve with the joy and wonder of classical circus. Tax-deductible contributions made by corporations, foundations and individuals enable the Big Apple Circus to bring its special magic to diverse audiences through its outreach programs -- Clown Care, Vaudeville Caravan, Circus After School, Circus For All! and Circus of the Senses -- in addition to its critically acclaimed performances.
For information and tickets, call 888-541-3750 or visit bigapplecircus.org.
-- OnStage Boston
-- Photo: Jean-Marie Guyaux/Big Apple Circus