---

Trinity Rep Answers The Call
With "Dead Man's Cell Phone"
Trinity Rep in Providence continues its 46th season with Sarah Ruhl's dark comedy "Dead Man's Cell Phone," directed by Beth F. Milles. From the author of "The Clean House," the quirky comedy examines the connections, both real and virtual, that hold us together in modern times. Performances are scheduled February 19 - March 28 in the Dowling Theater.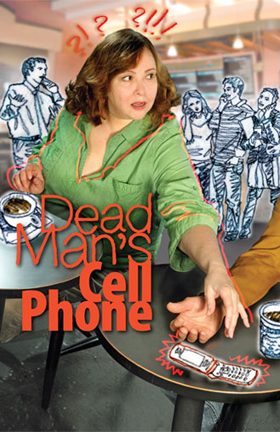 Trinity Rep resident acting company member Janice Duclos stars as Jean, an unassuming woman who's thrown headlong into an unexpected odyssey when she answers an incessantly ringing cell phone in a quiet café. Matters get tricky when she discovers why the phone's owner was neglecting to pick up his phone – he's dead. Jean soon finds herself trying to make things right with the mysterious dead man's widow, his mother and his mistress. Through it all, she finds she actually might be falling in love with the dead man.

Artistic Director Curt Columbus commented, "We are delighted to have Sarah Ruhl's work back on our stage for the first time since 'The Clean House' was a hit at Trinity three seasons ago. This is another chance for local audiences to hear from one of the finest, funniest, and most insightful playwrights working in American theater today."

The New York Times has hailed Ruhl as of "the most acclaimed and accomplished young playwrights on the contemporary scene." Writer Charles Isherwood observed that "Ms. Ruhl's signature style blends a vibrant emotionalism with quirky comedy in theatrically adventurous ways." The Washington Post added: "Satire is her oxygen . . . Sarah Ruhl is forever vital in her lyrical and biting takes on how we behave."

In addition to Duclos, the production also stars resident acting company members Phyllis Kay, Barbara Meek, and Rachael Warren along with guest artist Richard Donelly.
Sarah Ruhl received her MFA in playwriting from Brown University, where she studied with Paula Vogel. Her newest play, "In the Next Room (or The Vibrator Play," just made its Broadway debut this winter at the Lincoln Center Theater. Ruhl's other work includes "Passion Play, a cycle;" "Melancholy Play;" "Eurydice;" "Orlando;" and "Late: A cowboy song." Her plays have been produced at Lincoln Center Theater, Goodman Theatre, Arena Stage, Woolly Mammoth Theatre Company, South Coast Rep, Yale Rep, Berkeley Rep, The Wilma Theater, Actors Theatre of Louisville, Madison Rep and the Piven Theatre, among others.

Audience members are invited to share their reactions to and thoughts about the play in Talkback Sessions which will be held after every performance of "Dead Man's Cell Phone."
For information and tickets, stop by the box office at 201 Washington Street in Providence, call 401-351-4242 or visit www.trinityrep.com.