---

Huntington Theatre Presents
Lydia R. Diamond's Family Portrait
"Stick Fly"
The Huntington Theatre Company will present "Stick Fly," Huntington Playwriting Fellow Lydia R Diamond's smart and funny portrait of a complex African-American family from February 19 – March 21 at the Calderwood Pavilion at the BCA, 527 Tremont Street in Boston's South End.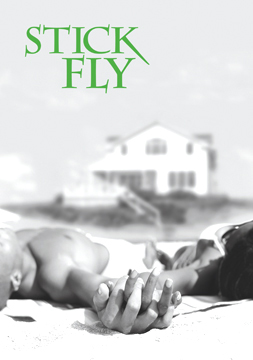 Kenny Leon returns to the Huntington to direct, following his highly-praised production of August Wilson's "Fences" this past fall. In April, Leon begins rehearsals of the Broadway production of "Fences," starring Academy Award winner Denzel Washington and Tony Award winner Viola Davis.
Sparks fly in "Stick Fly," when Kent LeVay brings Taylor, his fiancée, to his family's luxurious Martha's Vineyard summer home to meet his parents. Taylor, under the microscope and unaccustomed to the LeVay's affluent lifestyle, challenges the household dynamic. When Kent's womanizing older brother arrives with his white girlfriend, long-hidden family secrets are revealed in this of-the moment look at sibling rivalry and the weight of parental expectations.
The cast of "Stick Fly" includes Rosie Benton, Jason Dirden, Billy Eugene Jones, Amber Iman, Nikkole Salter and Wendell W. Wright.

Leon commented, "You don't see plays like this every day. It's a perfect balance of comedy and drama. I think folks will laugh all the way home, but when they get there, they'll have something to think about. The play says a lot about family. It says a lot about us as human beings, that none of us are perfect. This is a universal play and a very funny play. I'm hoping that when folks come out, they laugh, they think, they cry."

Playwright Lydia R. Diamond's additional plays include "Voyeurs de Venus," "The Bluest Eye," "The Gift Horse," "Stage Black," and "Harriet Jacobs" (which recently played at Cambridge's Underground Railway Theater). Her work has been produced at Arena Stage, The New Victory Theatre, Goodman Theatre, Steppenwolf Theatre Company, Long Wharf Theatre, Hartford Stage, McCarter Theatre, Playmakers Rep, Chicago Dramatists, Congo Square, MPAACT, True Colors Theatre Company, L.A. Theatre Works, and Company One.

Kenny Leon's relationship with the Huntington began in 1993 with "From the Mississippi Delta." Other Huntington productions include "A Raisin in the Sun" with Esther Rolle and "Blues for an Alabama Sky" with Tony Award winner Phylicia Rashad. For the Huntington and then on Broadway, he directed "Gem of the Ocean" with Rashad and "Radio Golf." In 2008 he served as Artistic Director of August Wilson's "20th Century at The Kennedy Center," a six-week festival staging readings of the works with sets, costumes, and lighting. Leon is the founding Artistic Director of True Colors Theatre Company in Atlanta and served as Artistic Director and Associate Artistic Director of Alliance Theatre. He directed the 2004 Tony Award-winning Broadway revival and the Emmy Award-nominated television film of Lorraine Hansberry's "A Raisin in the Sun" starring Sean Combs, Rashad, and Audra McDonald.
New this season, the Huntington offers post-show audience conversations with members of the staff after most Tuesday - Friday, Saturday matinee, and Sunday matinee performances.
For information and tickets, stop by the box office, call 617-266-0800 or visit www.huntingtontheatre.org.