---

Publick Theatre Presents
Joe Orton "Mr. Sloane"
March 11 - April 3
Publick Theatre Boston will present Joe Orton's dark comedy "Entertaining Mr. Sloane" from March 11 - April 3 at the Plaza Theatre at the Boston Center for the Arts, 539 Tremont Street in Boston's South End.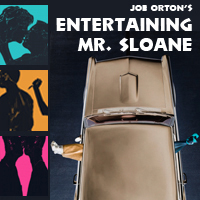 Directed by Eric Engel, "Entertaining Mr. Sloane" revolves around the charming, enigmatic Mr. Sloane (Jack Cutmore-Scott) as he arrives to rent a room from Kath (Sandra Shipley), a lonely, delusional landlady, in the junkyard house she shares with her declining father, Kemp (Dafydd Rees). A handsome opportunist, Sloane quickly ingratiates himself, entering into seductions offered by both Kath, and her estranged brother Ed (Nigel Gore), who soon employs Sloane as his driver.
Sloane's past misdeeds and the dueling affections within the family eventually collide, leading to a desperate act that proves the limit of his charms, and reveals the ruthless and cunning strategies that Sloane's victims will engage in to preserve their unique arrangement.
Engel commented, "The play is almost a farce, in which all four characters, because they are desperately lonely, allow their domestic, social and animal instincts to become irrevocably intertwined."
He added, "Orton eliminates the line between the obvious and the Freudian, making things all the more confusing and delightful. 'Entertaining Mr. Sloane' is a perfect play for today's audiences, who can explore sexuality with intrigue and open minds, rather than fear and judgment."
John Kingsley Orton was born in Leicester in 1933 and from the age of two, lived on the Saffron Lane council estate. After winning a scholarship to RADA in 1951, he met Kenneth Halliwell, an actor and writer seven years his senior. Halliwell would become Orton's friend, mentor, lover and, eventually, his murderer.
Between 1964 and 1967, Joe Orton contributed to an exciting working class culture that swept through the nation. A promiscuous and openly gay man at a time when homosexuality was actively persecuted by the police, Orton was the rising star of an "alternative British intelligentsia." His first stage play, "Entertaining Mr. Sloane" (London 1964, Broadway 1965), was a huge success while his second, "Loot," won the coveted Evening Standard award for Best Play. Other notable works included "The Good and Faithful Servant" and "What The Butler Saw." Orton's success as a playwright and celebrity put a difficult distance between himself and Kenneth Halliwell. In August 1967, Halliwell, suffering from severe depression, murdered Orton before killing himself.
Jack Cutmore-Scott will be making his professional American debut in this production. After training with the British National Youth Theatre, he did a year-long stint at London Academy of Music and Dramatic Arts before taking an original play, "Making a Scene," to the Edinburgh Fringe Festival. His most recent theatrical credits include Max in Martin Sherman's "Bent," title roles in "Henry V" and "Hamlet" and Orestes in Sartre's "The Flies." He has been this side of the pond for almost four years, getting a BA in English at Harvard University.

Eric Engel has been a director and arts administrator in the Boston area for twenty-five years and is currently Director of Memorial Hall / Sanders Theatre / College Theater Venues in the Office for the Arts at Harvard and the Artistic Director of the Gloucester Stage Company. He has directed more than 80 productions for numerous companies including the Lyric Stage Company of Boston, SpeakEasy Stage Company, The Sugan Theatre Company and as an artist in residence at Harvard University, Emerson College, the Boston Conservatory and Brandeis University where he earned his MFA.
For tickets, call 617-933-8600 or visit www.bostontheatrescene.com.