A Review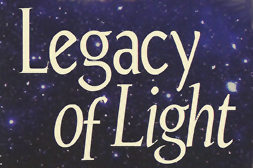 The Laws Of The Universe
By R. J. Donovan
It's always an adventure to experience a show that's new to the market. Lyric Stage Company of Boston is currently presenting Karen Zacarias' light comedy of science and lineage, "Legacy of Light." As Producing Artistic Director Spiro Veloudos pointed out pre-show, this is only the third production of the play in the United States.
Directed by Lois Roach, "Legacy" is a time travel fantasy, with the story tilting back and forth between The Age of Enlightenment in France and present day New Jersey ( . . . perhaps as far away from France as you can get).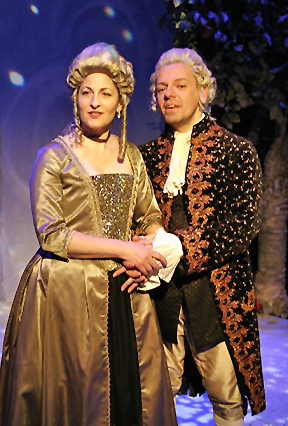 Characters in the 18th century side of the story include philosopher Voltaire and female scientist Emilie du Chatelet. Emilie (Sarah Newhouse) and Voltaire (Diego Arciniegas -- both at left) maintain a long standing romantic and scientific partnership, despite Emilie having both a husband and a young lover, Saint Lambert (Jonathan Popp).
History tell us that Emilie was responsible for researching, dissecting and challenging Isaac Newton's theories, but being a woman, she never got proper credit for the work. That went to Voltaire.
When she finds herself pregnant with her young lover's child, she fears she will die in childbirth. Thus, she must get as much work done as possible before the child, and her end, arrives.
Meanwhile, in the present day story, astrophysicist Olivia (Susanne Nitter) is busy discovering a new star in the sky. Enduring her own age of enlightenment, she also decides she wants a child. She and her husband (Allan Mayo, Jr.) -- an elementary school teacher -- had given up hope of ever having a family due to her bout with cancer. However, with the help of a surrogate (Rosalie Norris), miracles can happen.
Zacarias explores the ideas of male vs. female contributions to the universe, in this case grounded in the worlds of science and math, but applicable to much more. The two storylines proceed in alternating scenes, never overlapping until the final moments of the play. And then the payoff comes -- with a twist.
It's also a twist having most of the actors -- with the exception of Arciniegas and Newhouse -- play roles in both stories. (On that note, Popp and Lyric's backstage crew deserve a high five for one split second costume change that carries Popp from France to New Jersey in a blink.)
Of the two story tracks, it's the Voltaire - Emilie plot that delights. The writing is witty and the sharp performances from Arciniegas and Newhouse click. In comparison (and the comparison is crucial here) the rather thin present day story doesn't come off as compelling.
Where the show truly shines (again, more on the 18th century side of things) is in the beautifully detailed costuming by Charles Schoonmaker.
With two babies arriving in two time periods, Zacarias does indeed show that the more things change, the more they remain the same. In the end, nothing is lost.
And the apple doesn't fall very far from the tree.
"Legacy Of Light" is at Lyric Stage Company of Boston, 140 Clarendon Street, through March 13. For information, call 617-585-5678.
-- OnStage Boston