---

Peter DuBois Brings
2009 Hit "Becky Shaw"
To The Huntington
The Huntington Theatre Company continues its 28th season – a season of American stories – with Artistic Director Peter DuBois' hit 2009 Off Broadway production of Gina Gionfriddo's "Becky Shaw," a wicked black comedy about a blind date gone bad. Performances run March 5 - April 4. This clever, intricate, tale of love, sex and ethics within a group of complicated 30-somethings was named to The New York Times,' Entertainment Weekly's and Time Out New York's Best of 2009 lists.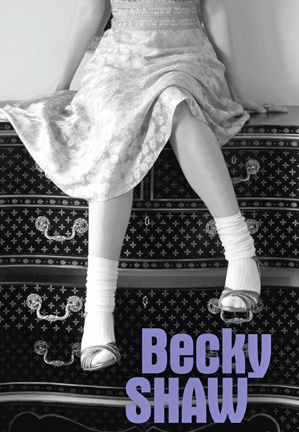 In "Becky Shaw," newly-married Suzanna and Andrew set up Suzanna's lifelong best friend, the sharp-tongued money manager Max, with Andrew's romantically-challenged, seemingly fragile co-worker, Becky. Despite good intentions, the blind date goes so badly that it ends at a police station.
As their friends attempt to navigate their way through a complex emotional jungle, Suzanna and Andrew are forced to confront the instability of their marriage, and Suzanna is thrown into further turmoil by her caustic mother Susan's clear-eyed observations about the family. The moral ground shifts time and time again as crisis and comedy ensue, and a series of events are set into motion that forever change everyone's lives.
Amid the smart humor, "Becky Shaw" asks questions about money and class, the ethics of white-lying, and the transactional nature of human relationships as it makes us consider what we owe the people we love most versus the strangers who land on our doorstep.
The company at the Huntington includes Maureen Anderman, Seth Fisher, Wendy Hoopes, Eli James, and Keira Naughton.
The New York Times described the play as "Ferociously funny! Engrossing, deftly plotted, and sharp-witted! It's a kick. The play is like an amalgamation of the wittier bits of "Sex and the City" and a psychological thriller."

Now in his second season as Artistic Director of the Huntington, DuBois commented, "'Becky Shaw' is astonishingly skillful in the way it examines human behavior and personal relationships. This is exactly what great comedy should do. Gina Gionfriddo has written a sharp, cunning play that shifts our perspective about the tensions between love, money and happiness. I first read the script on the train and couldn't stop laughing out loud – everyone was staring! It's an incredibly funny piece of writing. Staging 'Becky Shaw' for the Huntington feels like bringing the show home. This is a story that really has to be told in this city."

Gionfriddo added, "Peter and I have been friends and collaborators for over a decade. He's been with this play since the first draft – asking me all the right questions and pushing me to fully realize these characters and ideas. I'm thrilled he's bringing 'Becky Shaw ' to his artistic home, the Huntington."

Gina Gionfriddo was a Pulitzer Prize finalist for "Becky Shaw," which had its world premiere at Actors Theatre of Louisville's Humana Festival of New American Plays and its New York premiere Off Broadway at Second Stage Theatre. Her other plays include "After Ashley" (Humana Festival, Off Broadway at the Vineyard Theatre, regional theaters, and abroad in Poland); "U.S. Drag" (Off Broadway by the stageFARM, Clubbed Thumb at HERE, and many regional productions); "Guinevere" (Eugene O'Neill Theatre Center Playwrights Conference); and the one-acts "Squalor" and "America's Got Tragedy" (commissioned and presented by the stageFARM). She has received an OBIE Award, a Guggenheim Fellowship, The Susan Smith Blackburn Prize, an Outer Critics Circle Award, the Helen Merrill Award for Emerging Playwrights, and an American Theatre Critics Association/Steinberg citation.
For tickets and information, stop by the box office, call 617-266-0800 or visit www.huntingtontheatre.org.