---

"'Til Death Do Us Part:
Late Nite Catechism 3"

Off-Broadway Hit Comes To Club Cafe
Catechism class is in session when the hit comedy "'Til Death Do Us Part: Late Nite Catechism 3" starring Maripat Donovan, comes to Boston's Club Café, 209 Columbus Avenue, for a limited engagement, February 19 - March 28.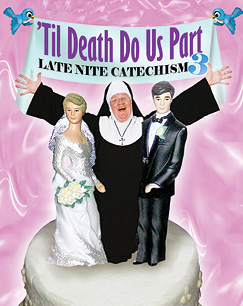 "Late Nite Catechism 3" is the latest installment in the sinfully funny "Late Nite Catechism" series. After teaching countless "students" about the saints, venial sins, limbo and more, Sister is now offering up hilarious lessons on the Sacraments of Marriage and the Last Rites, including her own wacky version of "The Newlywed Game." Classroom participation is a must, so bring along your sweetie and your sense of humor for a session with the country's feistiest couples counselor!

Maripat Donovan originated the role of Sister in "Late Nite Catechism" and has toured the U.S. and internationally, receiving rave reviews for her work in Chicago, Boston, Providence, New York, Toronto, Philadelphia, Seattle, Portland, London and Dublin. She worked in Chicago theater for more than 20 years, winning Joseph Jefferson citations for her work in "Portrait of a Shiksa" and "The Good Times are Killing Me." Her performance in "Late Nite Catechism" earned her a nomination for the coveted Outer Critics Circle Award in New York for Outstanding Solo Performance and the Drama Critics Circle Award for Best Solo Performance in Los Angeles.

For tickets, call 877-386-6968 or visit www.entertainmentevents.com.