"Shear Madness" Celebrates 30 Hair-Raising Years
On January 29, 2010
Submit Your Own Topical Joke
And Win Tickets To The Anniversary Performance
Boston's own "Shear Madness," the comedy whodunit that holds the Guinness record as the longest-running play in the history of the American theater, will celebrate its 30th Anniversary at The Charles Playhouse Stage II on Friday, January 29 (the show's 12,580th performance). All proceeds from the special anniversary performance will be donated to the Actors Fund of America.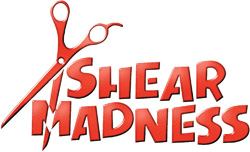 Set in present-day Boston, "Shear Madness" engages locals and visitors alike as armchair detectives to help solve the scissor-stabbing murder of a famed concert pianist who lives above the Newbury Street Shear Madness unisex hairstyling salon.
The show combines up-to-the-minute improvisational humor and a mixture of audience sleuthing to deliver a unique performance each night. It incorporates not only the contributions of the audience, but also frequent references to the latest media scandals and local news items.
Director Michael Fennimore commented, "We love to be on the cutting edge. Our goal is to have 30 new jokes and clues in the show for this special night. Our actors are such talented improvisers they love to create something fresh and funny at every show."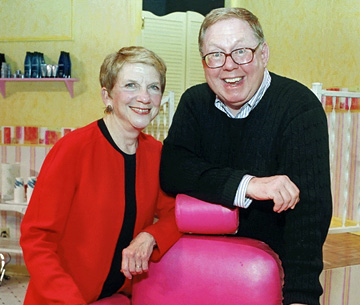 To that end, producers Marilyn Abrams and Bruce Jordan have announced that an on-line joke writing contest is being held. "Shear Madness" is looking for raw material to turn into comic gems at their special anniversary performance.
According to Jordan, "We're looking for the things about Boston, its institutions and its people that might evoke laughter from locals and out-of-towners alike."
Five talented "joke writers" and their guests will win free tickets to the show that night and have a chance to see their ideas performed live onstage by Boston's finest comic actors and have their photo taken with the cast. A committee of the show's associate directors and actors will select the five winners. To enter, e-mail joke suggestions to: 30thanniversary@shearmadness.com. Entries must be submitted by January 15, 2010, and winners will be notified by e-mail by January 20th.
An international phenomenon, "Shear Madness" has been produced in 40 cities in the United States and has had 85 international productions. The play has been translated into 15 foreign languages and has been seen by a worldwide audience of 9 million people with over 1.8 million attending the Charles Playhouse production alone.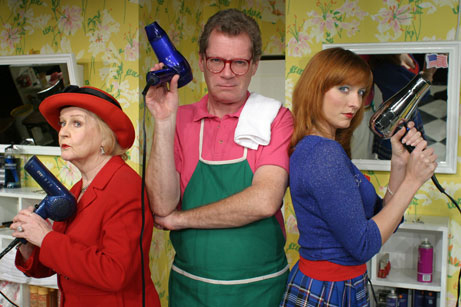 The Boston production has employed more than 150 Equity actors (14,800 weeks of work) in its 30-year history.
In the "Fun Facts" department, the show has gone through nine barber chairs, 96 blow dryers, 270 bottles of stage blood, 198 hairbrushes, 1320 cans of hairspray, 1560 bottles of nail polish, and more than 13,000 cans of shaving cream.
In 1978, Abrams and Jordan, the show's creators, producers and original cast members, first performed a serious version of the play based on "Scherenschnitt," written by German writer and psychologist Paul Portner, in Lake George, New York. Jordan, the original director, sensed the comic possibilities of the piece and turned it into the topical spoof, "Shear Madness." Because they were on stage each night, Abrams says they experienced the "magical chemistry" between the actors and the audience.
The audience response to "Shear Madness" was so enthusiastic that Jordan and Abrams decided to purchase the world stage, screen and television rights to the play. Cranberry Productions (as in, they are quick to explain, "What else goes with a turkey?") was created to nurture the hit that they had cultivated. With complete financial and artistic control over the show, they now had an enormous project on their hands.
Based on the encouragement they received from New England visitors to Lake George, they decided that "Shear Madness" just might work well in Boston. So after more than two years honing the comedy, Abrams and Jordan moved their little show to The Charles Playhouse. The rest, as they say, is history.
For tickets and information, stop by the box office at 74 Warrenton Street, in the heart of Boston's theatre district, call 617-426-5225 or visit www.shearmadness.com.