A Review

Life As Art As Life
By R. J. Donovan
Smart, funny, and filled with enough inside theater jokes to keep all the theater geeks (hereafter known as "show-mo's") falling over with delight, "[title of show]" at SpeakEasy Stage Company is a musical about two guys writing a Broadway musical about two guys writing a Broadway musical.
"[title of show]" is the autobiographical effort from Jeff Bowen (music and lyrics) and Hunter Bell (book). Where Mickey and Judy once showed us you could put on a show in a barn with little more than the curtains from the front parlor, Bowen and Bell prove you can do it with four mismatched chairs and a sandwich board sign.
Friends and struggling writing colleagues, Jeff and Hunter (real life guys as well as characters in the play) found they had a golden opportunity to submit material to the New York Musical Theatre festival. However, the deadline was rapidly approaching, and neither had a clue about what to submit.
Then they hit upon the concept that their own conversation about the lack of an idea was far more interesting than whatever they might produce. So, they'd write about not having anything to write about. (Hello "Seinfeld.")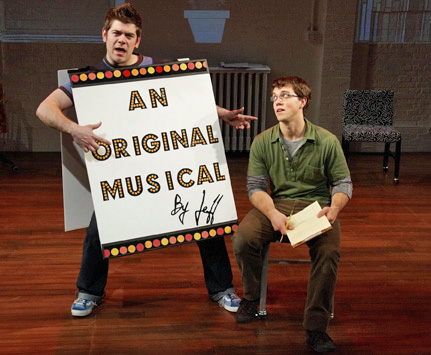 The dialogue between the two friends -- Jeff and Hunter -- became the dialogue for the two characters -- Jeff and Hunter. Because after all, it's a musical about two guys writing a musical about two guys writing a musical. What could be more real?
Then they brought in two actress gal pals to flesh things out. Susan was toiling away as a Corporate Whore office manager by day while Heidi was an understudy for all shows and seasons. Again, both real people. And they, too, became characters in the show, with their words and actions going down on paper as the script bubbled to life.
All of this may sound a bit daffy, but Bowen and Bell made it bright and witty and real. The self-referential humor is a hoot and their put downs and adorations of the business they clearly want to become a major part of is sharp and on the nose.
In that vein, they bemoan all the flops that have died a tragic death on Broadway, diss Betty Buckley as a "box full of crazy," squeal with delight at the thought of Diana Manoff being in their show, receive voice mail from Sutton Foster and give their own personal shout out to "Rent," Sondheim, "Ellen," Comden & Green, "The Rink" and Bernadette Peters, among others. (Some of the references shoot by so quickly that you've got to really listen to keep up.)
All is well for the creative foursome until "the little show that could" gets some attention and becomes "the larger show with commercial possibilities". That's when the warm and fuzzies morph into creative scrapping among friends. Outside influences begin to cast doubt on the tone and temper of their project. Should they make changes, or leave it alone. Should they re-cast or keep the originals. It is too inside for a general audience? Are they selling out for a paycheck?
The big challenge, since the play is supposed to be evolving right before your eyes, is how to end it. The answer is: not with a bang, but with a slow fade to black as the thing they lovingly created is set out into the world, not really on its own, but not entirely under their complete autonomy anymore either.
In the end, was the fun of creating it as rewarding as the success in applauding it?
The added novelty in the original off-Broadway and Broadway productions, of course, was that the four people standing onstage were the four people who were part of the creative process. So it was a true autobiographical effort. Some audience members may not have known that, but the die-hard musical theater fans were well aware.
And just as the original four lose their life-as-art ownership of their creation at the end of the show, so now is "[title of show]" being presented, in the more conventional sense, by actors playing the real people.
Does that take away anything? Not really, as the story is still viable. Do you have to be a theater insider to get all the asides and catty references. You'll enjoy it more if you are, but, again, not absolutely necessary. The bottom line is that the idea is a clever one, and its execution is sharp.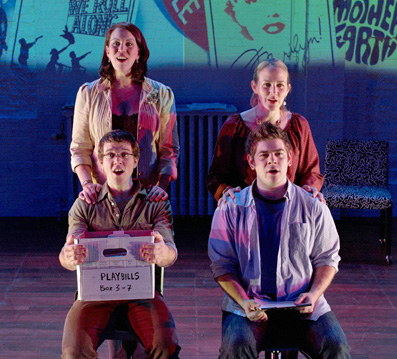 Directed with a tight hand by SpeakEasy's Artistic Director Paul Daigneault, the cast here includes: Jordan Ahnquist as Jeff, analytical and pragmatic; Joe Lanza as Hunter, initially laid back but ultimately caught up in the process and pressure; Val Sullivan (a SpeakEasy favorite) as Susan, wise-cracking and aggressive; and Amy Barker as the reflective Heidi. Rounding the company is a dead-panning Will McGarrahan as Larry, the keyboardist who sits off in the corner, playing the entire score by himself and barely saying two words.
Among the musical high spots are: Ahnquist and Lanza doing "Two Nobodies in New York;" the foursome's "Die Vampire Die," questioning those people and situations that suck the life out of your enthusiasm whether you're writing a novel or painting a landscape; and Amy's lovely solo, "A Way Back To Then."
One of the funniest spots has Ahnquist wrestling with a Blank Piece of Paper (played by Lanza) in "An Original Musical" that's right out of an after-hours "Schoolhouse Rock"special.
Although there's very little onstage, Scenic Designer Eric Levenson has come up with four distinct chairs for the four characters. It's a nice touch. And his plain whitewashed brick wall is the ideal surface for Seaghan McKay's inventive projections. From simple window scenes to a pulsating square that signals voice mail and the comical cartoonery of the "Original Musical" number, they're a hit and add tremendously to the tone of the show.
The resolution of conflict among the four friends is played out in the insightful "Nine People's Favorite Thing." Having been pulled in a million directions, they vow that rather than having the show try to be all things to all people, they'll stick to their original instinct. Because they'd rather create something that's "nine people's favorite thing, than a hundred people's ninth favorite thing."
Judging from the reaction of the audience at SpeakEasy, ["title of show]" will definitely the favorite thing of way more than nine people.
"[title of show]" from SpeakEasy Stage, is at the Calderwood Pavilion at the Boston Center For The Arts, 527 Tremont Street, through February 13. For information, call 617-933-8600.
-- Production Photo: Mark L. Saperstein
-- OnStage Boston