Bread and Puppet Theater
Presents
"Tear Open The Door Of Heaven"
"Dirt Cheap Money Circus"
January 25 - 31
Bread and Puppet Theater will present "Tear Open The Door Of Heaven" and "Dirt Cheap Money Circus" -- two separate performances presented in partnership with the Boston Center for the Arts -- as part of the Cyclorama Residency Series.
A triple threat of Performances, Art Exhibit and Cheap Art Sale will run from January 25 - 31 in the Cyclorama at the Boston Center for the Arts, 539 Tremont Street in Boston's South End.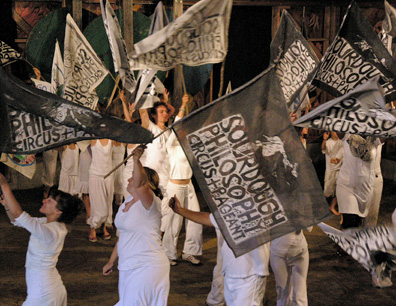 The award-winning Bread and Puppet Theater, featuring Artistic Director Peter Schumann and his troupe of Vermont puppeteers, returns for a fourth year to the BCA bringing its signature powerful imagery, masked characters, and giant paper mache puppets.
Although all Bread and Puppet events have a seriousness of purpose, a few laughs are always thrown in!
The schedule is as follows:
Performances:
Bread and Puppet Theater: "Tear Open The Door Of Heaven"
[Recommended for ages 12 & older]:
Jan. 28 - Jan. 31, 7 p.m.
A pink and blue puppet show about Heaven and its effects on the Underneath, presented by the practitioners of the brand-new paper mache religion. The play features over life size puppets representing God, his daughter and stepdaughter, a US president and his war-waging office, mountaintop removal protesters, money printing artists and stargazers of the North East Kingdom of Vermont. The six acts of the play are supplemented by six dance interventions performed by the Lubberland National Dance Company. Informal talk back with the artists follows each performance. Sourdough rye bread will be served and cheap art will be for sale after each performance.
:
Bread and Puppet Theater: "Dirt Cheap Money Circus"
Jan. 30 - 31, 4 p.m.
Family Friendly Matinees
( The Sunday matinee performance will be ASL interpreted by Jody Steiner.)
Features the billionaire bonus celebration dance, the logic of the US Healthcare System, the history of humanity and the removal of a mountaintop, interspersed with appearances by Karl Marx, who confronts the 2010 economic situation with his existential thoughts about money and our relationship to it. All with live circus band accompaniment. Take note that some of the circus acts are politically puzzling to adults, but accompanying kids can usually explain them. The audience is welcome to examine all the masks and puppets after the show. Cheap art will be for sale after each performance.
Visual Art Exhibit:
Jan. 25 - 31
Bread and Puppet Theater: visual art installation created by Peter Schumann
Free and open to all.
Schumann's most recent visual art exploration, consisting of very large to very small paintings depicting matters that concern us all.
Exhibit details:
Jan. 25, 6 - 8 p.m.
Opening Reception with refreshments, an art talk given by Schumann, short skits performed by the touring company, and live music composed by Michael Romanyshyn.
Jan. 26 - 29: Regular Cyclorama hours: 9 a.m. -5 p.m. Thursday & Friday hours extended to after the evening performance.
Jan. 30 - 31: One hour before and after each matinee and evening performance.
For this residency at the Cyclorama, the Bread and Puppet touring company includes Schumann, along with Danny McNamara, Maura Gahan, Greg Corbino, Diana Sette, Maryann Colella, Susie Perkins, among others. Both shows will be performed by the company and a large number of local volunteers and musicians, including the popular Somerville-based Second Line Social Aid & Pleasure Society Brass Band.
Somerville-based composer Michael Romanyshyn has composed three short pieces to be performed at Schumann's art opening. They include "You Are" (a composition for 6 clarinets and 2 drums, featuring Romanyshyn, Dana Colley, Steve Rauch, Maury Martin, Ben Pasamanick, Grant Smith, Trudi Cohen, and Shaunalynn Duffy), "7 Questions for Grace Paley" (a composition for clarinet and tuba performed by Romanyshyn and Kaolin Kinsey), and a brass band tribute to Stephan Brecht, which was originally performed at Brecht's memorial service.
In addition to Peter Schumann's art installation, the Cyclorama will also be decorated with the unique Bread and Puppet collection of black-line posters, banners, masks, curtains, programs and set-props. All pieces are created by Schumann with input from the company. Following each evening performance, there will be an opportunity to savor Schumann's famous sourdough rye bread, smeared with garlic aioli; and there will also be many opportunities during the week to purchase the theater's legendary "cheap art."
The Bread and Puppet Theater is one of the oldest, nonprofit, self-supporting theatrical companies in this country. It was founded in 1963 by Peter Schumann on New York City's Lower East Side. Besides rod-puppet and hand-puppet shows for children, the concerns of the first productions were rents, rats, police and other problems of that neighborhood. More complex theater pieces, in which sculpture, music, dance and language were equal partners, followed. The puppets grew bigger and bigger. Annual presentations for Christmas, Easter, Thanksgiving and Memorial Day often included children and adults from the community as participants. Many performances were done in the street.
During the Vietnam War, Bread and Puppet staged block-long processions and pageants involving hundreds of people. In 1970, Bread & Puppet moved to Vermont as theater-in-residence at Goddard College, combining puppetry with gardening and bread baking in a serious way, learning to live in the countryside and letting itself be influenced by the experience.
Since its move to Vermont, Theater for the New City has been the company's New York home. It has performed one or more productions at TNC each year since 1981. Last summer, the company also appeared at Lincoln Center Out of Doors.
Internationally, Bread and Puppet Theater performs massive spectacles with hundreds of participants, sometimes devoted to social, political and environmental issues and sometimes simply to the trials of everyday life. The traveling puppet shows range from tightly composed theater pieces presented by members of the company, to extensive outdoor pageants which require the participation of many volunteers.
For tickets in advance, call 866-811-4111 or visit www.theatermania.com/boston. Tickets will be available in the Cyclorama one hour before each show.
-- Photo: Jack Sumberg