---

Nora Theater Company
Presents
"Not Enough Air"
Next on the schedule at The Nora Theatre Company is "Not Enough Air," local playwright Masha Obolensky's riveting story of two women: one on trial for murder, the other a writer determined to tell the story. Performances at Central Square Theater are February 11 - March 14.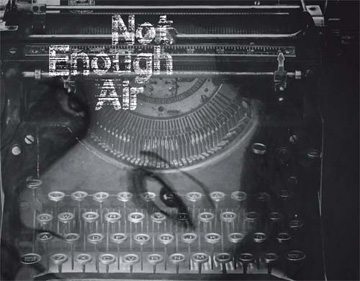 In this East Coast Premiere, famed journalist-turned-playwright Sophie Treadwell finds herself drawn into the sensational 1920's murder trial of Long Island housewife Ruth Snyder, played by Ruby Rose Fox. Treadwell, played by Anne Gottlieb, is compelled to give voice to Ruth's story resulting in her landmark expressionist play, "Machinal."
Directed by Melia Bensussen, "Not Enough Air" delves into a frenzied world of tabloid murder and media manipulation. The play received First Prize in Boston Theatre Works 2005 Unbound Festival as well as a Jane Chambers Award in 2006. In 2009, it premiered at Chicago's TimeLine Theatre where it was nominated for 5 Jeff Awards, including Outstanding New Work.

Masha Obolensky has written and directed original performance pieces that have been presented by La Mama E.T.C., New Georges, Here Arts Center, 78th Street Theatre Lab, Access Theatre, and The Director's Collective. Her 10-minute play "Girls Play" was selected for the regional Kennedy Center American College Theatre Festival. "Not Enough Air" is her first full-length play.

Melia Bensussen is the recipient of an OBIE Award for Outstanding Direction, and has directed extensively around the country, including at La Jolla Playhouse, Baltimore Centerstage, Hartford Stage, the New York Shakespeare Festival, Manhattan Class Company, Actors Theatre of Louisville, and People's Light and Theatre Company, where she received a Barrymore nomination for Best Direction. Most recently she directed "The Taming of the Shrew" for Actors' Shakespeare Project in Cambridge, and in April will direct a production of "The Blonde, The Brunette and the Vengeful Redhead" at Merrimack Repertory Theatre.

Anne Gottlieb previously appeared at The Nora Theatre Company in the New England Premiere of "Crave" and the Elliot Norton Award-winning production of "Betrayal" for which she also received the 2004 IRNE Award for Best Actress. Recent appearances include "The Goat or Who is Sylvia?" at Gloucester Stage Company and "The Wrestling Patient" which she co-created with Kirk Lynn and Katie Pearl. The piece received its world premiere in 2009, co-produced by her newly formed company, FortyMagnolias Productions, SpeakEasy Stage Company and Boston Playwrights' Theatre.

Ruby Rose Fox has recently appeared as Ilse in Zeitgeist Stage's "Spring Awakening," in "Macbeth" with Actor's Shakespeare Project, and debuted her one-woman show, "Little Legacy," for the palliative care unit at Boston Children's Hospital. "Little Legacy" is an ongoing performance using Shakespeare, classical and modern poetry, and her mother's journal to reveal the inner experience of a grieving child.

The "Not Enough Air" company also includes Marianna Bassham, Grant MacDermott, Craig Mathers, and Billy Meleady.

Central Square Theater is located at 450 Massachusetts Avenue in Cambridge. Conversations with special guests, local academics from Harvard University and MIT, and the cast will follow select performances. For tickets and information, call 866-811-4111 or visit www.centralsquaretheater.org.