"Cabaret," "Christmas Carol," "Shooting Star"
On Sale At Trinity Rep
The first three shows of Trinity Rep's 2009-2010 Season are now on sale, including "Cabaret," "A Christmas Carol and "Shooting Star."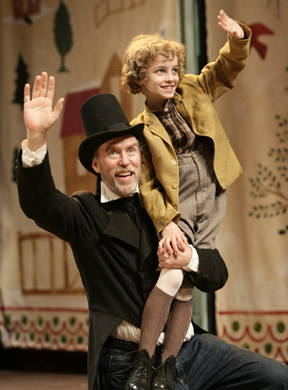 Resident acting company member Timothy Crowe (at left with Austin Adams) will again step into the shoes of iconic miser Ebenezer Scrooge in "A Christmas Carol." Performances begin on November 20 and run through December 27. This year there will be only one cast for the show, so availability is expected to be extremely limited.
Kander and Ebb's "Cabaret," playing September 11 - October 11, features resident acting company members Joe Wilson Jr. as the Emcee and Rachael Warren as Sally Bowles under the direction of Artistic Director Curt Columbus. Set in Berlin in 1931, the world of "Cabaret" is one in which music, money, and love are there for the taking. But outside the cabaret, the world is changing: what's in store for Sally and her friends?
Steven Dietz's "Shooting Star," playing October 16 – November 22 and directed by resident acting company member Fred Sullivan Jr., brings back former Trinity Repertory Company actors Kurt Rhoads and Nance Williamson as two old flames. Kept apart by time and reunited by coincidence, they meet unexpectedly when they're stuck in a snowbound airport for a long night. As morning dawns and all flights are cleared for departure – what's the final destination for these two?
Featuring reportedly the last permanent resident acting company in America, Trinity Rep presents a balance of world premiere, contemporary, and classic works for an estimated annual audience of approximately 135,000. In its 45-year history, the Providence theater has produced 57 world premieres, mounted national and international tours, and, through its graduate-level theater arts conservatory, trained hundreds of new actors and directors. This season marks the 43rd year of Project Discovery, Trinity Rep's pioneering educational outreach program.
For more information and tickets, call the box office at 401-351-4242 or visit www.trinityrep.com.
-- Production Photo: T. Charles Erickson
-- OnStage Boston