Celebrate The First Day Of Fall
With Revels' "RiverSing"
Sunday, September 20
On Sunday, September 20, Revels will celebrate the Autumnal Equinox with thousands of singers, picnickers and boaters at thir 6th annual "RiverSing" along the Charles River. This giant, free, public sing features a number of area choruses and solo artists, all of whom plan to engage the audience by inviting them to "sing along!"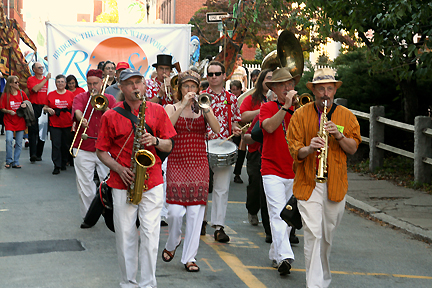 The evening begins at 5:00 p.m. at Winthrop Park in Harvard Square where "RiverSing" entertainment will include a marching band, puppets, face painting and more. At 5:45 p.m., the Grand Procession (at left) will lead to the river. The Sing will then take place from 6 p.m. to dark on the Cambridge side of the Charles River near the John W. Weeks Footbridge at Memorial Drive.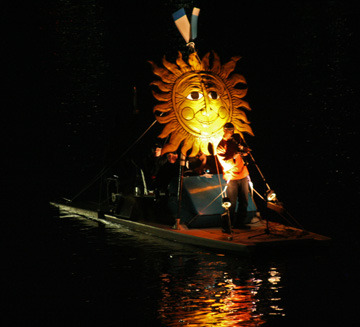 More than 100 members of various Boston area choruses will participate in this year's celebration including the Family Folk Chorale, the Halalisa Singers, Sharing a New Song and the Revels Singers. Also, saxophonist Stan Strickland (at left) is on board once again - literally - as he performs an improvisational sunset serenade from an illuminated boat on the river at approximately 7:15 p.m.

Revelers are invited to come early and spread their picnic blankets along the river. Bring a bell (or wear a bell) and help revelers ring in the new season. Small boaters are also encouraged to decorate their vessels and join the communal singing.
"RiverSing" began in 2004 when Revels first teamed up with the Charles River Conservancy to create a free community singing event along the banks of the Charles River. George Emlen is Revels' Music Director; Patrick Swanson is Artistic Director.

"RiverSing" is supported in part by: the Massachusetts Cultural Council, a state agency; The Cambridge Arts Council; The Charles River Conservancy; and the Harvard Square Business Association.
-- OnStage Boston