A Review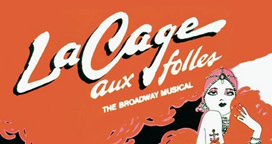 The Pride of Saint Tropez
By R. J. Donovan
"La Cage Aux Folles" made its world premiere at Boston's Colonial Theater in the summer of 1983 on its way to Broadway. With music and lyrics by Jerry Herman, as well as a book by Harvey Fierstein, the show would go on to win the Tony Award as that season's Best Musical.
The Reagle Players in Waltham are presenting "La Cage" as the final installment in their summer-long salute to Jerry Herman.
Based on a play by Jean Poiret and the subsequent cult film of the same name, the story revolves around Georges and Albin, a male couple in St. Tropez who find that their son, Jean-Michel, intends to marry. The boy's fiance is a lovely little thing, but her father happens to be an outspoken defender of moral authority. Georges and Albin are gay. And while one of them owns a flamboyant drag nightclub (the envy of the cabaret world and the jewel of the Riviera), the other is the club's star attraction. All of which leads Jean-Michel to beg his father to masquerade as straight when he meets the ultra-conservative, future in-laws. And to get rid of Albin as well.
Jean-Michel's biological mother is invited to give the evening a more acceptable tone, though she hasn't seen the boy since his birth. When she cancels at the last minute, Albin fills in -- in drag.
Despite hurt feelings and questions about what makes a true family, Georges and Albin triumph and all is well by the finale.
While the show was groundbreaking in 1983 for its depiction of a happy but discreet gay couple, it stands in stark contrast to today's very visible fight for gay rights and marriage. But once you settle in to the time frame of the show, "La Cage" comes off as a charming evening, filled with funny moments, bright songs and some spectacular dancing.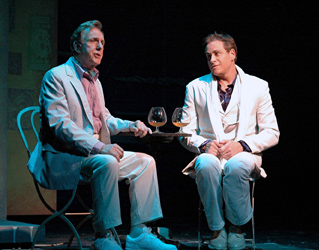 Reagle is fortunate to have two gentlemen in the leads who have a history with the show itself. Jamie Ross (left) has played Georges on Broadway. And David Engel (right), who plays Albin (as well as Albin's drag creation, Zaza) was a featured chorus member of the original Broadway company. He has since played Albin several times throughout his stage career. Broadway aficionados will also know Engel as one of the original cast members of "Forever Plaid" (which he recently filmed for release as a motion picture. Check out the trailer here.) As well, the production is directed and choreographed by David Scala, who was also a member of the original Broadway company.
Both lead actors have their moments to shine. Among them, Ross delivering the touching love ballad "Song On The Sand," and Engel bringing the first act to an emotional finish with the anthem for acceptance, "I Am What I Am." Engel is particularly adept at physical comedy as well, and together, the two men are a hoot as Georges tries to teach Albin how to appear more manly in "Masculinity."
The supporting players include David Carney as Jean-Michel, Jessica Azenberg (a delightful dancer) as his fiance, R. Glen Mitchell and Catherine Lee Christie as her parents, Ivory McKay as the butler (and/or maid) and Betsy Foley as Jacqueline, a St. Tropez restaurateur. Special note to Joseph Cullinane who, as Hanna, cracks a pretty mean whip.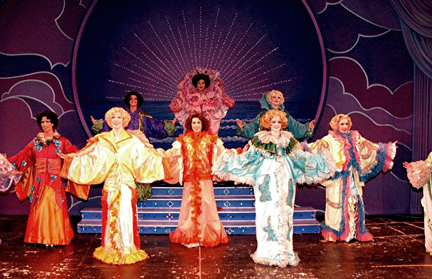 Once again at Reagle, the spirited chorus members are outstanding as they can-can, do acrobatics and dance with precision. The evening opens in the nightclub as the audience meets, "La Cagelles," the young stars of the show, all in drag. The number, "We Are What We Are," builds to three levels, starting with the company slowly parading in elaborate floor-length outfits dripping with beads and feathers, and ending with the entire group in short costumes tap dancing up a storm.
The audience has to do some gender guessing here as some of the "ladies" are ladies, and some of the "ladies" are gentlemen. As the song lyrics say, "Just who is who and what is what is quite a question at La Cage Aux Folles." The answers, however, are provided when, at the conclusion of the number, everyone rips off their wigs to reveal their true identities.
Herman is known for both his lush ballads as well as those heart-thumping showstoppers that build and build to a rousing finish (think "Mame," "It's Today," "Hello, Dolly!," "Before The Parade Passes By," and others). Here, it's "The Best of Times." Aside from being an effervescent number that involves the entire company, it's also capped with a moment that gets one of the biggest laughs of the night, thanks to Engel.
Jerry Herman said not long ago that no one writes shows like his anymore. Very true. But as I recall, the tone he took was somewhat sad, as though his time had passed. Quite to the contrary -- his shows go on and on and are produced again and again, because they're solidly grounded in the heartfelt, universal emotion of the human connection.
As his lyric advises . . .
So hold this moment fast,
And live and love as hard as you know how.
And make this moment last,
Because the best of times is now.
Words to live by. And timeless indeed.
"La Cage Aux Folles" is at Robinson Theatre in Waltham through August 22. For information, call 781-891-5600.
-- OnStage Boston