---

Huntington Opens Season
With August Wilson's Pulitzer Prize-Winning "Fences"
The Huntington Theatre Company will open its 28th season – a season of American stories – with August Wilson's Pulitzer Prize and Tony Award-winning "Fences," the sixth chapter of his groundbreaking ten-play cycle about the 20th century African-American experience. Performances run September 11 through October 11.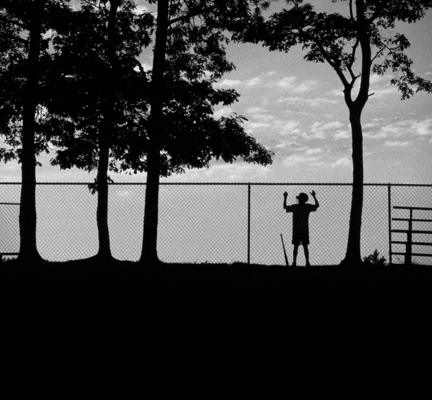 Kenny Leon ("Radio Golf," "Gem of the Ocean," "A Raisin in the Sun"), acclaimed director and Wilson's final collaborator before his death, returns to the Huntington to helm the production, which stars John Beasley ("Two Trains Running," "Jitney," "Everwood").
"Fences" is the story of Troy Maxson, a former Negro Leagues star, who peaked too soon for baseball's integration and instead hit the ceiling of racial prejudice. Working as a garbage collector in 1957 in Pittsburgh, Troy is resentful of a world that denied him the opportunity for the national success he feels he deserved.
Troy's son Cory, an emerging football star, sees the world through very different eyes than his father. Paralyzed by his own bitterness, Troy refuses to support his son's ambitions. Meanwhile, Troy's wife Rose yearns for a true outlet for her love, his son Lyons strives for his father's love and respect, and his brother Gabriel, a mentally-disabled war veteran, offers Troy a different perspective of the world.

Artistic Director Peter DuBois commented, "The Huntington provided August with an artistic home throughout his career. 'Fences 'is one of only two plays from his magnificent opus that we have not yet produced. This fall we take one step closer to completing his cycle with one of his greatest. Kenny has been such an important part of the Huntington's special relationship with August and his work. I am thrilled to welcome him back."

August Wilson was the winner of two Pulitzer Prizes, a Tony Award, an Olivier Award, and eight Drama Critics' Circle Awards for the ten chapters of his groundbreaking decade-by-decade exploration of the heritage and experience of African-Americans in the 20th century. The Huntington played an integral part in Wilson's play development process, producing eight of his ten works before transferring them to New York: "Joe Turner's Come and Gone" - 1910s (1986), "The Piano Lesson" - 1930s (1987), "Two Trains Running" - 1960s (1990), "Seven Guitars" - 1940s (1995), "Jitney" - 1970s (1998), "King Hedley II" - 1980s (2000), "Gem of the Ocean" -1 900s (2004), and "Radio Golf" - 1990s (2006). Wilson died in 2005, just after completing "Radio Golf," his final chapter.

Director Kenny Leon was Wilson's final collaborator and has directed all ten of Wilson's plays. His relationship with the Huntington began in 1993 when he helmed "From the Mississippi Delta." Other productions for the Huntington include "A Raisin in the Sun" with Esther Rolle (1995) and "Blues for an Alabama Sky" (1997) with Tony Award winner Phylicia Rashad. For the Huntington and then on Broadway, he directed "Gem of the Ocean" with Rashad (2004) and "Radio Golf" (2006). In 2008, he served as Artistic Director of "August Wilson's 20th Century" at The Kennedy Center, a six-week festival staging readings of the works with sets, costumes, and lighting. Leon is the founding artistic director of True Colors Theatre Company in Atlanta and served as associate artistic director of Alliance Theatre. He directed the 2004 Tony Award-winning Broadway revival and the Emmy Award-nominated television film of Lorraine Hansberry's "A Raisin in the Sun" starring Sean Combs, Rashad, and Audra McDonald.

Leon says "Fences" was a seminal work in his development as a theatre artist. "I saw 'Fences,' and it was the first time I felt like my grandmother's and mother's rhythms were onstage. It was so powerful -- I'd never heard them before."
Leon is looking forward to revisiting the play. "This will be my fourth time, and it can be hard to direct a play more than once because, after a while, you feel you've exhausted it, but this hasn't been the case with 'Fences.' It feels like a new play every time. I'm always making new discoveries."

"I dearly miss August," he added. "The last time he was healthy was the time we spent in Boston working on 'Gem of the Ocean.' So when I think of August, I think of us walking on Huntington Avenue -- starting out for a five minute conversation and talking for two hours."
The Huntington's 2009-2010 season of American stories is the first in the Company's 28-year history comprised entirely of plays by American writers. The plays of the season relate to one another through stories of opportunities lost and found, of intergenerational struggles and successes, and of the most intimate and meaningful relationships. Drawn from some of the best writing the country has to offer, the season will offers thoughts about issues of race, class, values, and a shared American experience.

John Beasley, making his Huntington debut, leads the cast in the role of Troy. He previously performed the role in The Kennedy Center's "August Wilson's 20th Century," at the New American Theatre, and at the John Beasley Theatre, of which he is the founder. Other regional credits include August Wilson's "Two Trains Running" (Goodman Theatre), "Jitney" (Alliance Theatre), and "Joe Turner's Come and Gone" (JBT). He has starred in more than 35 films including "Rudy" and "The Apostle," and appeared on television for four years on the WB's "Everwood."
The company also includes Brandon J. Dirden, Crystal Fox, Eugene Lee, Warner Miller, and Bill Nunn.
Related Events --
Monday, September 14, 7:30 p.m.
Roxbury Community College
Mainstage at the Media Arts Building
1234 Columbus Avenue, Roxbury
August Wilson's Legacy
Join the Huntington for a free community event at Roxbury Community College celebrating the legacy of August Wilson and looking ahead to an exciting new generation of playwrights. The event will feature a talk with Kenny Leon, a panel discussion with Boston-area playwrights (including Lydia R. Diamond, author of "Stick Fly"), and live performances of scenes from both Wilson's and Diamond's work. No reservations are necessary.

Sunday, September 20
Following the 2 p.m. performance at the Boston University Theatre
Humanities Forum with Author Larry Tye
Humanities Forums are post-show discussions with a leading local scholar that explore the historical and/or literary context of the play. Literary Associate Charles Haugland leads a discussion with former Boston Globe reporter Larry Tye, author of Satchel: The Life and Times of Satchel Paige, about one of the Negro Baseball League's most famous pitchers.
Free with a ticket to any performance.
Thursday, October 1, 10 a.m.
American Sign Language-Interpreted Student Matinee
Student Matinee tickets are available for $12.
Study guide and pre-show classroom visit included.
Contact Meg Wieder at 617 273-1558 for more information.

Ongoing– Post-Show Discussions
New this season, the Huntington offers post-show audience discussions with members of the Artistic Department after all Tuesday-Friday evening performances, Saturday matinees, and Sunday matinees. Free with a ticket to the performance.
Contests --

Ongoing– American Stories Contest: Share your American Story
The Huntington Theatre Company's 2009-2010 Season features seven windows into the American experience by American writers, and is filled with American stories. Share your own American story and enter to win VIP tickets to each of the opening night performances and post-show cast parties throughout the season. Enter in either category: 18-and-under or General. One winner will be per show plus a Grand Prize winner for the year.

Or . . .
Create a video or write an essay response to the following question:
In "Fences," Troy Maxson played baseball in the Negro Leagues before integration and never realized his dream of becoming a Major League star. Do you have a dream for your life you have yet to achieve? How will you?
Send your submission with your name, address, and phone number to contest@huntingtontheatre.org. All entries will be posted on the Huntington's blog and winners will be featured in the theater's monthly e-newsletter.
For tickets and information, stop by the box office, call 617-266-0800 visit www.huntingtontheatre.org.
-- OnStage Boston