Come Hear The Music Play
As Trinity Rep Opens 46th Season
With "Cabaret"
Trinity Repertory Theater in Providence will kick off its 2009-2010 Season on September 11 with the iconic musical, "Cabaret." With a book by Joe Masteroff and music and lyrics from the renowned team of John Kander and Fred Ebb, "Cabaret" is a unique creation, blending social commentary with entertainment. Directed by Artistic Director Curt Columbus, the production continues Trinity Rep's tradition of rediscovering and re-imagining the American musical. Performances continue through October 11.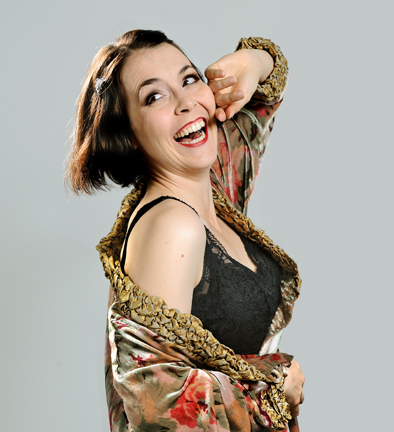 Set in 1930's Berlin, the show takes place in the German definition of "kabaret" or music hall – as opposed to a piano bar that the term cabaret calls to mind with modern audiences. Says Columbus, "In keeping with the sensibility Adrian Hall and Eugene Lee encouraged at Trinity Rep from the very beginning, our kabaret is a bustling beer garden – feeling more like a festive carnival midway for the audience than a supper club."
Columbus says he fell in love with this musical at an early age, when he first saw Bob Fosse's film adaptation in the 1970s. "I remember being fascinated by the blend of European-sounding jazz and American musical standard forms," he commented, "and of course the historical setting for the piece."
Resident acting company member Rachael Warren (above) plays Sally Bowles, beautiful chanteuse at the Kit Kat Klub who charms young American writer Cliff Bradshaw (Mauro Hantman) into sharing his apartment. Joe Wilson, Jr., as the club's Emcee, has not one but two ladies to keep him company. His songs are the source of wry commentary throughout the show. Meanwhile, landlady Fräulein Schneider (Phyllis Kay) has found love with her grocer Herr Schultz (Stephen Berenson) against the tumultuous political backdrop of the rise of the Third Reich.
Those familiar with the movie adaptation starring Liza Minnelli and Joel Grey might be surprised to learn that the film diverges from the original musical in a few ways.
Columbus explained, "There is this wonderful love story between Fräulein Schneider and her Jewish suitor Herr Schultz -- which I think is one of the most dramatic and thrilling storylines in the play. Also, there are some songs that people know from the film, and some that people don't."
Cabaret also features resident acting company members Stephen Thorne as Berliner businessman Ernst Ludwig, and Janice Duclos as the bawdy Fräulein Kost, as well as Brown/Trinity Rep class of 2010 students Matt Clevy, Patrick Mulryan, Michael Obremski, Molly O'Neill, Lizzie Vieh, Monica Willey, Gillian Williams, Anne Francisco Worden; plus guest actress Lynnette R. Freeman.
Joe Masteroff's first play, "The Warm Peninsula," opened on Broadway in 1959. In 1963, his book for "She Loves Me" garnered him a Tony Award nomination. Three years later, when Hal Prince gained control of the rights to "I Am a Camera" and "The Berlin Stories," he tapped Masteroff to create the book for his musical adaptation. "Cabaret" won the Tony Award for Best Musical and ran for 1165 performances.
John Kander began his acclaimed career as substitute rehearsal pianist for "West Side Story." The stage manager asked him to play the auditions for "Gypsy," where Jerome Robbins suggested that he compose the dance music for the show. In 1965, he teamed up with Fred Ebb to write "Flora the Red Menace," produced by Hal Prince, directed by George Abbott, and starring Liza Minnelli in her Broadway debut. Kander and Ebb's Broadway shows include "Cabaret," "Chicago," "Kiss of the Spider Woman," "Woman of the Year," "Zorba," "Curtains" and others.
Fred Ebb graduated from New York University and Columbia University. His long and prolific career encompassed writing lyrics for the stage, film and television, in addition to directing and producing. His first theatrical jobs include the revues "Baker's Dozen," "Put It in Writing," "Isn't America Fun," and "From A to Z." His songs helped launch careers and have been sung by Judy Garland, Liza Minnelli, Barbra Streisand, Frank Sinatra, Robert Goulet, Gwen Verdon and Chita Rivera, among countless others.
Talkback sessions will be held following every performance of "Cabaret." Audience members are invited to share their response to the play's production for approximately twenty minutes.
For tickets and information, stop by the Rep box office at 201 Washington Street, call 401-351-4242 or visit www.trinityrep.com.
-- OnStage Boston