A Review

Still Goin' Strong
By R. J. Donovan
Near the end of "Hello, Dolly!," the smitten Cornelius Hackl says "The world is full of wonderful things."
Among those wonderful things would be Jerry Herman musicals, three of which -- "Hello, Dolly!," "Mame" and "La Cage Aux Folles" -- are being showcased this summer by The Reagle Players in Waltham.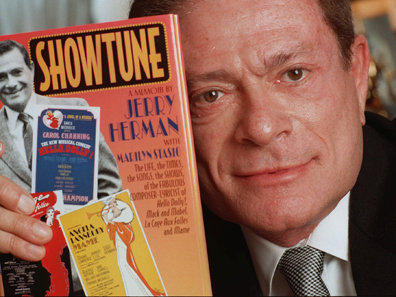 Jerry Herman's creations hold a special place in the world of American Musical Theatre. From "Dolly" and "Mame" to "Dear World," "Mack & Mabel," "Milk and Honey" and more, his shows have earned a cult following loyal to the warm stories, personal characters and lovely scores. At first look, Mr. Herman's songs may appear simple. Of course, the deception is that it takes enormous skill to make something look effortless.
I dare say if any one of his shows opened today on Broadway, they might easily be overlooked because they don't boast shocking stories, gritty songs and cookie-cutter money notes straight out of "American Idol."
Rather, his shows are simple, heartfelt and easy to love. They've stood the test of time to remain among those few titles that are regularly produced by theater companies both large and small.
Fans of musical theater know that Mr. Herman was just honored with a Lifetime Achievement Award at this month's Tonys. As well, PBS has been airing a wonderful documentary called "Words and Music By Jerry Herman" that should be required viewing for anyone who wants to know what hardworking Broadway was like in the 60s and 70s. "Dolly!" ranks as one of the longest running Broadway shows of all time, plus it received ten Tony Awards, setting a record in 1961 that would stand until "The Producers" snagged 12 in 2001.
"Hello, Dolly!" is all about Dolly Gallagher Levi, widow of the late Ephram Levi and a true jill-of-all-trades. With business cards aplenty, she arranges everything from furniture to daffodils. From her entrance, singing "I Put My Hand In," she's working the crowd in Yonkers, New York, for all its worth. One of her current projects is as matchmaker, finding a wife for Horace Vandergelder, the well known Yonkers half-a-millionaire. While Dolly has arranged the usual romantic introductions, she ultimately decides to land the man herself -- without him even being aware of it.
The show's book is by Michael Stewart, based on Thornton Wilder's "The Merchant of Yonkers," later to be known as "The Matchmaker." And the original production was directed and choreographed by the legendary Gower Champion.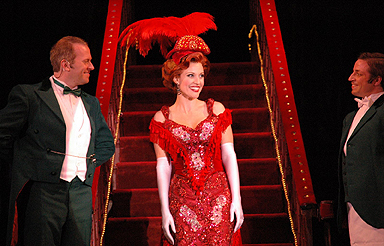 The folks at Reagle are known for producing quality work, with a company that combines local talent with imported pros. In this case, Rachel York (left) stars as Dolly Gallagher Levi, the meddler of all meddlers. York has appeared on Broadway in "City of Angels," "Les Misérables," "Victor/Victoria," and "Dirty Rotten Scoundrels," among others. She belts with the best of them, also showing a nice touch with the comedic moments, especially Dolly's dinner scene set at Harmonia Gardens.
The score includes several of Jerry Herman's best known songs, including "Before The Parade Passes By," "Put On Your Sunday Clothes," and of course, the title number. One of the loveliest, purest songs of the show, and of Herman's extensive songbook, is the ballad "It Only Takes A Moment." The song is one of those previously mentioned "simple" songs, which, amplified within the context of the show, fills the heart.
This production also includes one of two songs Herman added for the final weeks of the original Broadway run. While Carol Channing is synonymous with the role of Dolly, there was a veritable revolving door of leading ladies who took over the role after her. The final Grande Dame was Ethel Merman, for whom Herman had reportedly written the show in the first place. Of those two songs, again, specifically written for Merman originally, "Love Look In My Window" has been added right before "Before The Parade Passes By." The second, "World, Take Me Back" is not included.
(For trivia fans, both songs were recorded by Merman and sold at the St. James Theatre as the front and back of a souvenir 45 single. Die-Hard trivia fans know that both songs are available on a Merman CD collection of her private recordings called "Mermania, Volume 1.")
Jamie Ross plays Horace, proprietor of Yonkers' highly profitable Hay and Feed and employer of two young gentlemen, the previously mentioned Cornelius Hackl, and Barney Tucker. Ross gives a pleasant performance, but he could stand to increase the crankiness of the character. Horace is supposed to be a crotchety old son of a wart. Without the gruff exterior early in the show, he has nowhere to go when he ultimately softens to Dolly by the final curtain.
Rick Hilsabeck is Cornelius Hackl and Sean McLaughlin is Barnaby Tucker. Both show a lighthearted touch as the naive boys who long for a daring night in the big city. Hilsabeck has a particularly nice singing voice, which he shows off in "Put On Your Sunday Clothes."
As the boy's female counterparts -- and ultimately, their dates, thanks to Dolly -- are Sarah Pfisterer as dress shop owner Irene Molloy and Danielle Naugler as Minnie Fay, her shop assistant. Sarah is a longtime favorite among Reagle audiences and shows off her vocal prowess with "Ribbons Down My Back."
Choreographer Susan J. Chebookjian replicates Gower Champion's original choreography, which is beautifully showcased in the highly detailed "Waiters' Gallop" as well as the title number, which, as on Broadway, incorporates a semicircular ramp extending out into the audience.
Special applause goes to the handsome chorus of male and female singers and dancers -- all locals -- who shine again and again. They are precise, professional and seemingly up to anything that's asked of them.
Reagle shows always look great, due in no small part to the costumes they secure for their productions. "Hello, Dolly!" is no exception. The outfits are a rainbow of sherbet tones, accented by the waiters in stark black and white, and of course, Dolly in her signature fire engine red dress and headdress for the iconic title song.
Reagle continues its summer salute to Jerry Herman with "Mame" from July 16 - 25 and "La Cage Aux Folles" from August 13 - 22.
"Hello, Dolly! " is at Robinson Theatre in Waltham through June 27. For information, call 781-891-5600.
-- OnStage Boston