Beau Jest Celebrates 25 Years
The Beau Jest Moving Theater is celebrating its 25th year of theater-making by presenting a staged reading of Sutton Vane's "Outward Bound" from June 18 - 20, at the Charlestown Working Theater.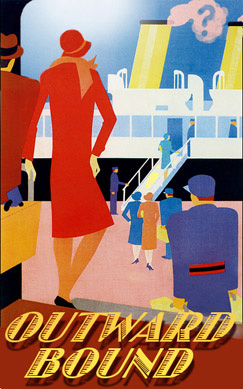 The reading of the slyly comic and mysterious play will star the We're Not Dead Yet Players featuring several current and former Beau Jest company members, including Larry Coen, Bob Deveau, Elyse Garfinkel, Jordan Harrison, Scott Raker, Davis Robinson, Robin Smith, Lisa Tucker, and Bates Wilder.
Instead of organizing a traditional anniversary fundraising effort, Beau Jest decided to celebrate its history by calling upon former and current cast members to stage a celebratory social event for the public. Audience members will have a chance to meet the cast and chat afterwards at a complimentary reception courtesy of flora restaurant of Arlington.
Beau Jest most recently staged "Samurai 7.0," an adaptation of the classic Japanese film. Previous shows include "Krazy Kat," "Motion Sickness," "Ubu Roi," and "The War of the Worlds." The company is currently in rehearsal for the world premiere of the Tennessee Williams play "The Remarkable Rooming House of Madame LeMonde." Beau Jest will return to the Charlestown Working Theater on September 18 and 19 to debut "LeMonde" before taking it to the Provincetown Tennessee Williams Festival from September 24 - 27.
All proceeds from the three-night June event will go towards the company's production of "The Remarkable Rooming House."
For tickets ($15 for adults, $10 for students and seniors) and information, call 866- 811-4111.
-- OnStage Boston