Apollinaire Theatre Company
Presents
"Men of Tortuga"
Behind the doors of America's code-locked executive suites, men in fine suits are planning an assassination. In "Men of Tortuga," Jason Well's brutal satire, three power-brokers scheme with a weapons specialist to eliminate their enemy. But when one of them takes a young idealist under his wing, his long-dormant conscience begins to reawaken, forcing the cabal to concoct even more outlandish scenarios of annihilation and ponder whether the ends justify their means.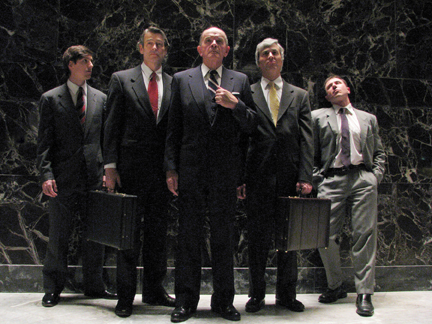 "Men of Tortuga" will be presented by Apollinaire Theatre Company at Chelsea Theatre Works from April 17 - May 17. "Tortuga," actor Jason Wells' first play, premiered at Steppenwolf Theatre as part of the First Look Repertory of New Work in 2005. The show received rave reviews, enjoyed a popular run and was nominated for the Steinberg New Play Award. His second play, "Perfect Mendacity," premiered at Steppenwolf last August.
"Men of Tortuga," directed by Artistic Director Danielle Fauteux Jacques, will feature the talents of five Apollinaire Theatre Company veterans: Peter Brown ("Rhinoceros"), Phil Thompson ("Dead City"), Rick Winterson ("The Visit"), Tom Giordano ("The Real Inspector Hound"), and Alain Groene ("The Seagull," "Rhinoceros," "The Real Inspector Hound").
For tickets, call 617-887-2336 or visit www.apollinairetheatre.com. Chelsea Theatre Works is located at 189 Winnisimmet Street in Chelsea. Performances will be followed by a reception with the actors in the Gallery.
Photo: Danielle Fauteux Jacques
-- OnStage Boston