Zeitgeist Stage Presents A New Adaptation
Of Wedekind's Original "Spring Awakening"
"Spring Awakening," written in the 1890's, is Frank Wedekind's ground breaking play about adolescent sexuality. Examining the lives of teenagers in provincial Germany as their sexual awakenings are repressed by the conservative society of their parents, the piece ranks as that is the most censored play in theater history. It was not produced as originally written for 75 years. A century later, the play was the basis for the Tony Award winning musical of the same name.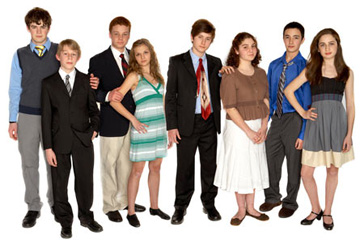 The first English language presentation of "Spring Awakening" occurred after a court order overrode New York City's effort to shut it down. Critics called it indecent and pornographic while it was simultaneously being praised by social reformers such as Emma Goodman.

Zeitgeist Stage is presenting Wedekind's play in a new translation written by Reinhold A. Mahler and adapted by Zeitgeist Stage Company's Artistic Director David J. Miller. The impetus to translate and present the play first came to them as they attended a Broadway preview of the musical version in December 2006. Performances at the Plaza Black Box Theatre at the Boston Center for the Arts are from April 17 - May 9.
After seeing the musical, they decided to collaborate on a new adaptation with the intention of presenting it when the musical eventually made its way to Boston. That time is coming as Zeitgeist's production of the play opens on April 17 with the musical beginning performances April 28 at the Colonial Theater.
For Zeitgeist's "Spring Awakening: The Play,", the roles of the teenagers will be played by actual local teenagers ranging from 13 to 17 years of age. Wendla will be played by Rebecca Stevens (SpeakEasy's "Blackbird"), Melchior by Paul McCallion (Wheelock's "To Kill A Mockingbird") and Moritz by Carlos Rojas (Actor's Shakespeare Project's "Julius Caesar").
The other school children are played by Keenan Cochrane ("SLAMBoston"), Amelia Estrada, Gabe Goodman (Huntington's "The Rose Tattoo"), Cameron VanderWerf (Actor's Shakespeare Project's "King John"), & Talia Weingarten (New Rep's "A Christmas Carol").
The adult roles will be played by Jake Berger, Douglas Cochrane, Michael Steven Costello, Michelle Dowd, Ruby Fox, Sara Jones, Maria Mogavero, Bill Salem, and Chuck Schwager.
For tickets and information, visit the Calderwood Pavilion box office at 527 Tremont Street, call 617-933-8600 or visit BostonTheatreScene.com. (The three Thursday night performances – April 23, April 30 & May 7 - will be available as Pay-What-You-Can Nights.)
-- OnStage Boston