A Review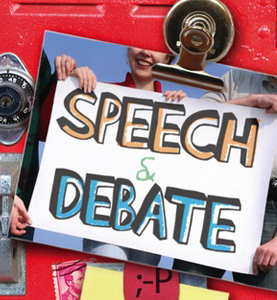 Sex, Lies & Homework
By R. J. Donovan
Young or old, we're all trying to find our way. And to fit in.
No where is that more evident than in Stephen Karam's dark comedy, "Speech and Debate," receiving its Boston premiere at Lyric Stage Company.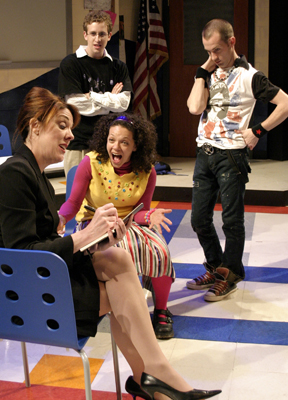 In this case, the individuals in conflict are all high school students. Three misfits who you'd never guess to be friends. But they're all drawn together by sex secrets.
This ain't "High School Musical" or "Grease." Filled with angst, these kids are real and gritty and talk about the uncomfortable things their parents consider taboo. They are each facing an injustice of some sort. And they ultimately have a few secrets of their own to lay bare.
Solomon, an earnest, buttoned-down journalist-to-be, wants to write a political expose for the school paper about the town's hypocritical Mayor, who's just gotten caught in a sex scandal with underage boys. He's slapped down in his efforts to win a byline, but for Solomon, down is never out.
Diwata, a self-proclaimed theater geek who sings and emotes in podcasts, is miffed over not being cast in any school shows, despite her obvious talent. So the kinetic Diwata will just have to create a project of her own to star in.
And Howie, an out-and-proud 18-year-old transfer student, has been approached in an online chatroom by a guy who turns out to be the school's drama coach. Who, of course, turned down Diwata for the previously mentioned school shows. All Howie wants out of life is to form a Gay-Straight Student Alliance at school. Only he can't get any takers. Or a faculty advisor.
They come together to use what they know within the context of Diwata starting a "Speech and Debate" team at school. None of them really wants to form an union with the others, but it's a matter of necessity. With the stakes high and a whiff of blackmail in the air, each needs the other two to reach their own goals. Adhering to the S&D club's strict rules of order, Diwata sees a way to employ their collective insider information to make their voices heard, achieve artistic success, and maybe grab a little fame along the way.
The town all of this takes place in is named Salem, which, if it doesn't immediately bring to mind a witch hunt soon will once Diwata begins riffing on "The Crucible." And speaking of the Arthur Miller classic -- one of the funniest sequences in the play, again instigated by Diwata, finds the trio presenting a dramatic time travel interaction between "The Crucible's" Mary Warren and a young, and possibly gay, Abraham Lincoln.
Ultra-serious and with a wisdom far beyond their years, the characters almost remind you of Charlie Brown and his determined cadre of Peanuts' pals grappling with everything from romance to insecurity to cynicism. Bossy Lucy Van Pelt, smugly sitting in her little booth distributing psychiatric help for a nickel a pop, isn't that far from bossy Diwata dispensing her opinions on life, artistic freedom and what Solomon and Howie need to do to get their act together.
Bottom line, they're frustrated kids navigating choppy waters without the perspective and experience that comes (maybe) with a few years under your belt. In the end, they're just as alike as they are different.
Karam's dialogue here is smart and witty and frank -- none of it dumbed-down to the lowest common denominator for the high school setting. He also avoids stereotypes to create real characters in real situations wrestling with real issues. Add online transcripts, abortion clinics and Diwata's fondness for education-by-Google, and Karam supplies the framework that firmly plants his students in the present.
Wisely, director Jeremy Johnson has cast the three roles with young actors who are completely believable as students (as opposed to the sometimes creepy practice of casting adults as kids). Each of the three delivers a highly entertaining performance while carving out a credible, vulnerable character.
Rachael Hunt is Diwata, aggressive and manipulative and just about to burst out of her skin. Alex Wyse is Solomon, studious and passionate and seeing his as the only voice of reason. And Chris Conner is laugh-out-loud funny as Howie, who holds his ground no matter the conversation, often exasperated at the astounding actions of his cohorts. Each also brings a wonderful physicality to his or her role.
Rounding out the cast is Maureen Keillor, the lone adult, in two small roles -- first as a teacher who tangles with Solomon over his writing aspirations, and later as a PBS reporter doing a story on the Speech & Debate team late in the intermissionless show.
"Speech & Debate" may have an usually dry title. But what tumbles out on stage has all the edgy energy and humor required for a very entertaining night at the theater.
"Speech & Debate" is at Lyric Stage Company of Boston, 140 Clarendon Street, through April 25. For information, call 617-585-5678.
-- OnStage Boston