A Review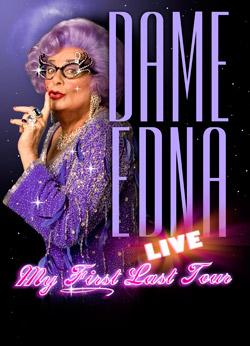 There's Nothin' Like
A Sharp-Tongued, Lavendar-Haired Dame
By R. J. Donovan
As I've said in the past, some people say funny things. Other people say things funny. Outrageous Australian matron Dame Edna Everage does both, as she demonstrated in a brief, sequin-encrusted, four day run of her "First Last Tour" at The Colonial Theatre.
Following a video introduction detailing her life (cleaner and more professional than in her last visit, but also longer), Dame Edna burst from the wings to enthusiastic applause. What followed was an hour and a half of songs (kudos to pianist Michael Ross), stories and chatter, much of it with audience members sitting in the first few rows, and all of it sprinkled with Dame Edna's glittery and totally subjective judgments.
There was a hint of old material among the mostly new jabs, and gone were The Edna-ettes, the old girl's back-up dancers. But new to the mix was Edna's daughter Valmai, decked out in an orange jump suit due to an unfortunate clash with the law. Valmai now tours with Edna as a kind of probation assignment. (As Valmai, Edna-Kate Whitcomb was penetrating in an overt "Boy From Impanema" solo.)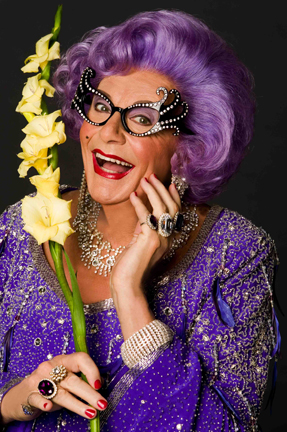 Edna discussed her son Kenny and his artistic achievements in design and culture; her late husband's rumbling prostate; and how she's been called upon by Michelle Obama to help redecorate The White House. (Apparently there weren't a lot of bookcases during the previous administration.)
So as to not offer preferential treatment to audience members ringside, Edna also took a moment to address (briefly) her "possums" in the upper balcony -- otherwise known as the area of less expensive seating. True to her superior image, she vowed to glance their way in strict proportion to the amount they'd paid to get in. Which, in her opinion, wasn't much.
Chatting with the audience can present its own set of challenges, no matter how big a Megastar you are. If people are resistant to speaking, it can drag the show to a halt. And if audience members think they're funnier than the star, the audience will cringe. However, Edna's trademark sarcasm always kept the dialogue peppy, and not even monosyllabic Deborah from Canada could rain on Edna's parade of questions and critical but always helpful observations.
When a couple sitting on the aisle about eight rows from the stage arrived 20 minutes into the show, Edna brightened with a curiosity one sees in the eyes of a cat about to pounce on a helpless mouse. Leaving her conversation with folks on the other side of the house, Edna gingerly approached and purred, "Where did you come from tonight, darlings?" "Scotland," answered the gentleman. She paused for a moment and then sweetly delivered the ice pick to the heart, "Well I came all the way from Australia, and I was here on time."
It's one thing to call upon a collection of standard insults regarding people's attire and professions. It's another to take individual conversations among several strangers and find a clever way to link them all together -- all without prior information or time to prepare. But there's nothing like a Dame, and Edna achieves the desired effect, softly nurturing her minions only to deliver a sharp verbal slap and then walk away with a self-important smile.
The audience members targeted for Edna's politically incorrect attentions found themselves in for a larger surprise in the second half of the show when Edna gleefully announced that she'll be returning to television. And that her producers had authorized a pilot for her new show to be filmed right here in Boston -- that very night (imagine!).
And so most of the folks she'd already verbally accosted were hauled onstage as 60s style talk show furniture was dragged out. Again, it's a challenge to pull this off when the "civilians" are giving one word answers, but Edna again proved that she's sharp as a tack.
As in previous visits, Edna climaxed the night by flinging gladiolas into the crowd. While newbies were desperate to catch one of the single stems as a souvenir, those in the know were prepared to participate in the final musical number of the night by waving their flowers in a sea of synchronization.
This marked the third time I'd seen Dame Edna, and this was the first time that Barry Humphries -- Edna's creator and "arch nemesis" -- made an appearance at the end of the evening.
As Edna had made her final bows to enthusiastic cries, the video screen again glowed as we supposedly watched her walk "live" to her dressing room backstage. She was subsequently locked in her room by the hand of a villainous figure in a dark hat and coat. And when that dark figure immediately walked from the wings, it was Humphries in a tuxedo and fedora. Certainly one of the quickest of quick changes, considering he not only had to get out of the Edna drag, but remove the lilac wig and clear his face of make-up.
Stunned by the transformation, the crowd again cheered its approval of his alter-ego efforts.
"Dame Edna: My First Last Tour" played The Colonial Theatre through April 19.
-- OnStage Boston